McGarry And Barros Win Pro-Assistant And Make History At Same Time
Details

Category: Inside Golf
Published: 2017-10-02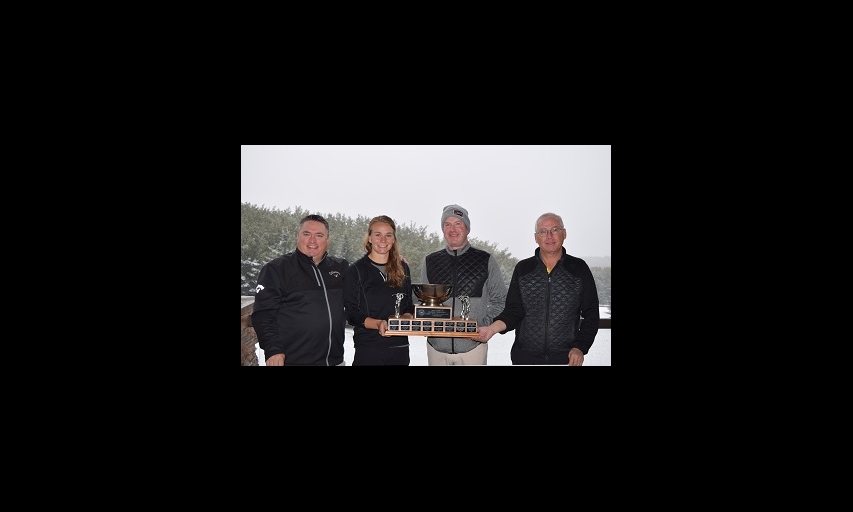 The Winning Team From The Glendale G&CC In Edmonton, Greg McGarry And Kylie Barros With Sponsor Jim McCulley (Callaway Golf Canada) And Host Professional Jim Boomer. (Photo/PGA of Alberta)
INNISFAIL, Alberta (Gord Montgomery/iG) — There's a first time for everything.
That was the case with the winning team at this year's PGA of Alberta Pro-Assistant Championship, sponsored by Callaway Golf, as Kylie Barros became the first female pro to ever have her name etched on the championship trophy. Of course, she did have a little help.
Barros, along with head professional Greg McGarry from the Glendale Golf & Country Club in Edmonton, posted a score of 8-under par in what became a one-day, 27-hole event as poor weather forced cancellation of the second day's play.
Barros isn't any stranger to teeing it up with her male counterparts on the PGA of Alberta Tour, as she competed in a number of events this year. The only difference is that Barros, or any other female pro for that matter, plays a slightly shortened course.
"Like any other PGA event we have, the females get a 10 per cent break," said McGarry.
As for taking his young charge into battle, McGarry didn't feel Barros would be in over her head.
"I was very confident going in with her that we could win," the head man continued, noting that his top assistant, Adam Bruce, was at the Canadian Assistants' Championship so he wasn't around to help out his boss. In the end, things worked out well noted McGarry.
"I think our games complemented each other very well," he said of Barros' play. "Adam and I are very similar in our games so we tended to mess up on the same holes when we played in the past. This one was more peace of mind, I guess.
"Kylie's not going to make a ton of birdies but she's a very good putter, and for a lady she hits it far, but in relation to pros overall, she's above average but not at the far end. I play more of an aggressive game, take chances, so there was more of a safety net there that I could count on."
As for Barros, she was happy to have been given this opportunity and took full advantage of  that.
"Adam really helped me out by being in B.C.," she said with a laugh, "so he made the decision for Greg a little easier! I was quite happy I got the opportunity to step up. Greg knows my playing resumé well enough that he was willing to take me with him."
While the weather  for the tourney was terrible on the second day forcing the cancellation, it was also anything but great on the opening day. "It was horrible! The course was still playable but it was miserable," said McGarry.
The other thing is that in events like this, nothing moves quickly. It took the winners "seven hours and we were quick," to get through their appointed rounds on the day, said the head pro. "There was maybe two hours where it was nice— not even nice but no rain, no wind — but it was still cold. You had to manage your umbrella, your toque, your mitts."
The day started on a great note with a birdie for the winning pair in Scotch Ball, but right after that they switched games moving to the Scramble portion. There the Edmonton duo lit it up, birdieing the next five straight holes.
"We were under par, making birdies, and even though guys normally do that, we did it at the start of our round so it actually put us in the right frame of mind. We survived the Best Ball," where McGarry lost his ball on a par 5 hole he felt was either "a birdie or esKeagle for me," that resulted in a bogey but they regrouped to birdie the two following holes.
"He's been in that format enough that he's quite confident," Barros said of having her style mesh with McGarry's. "I did leave him a few six-footers though that I don't think I would have made myself. He just took a lot of the worry away. I didn't drive the ball the greatest I ever have, but I always teed off second and he was pretty much in play all day which is always a nice thing for your partner to do for you."
A big factor in this win was that Barros was comfortable despite being the only female in the mix thanks to her play this year, and last, on the PGA of Alberta's Assistants' Tour.
"I know a bunch of them now so it's not as intimidating now," Barros explained. "At first in my pro career I was a little intimidated going up against the guys," but that has certainly worn off now as she etches her name on a championship trophy and into the PGA of Alberta's history books as well.
For the win, McGarry and Barros shared a cheque for $3,000 while the second-place team of Craig McArthur and Kevin Chow earned $2,150, finishing one shot back at minus-7. Third place was a tie at minus-6 between the duo of Kevin Broderson and Tyler Friesen from Lacombe and Brett Burgeson and Mark Roman from Calgary's Country Hills GC. Each team won $1,625.
---
About the Writer
Gord Montgomery is a retired sports editor of two weekly newspapers in the Edmonton area and is a member of the Golf Journalists Association of Canada. He is now in his ninth year of writing for Inside Golf. He can be reached at This email address is being protected from spambots. You need JavaScript enabled to view it.. He's also on Twitter at @gordinsidegolf and on Instagram at @gordinsidegolf2.