NBC Sports To Air Special "PGA TOUR 2017: Must-See Moments Sponsored By Myrbetriq® (mirabegron)"
Details

Category: Inside Golf
Published: 2017-10-04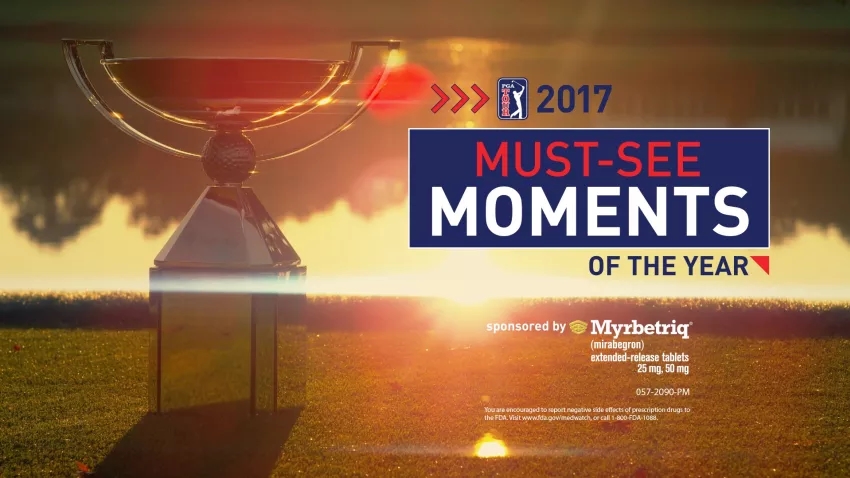 Show Recounts Top Moments From PGA TOUR Season, Airing On Sunday, October 8, 2017, At 2PM EST On NBC.
PONTE VEDRA BEACH, Fla. – NBC Sports will air an hour-long special titled PGA TOUR 2017: Must-See Moments sponsored by Myrbetriq® (mirabegron) that will chronicle a 2016-17 PGA TOUR Season filled with moments you simply had to see to believe. The NBC Sports feature will air on Sunday, October 8 at 2 pm ET.
PGA TOUR 2017: Must-See Moments sponsored by Myrbetriq® (mirabegron), which was produced by PGA TOUR Entertainment, will look back at the heated battles inside the ropes that are ushering in an era of emerging young stars.
In all, this collection of shots, stories and champions filled the 2016-17 PGA TOUR Season with must-see moments. Below are some of the topics and moments that will be highlighted in the special:
Young Stars
While the success of the game's youth has garnered headlines for several seasons, their accomplishments during the 2016-17 season were truly historic. The show will examine just how dominant these "20-something" players were in 2016-17, particularly Justin Thomas, Jordan Spieth and Hideki Matsuyama, all of whom built their own case for this season's PGA TOUR Player of the Year honors.
Jon Rahm
A massive hip-hop fan who learned English through listening to lyrics, Rahm had a chance to meet Grammy Award winner Ludacris in Atlanta prior to this season's TOUR Championship. After busting onto the scene with his first career win at the Farmers Insurance Open, the Spaniard is yet another budding young star, whose game clearly matches the passion and artistry of his musical interests.
Honoring Arnold Palmer
At the start of 2017, PGA TOUR Commissioner Jay Monahan called for this season's top priority to be to make Mr. Palmer proud. We look back on the multitude of events that honored golf's greatest ambassador, as Arnold Palmer's massive legacy continues to live on through golf.
Chris Stroud
Weeks after earning his first career victory in his 11th season on TOUR, Hurricane Harvey devastated Stroud's hometown of Houston, Texas. The 35-year-old played a crucial role in the TOUR's relief efforts, as he encouraged his fellow competitors to donate a portion of their winnings at the Dell Technologies Championship to relief efforts. The special follows Stroud home to Houston to see how those efforts have continued, and how he is helping his neighbors and hometown recover from the disaster.
PGA TOUR Volunteer Challenge
This friendly competition provides volunteers a chance to earn votes for their outstanding service and, in turn, raise money for local charities. The show will highlight Michele Chamberlin, a volunteer at Farmers Insurance Open, whose particular efforts earned praise from PGA TOUR player Billy Hurley III, as well as Bob Dow, THE NORTHERN TRUST Volunteer Challenge winner the last two years.
The special will also showcase Justin Thomas capturing his first FedExCup title in Atlanta along with the top moments from the Presidents Cup. And to top it all off the show will preview what is expected to be another thrilling 2017-18 PGA TOUR Season as it kicks off with the Safeway Open in Napa, Calif., October 5-8, 2017.
For a preview of the special, visit: PGATOUR.COM.