BC's Mary Parsons Sets School Record As Indiana Wraps Up Bettie Lou Evans Invitational
Details

Category: Inside Golf
Published: 2017-10-09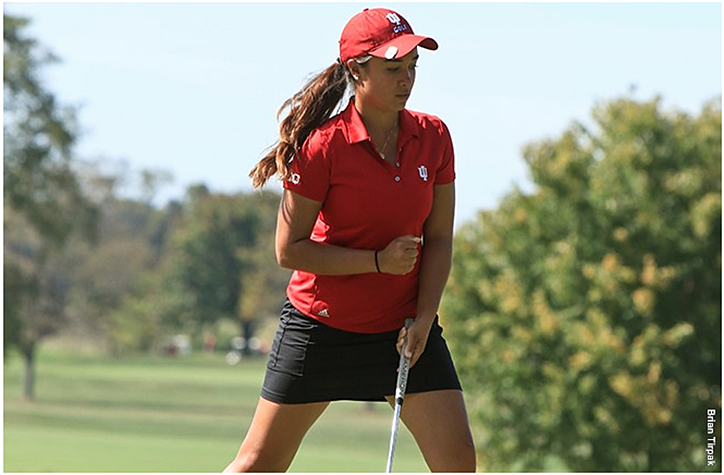 Delta, BC's Mary Parsons Finished Her 3rd Round With Four Consecutive Birdies To Set A School Record For The Inidana Hoosiers Women's Golf Squad. (IU/Brian Tirpak)
LEXINGTON, Kentucky (IUHoosiers.com) — Freshman Mary Parsons set a new school single round score of 66 in the third round as Indiana Women's Golf finished seventh overall at the Bettie Lou Evans Invitational.
Parsons's third round score was one stroke better than the previous school record which was set five previous times, most recently in 2015 by Ana Sanjuan and Camille Chevalier (67).
She completed the record round with six birdies including four in the final four holes of the day. The Delta, British Columbia native finished the tournament eighth overall with a 218 (73-79-66) and her 66 was the lowest round of the entire tournament. 
Junior Erin Harper came in next for IU, finishing 27th overall as she added a 79 and 74 in the final two rounds of the tournament. Sophomore Elisa Pierre finished T36th (76-78-76, 230) while freshman Priscilla Schmid wrapped up the tournament T45th (77-78-77, 232). Sophomore Emma Fisher was the final Hoosier on the leaderboard in T88th (80-90-80, 250).
The Hoosiers finished seventh overall in the 16-team field, completing the 54-hole tournament with a 906 (299-314-293). Notre Dame was the winner of the event, followed by Wisconsin, Penn State, host Kentucky and Illinois rounding out the top five.
Individual play was led by freshman Angela Aung who finished T64th as she added a 77 in the final round (81-80-77, 238). Sophomore Carolina Garrett was 84th (81-83-83, 247) and Pear Siriko (85-88-83, 256) closed out play, which ended a day earlier than expected due to expected rain tomorrow.
Indiana gets back to the course for the final round of the fall season at the Ladies Fall Intercollegiate Invitational in John's Creek, Georgia Oct. 27-29 hosted by Louisville.
Click here for final results.