Work On PGA Buying Show A Long-Running Task
Details

Category: Inside Golf
Published: 2017-10-20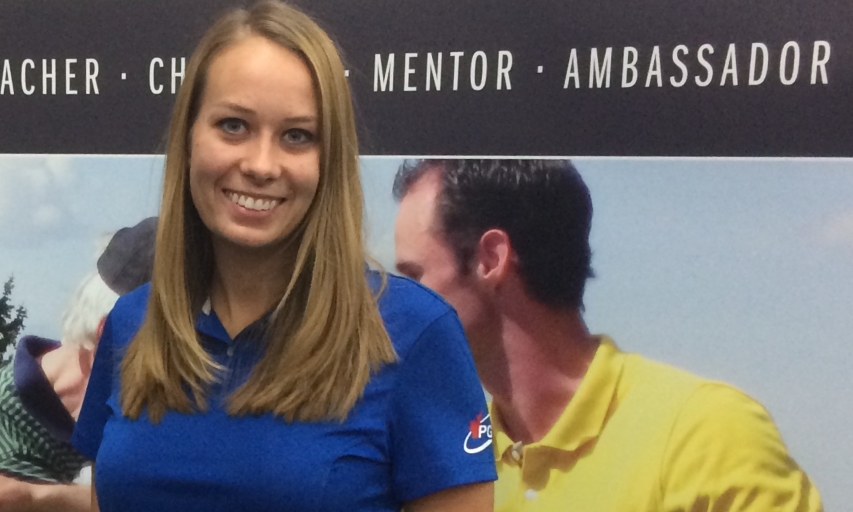 The PGA Of Alberta's Britney Andersen Began Setting Things In Motion For the 2017 Buying Show Several Months Ago.
EDMONTON, Alberta (Gord Montgomery/iG) — While the annual PGA of Alberta Buying Show only lasts for three days, plus a day to set up, the work that goes into getting things organized takes a much longer time.
Speaking during the one day the distributors have to get ready for the dozens of golf professionals and club owners that show up to get ready for the next year's golf season, Britney Anderson said her work began several months ago.
"Last year was the only year that I've been to the show, so I wanted to start planning as soon as I could. So as soon as I found out this portfolio would be mine, I started. I think the initial planning, began in April, May. Then it was sending out the exhibitor registration in June. Then after August, until now, it's kind of been one thing after another ramping. up to this."
Andersen, the PGA of Alberta event coordinator for the 2017 Buying Show, noted that the size of this annual affair has become larger over the past couple of years.
"In about 2014 we saw a little bit of a dip. But we are bigger than we were last year; there are a few more exhibitors, maybe five or six. But from the attendee list, from the amount of clubs coming this year, that is bigger."
The biggest advantage to all those involved in the Buying Show is simply clients coming together face-to-face with their sales reps and having a taste of everything that's coming down the line, Andersen  said.
"Networking. Relationship building with their clients is probably the number one area where you can meet your clients face-to-face. Show them as much of the new product that you have instead of having to go to the clubs and only having a car full of things. And then people can walk around and go company to company and make sure that their whole product lines line up."
One of the major additions to the Show this year was the addition of Gordon Food Service to the slate, showing that this event isn't only about the hard goods for the courses attending but also demonstrating there is the consumables' market now available as well.
"That'a huge sell for us right now. Saying it's not just apparel that is golf. Golf is growing. We want to hit as many different avenues as we can in this industry.," said Andersen.
In judging whether or  not they are indeed meeting the requirements of both the distributors and the middle man with the Buying Show, Andersen noted the organizers look at a few different things in deciding how well received the show is.
"We love hearing from our members: What did you buy?" as to what they feel worked, and didn't during the event.  "As well, we also have meetings with our distributors to try and figure out what can we change? What can we do better? And that tells us how successful they found it (the show)."
That being said, there is still one over-riding factor that is the be all and end all in regard to success.
"Number one for us is probably the return," of both distributors and clubs attending,
Andersen said in wrapping things up. "When we see these guys come back year after year, people like Callaway, Ping, those who always come back and we (PGA of Alberta) are always grateful for that."
As for Andersen herself, who was trying to catch her breath during the frantic pre-show set-up day, she said the new portfolio was both interesting and exciting.
"It was a good experience being on this side of the event instead of just the tournaments, going out and that planning. It's amazing! All these guys are awesome to work with!"
While the PGA of Alberta Buying Show is closed to the general public, they'll get to see the end result of this event next spring when the new stock rolls into their local pro shop and they can then put their hands on some of the new innovations.