Bear Mountain Offers Up Great Golf And Scenery
Details

Category: Inside Golf
Published: 2017-10-24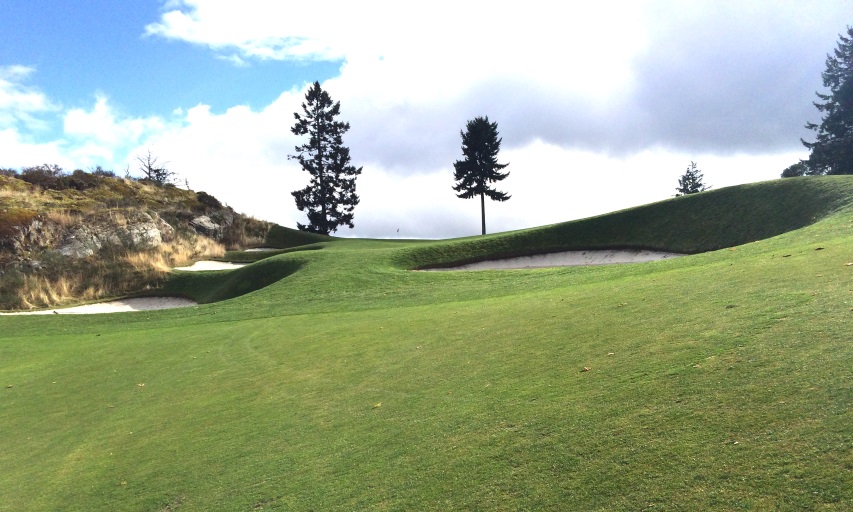 VICTORIA, British Columbia (Gord Montgomery/iG) — Given the magnificent scenery just about everywhere one turns on the Mountain Course at the famed Bear Mountain Golf Resort & Spa in Victoria B.C., it's a wonder anyone has ever come close to carding a good score there. At least that's my excuse and I'm sticking to it.
While the weather wasn't at its best on my first journey to the course that plays host to the Champions Tour Pacific Links Bear Mountain Championship, that mattered little once I got going on the amazingly pretty, and game testing track.
This part of the 36-hole establishment, designed by the duo of Jack and Steve Nicklaus, uses the terrain to its benefit to make any round of golf played here - be it a pro tournament or a weekend warrior get-together - a memorable one.
The Mountain Course plays to what seems a ridiculously short (at least in this day and age) 6,800 yards, but cautions Jordan Ray, the facility's Director of Golf, don't let that fool you.
The great thing about island golf is it's pretty much a year-round festival of divot digging, continued Ray.
"We do get a rainy season from November through February but we're on a mountain so we drain really well. And there aren't a lot of flat spots so it makes it pretty good for drainage."
What it also makes for are some interesting lies on the perfectly groomed fairways, and yes, in the rough as well. That makes you think about what you're doing as opposed to just walking up and swatting your ball forward. To that end, the first real "easy" hole on the front nine was No. 9, and even it wasn't totally flat but at least it was fairly straightaway. A large number of holes on the front side are doglegs, both right and left, where you need to plan ahead to stay away from big numbers (Reminder to self here: Plan ahead next time!)
What is important, Ray said, it playing from the correct tee box.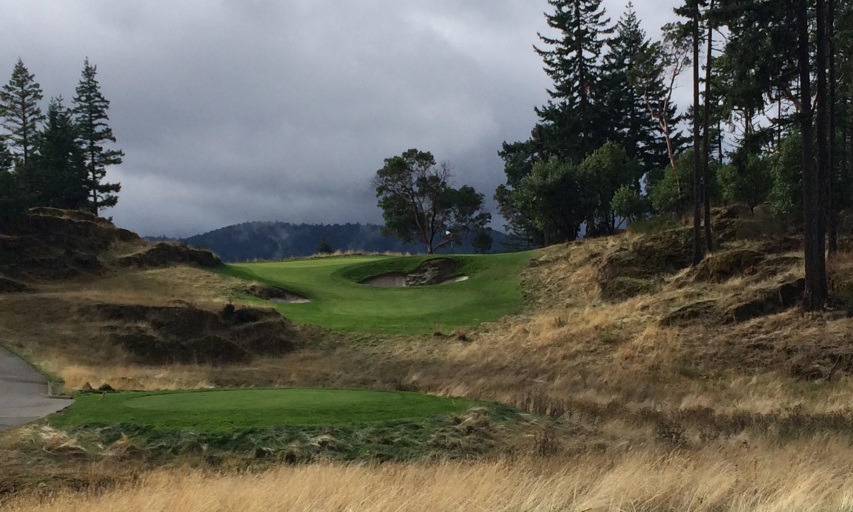 "We have five sets of tees, all named after bears (Golden, Grizzly, Black, Spirit, and Crimson) which makes a huge difference. I think a lot of people look at the yardage and say, "Ah, it's only 6,000 yards from the Black tees and we are on a mountain but we don't have a high elevation above sea level so the ball's not going to go as far as it does in Calgary or Edmonton. A 400-yard par 4 plays longer than people would think."
Since I had the course literally to myself on the day I played there - yeah, I know I could have set the unofficial course record because of that but hey, I'm honest - I chose to play different holes from different tees. The ones I never tested though were the tips because that's too daunting, for this wandering writer.
I found the Black and Spirit blocks to be the best fit for my ability, but I had a lot of fun moving up to play the forward Crimson tees, where approach shots suddenly became a lot easier given the 50 yard head start, or more, one gets from that tee deck. One interesting note is there are forced carries on several tee shots, but they aren't overly long. Thus the challenge with that is more mental than physical.
What is impressive out here, as much as the challenges presented your game is the scenery. While the course is heavily housed, it is also heavily populated by wildlife, including deer who for the most part are tame but scatter in a hurry when your shot ricochets around amongst their gatherings (I wasn't aiming at them but they didn't seem to understand the term "FORE!")
Ray said while the course's signature hole is No. 14, there are lots to choose from.
"The 10th has our island green with the waterfall in the background, but 13 and 14 where you can see downtown Victoria, the Canadian Forces base where the Pacific Fleet is stationed, and on clear days you can see all the way to Washington state and Mount Baker. That's the one thing that sets the Mountain Course apart from most any other course."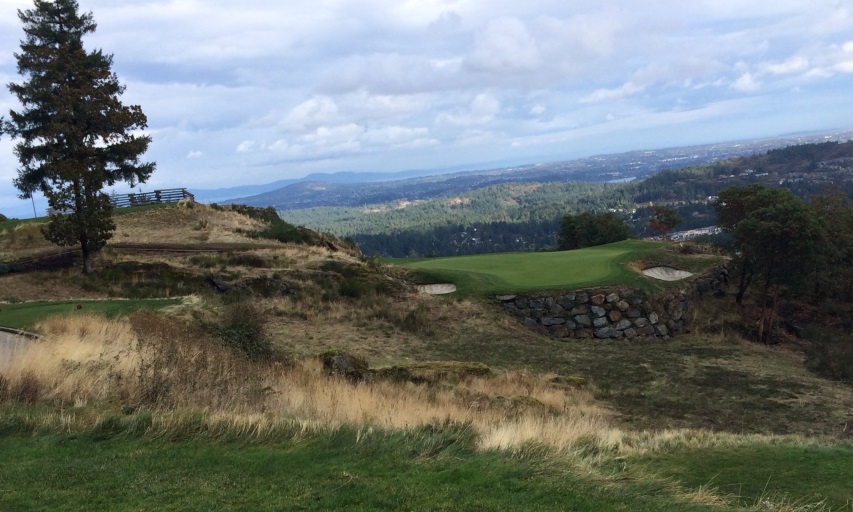 As for the Champions Tour setting foot on the Mountain Course over the past few years, Ray said more than anything what that's done is elevate the notoriety of the track.
"It's had an effect demand-wise but more than anything, it's the prestige, being known. To be known in the U.S., and other parts of the world, is one of the big things about why we host the tournament and show off what we have to offer here."
What the Mountain Course offers is an unforgettable golf experience highlighted by hole contours you may never have experience before, like the 13th hole, a 480-yard par 5 that runs almost straight uphill from your second shot on, with the green, which you can't see from the fairway, framed by two massive fir trees.
The other interesting thing here are the par 3 holes. They are all small in stature but big in challenges, running from as short as 116 yards (from the Black) up to 166 yards. While not long they virtually all come with forced carries or massive elevation changes making them absolute jaw-droppers.
Perhaps Ray's closing words best summed up what's out here, regardless of the time of year or weather: "It's an absolutely awesome place."
That it is.
And by the way, the course record, unofficial or official, is still safe … very safe.