Booking Times For Restored Kananaskis Country Courses Have Been Set
Details

Category: Inside Golf
Published: 2017-10-27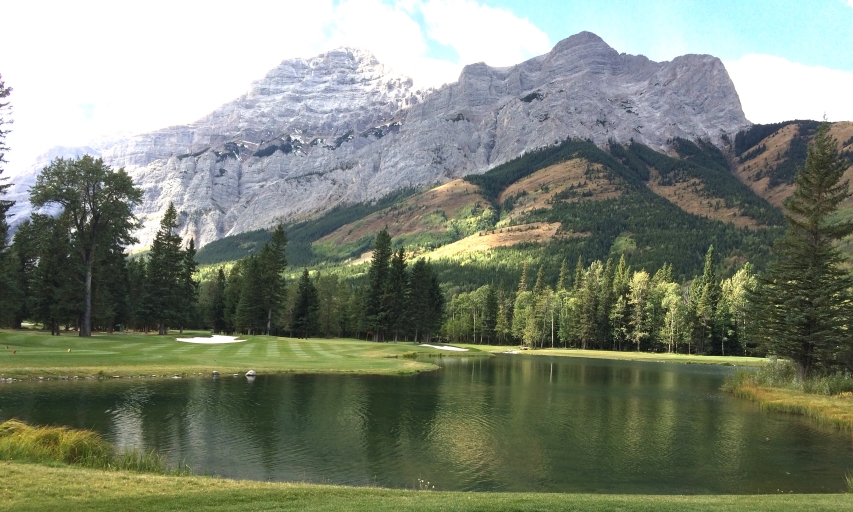 Starting In March Of 2018, Golfers Can Begin Booking Tee Times At One Of The Best Mountain Courses Anywhere, Mt. Lorette In Kananaskis Country, As The 36-Hole Facility Resumes Operation After Being Closed For Four Years Due To A Massive Flood In 2013. (Photo/Gord Montgomery)
KANANASKIS COUNTRY, Alberta (Gord Montgomery/iG) — OK, folks. Set your alarm clocks because the time and date everyone's been waiting for have been announced.
The Kananaskis Country Golf Course has set their online and phone booking times for the upcoming season, marking the new beginning for one of Alberta's best known, and loved, golfing playpens.
General Manager Darren Robinson said in a press release that as of 8 a.m. (MST) on Monday, March 12, 2018 people can begin booking tee times at the Mt. Lorette course at www.kananaskisgolf.com.
Or, if you prefer to wait a couple of days and make your reservation by phone, you can do so beginning Wednesday, March 16. The toll free number for this service is 1-877-591-2525 with the hours of operation between 8 a.m. and 4 p.m.
"The past four years have provided this facility the opportunity to make many positive changes and updates - some very important things have remained exactly the same," the GM said in his release. "This includes our team's commitment to continue being Alberta's golf course. Just as it was when we first opened in July of 1983, our unwavering intention still holds true to create an incredible experience for all our players at a value proposition second to none. We believe our regular green fee rate provides a tremendous value for our guests from outside the province and we are also very excited about the incredible rate that our Alberta resident green fee gives to our supporters who live in our great province!"
As to those fees, the release goes on to outline them, noting that there is an early-bird special, so to speak, for those wanting to tee it up in the early days of spring.
The course will reopen to the public in May of 2018 with green fees set at the pre-flood rate of only $78 for Alberta residents and $98 for non-residents.
Starting in June 2018, regular daily fees will be set at $118 for non-residents and $88 for residents (Monday to Thursday, excluding holidays). On weekends, (Friday through Sunday and holidays) regular non-resident fees will be $125 and resident rates are set at $95. Electric cart prices are $20 per rider.
For seniors (65+), the Alberta resident rate Monday through Thursday, excluding holidays, is $78. Alberta Junior rates will be $68 all week and Twilight rates are set at $68 for the entire week. During the Twilight times, one junior can play with each paying adult at no cost.
The 36-hole course, owned by the Province of Alberta, was severely damaged in June of 2013 when floods destroyed all but four holes. However, with the Mt. Lorette course back up and in wonderful shape, and Mt. Kidd well on the way to a full recovery, golfers from all over the world will once again experience the delight of playing one of the best mountain layouts anywhere in the world starting in May, 2018.