Fairmont & Whistler Offer Mountains Of Fun
Details

Category: Inside Golf
Published: 2017-10-27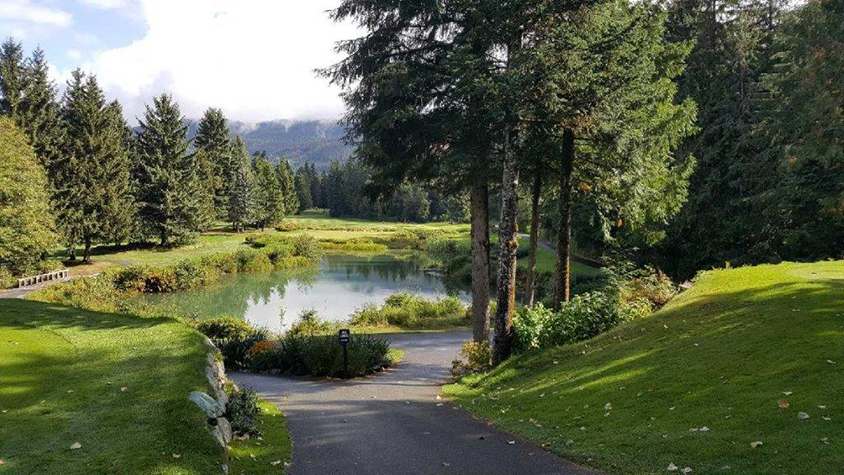 Whistler Golf Club
WHISTLER, British Columbia (Jim Claggett/iG) — The old saying about having just one chance to make a first impression is self-explanatory so it's what kind of impression made on that first attempt which wields influence.
Having said that, the people at Fairmont scored tens across the board during a recent excursion to the community of Whistler B.C.
From the moment we landed in Vancouver to the day we returned home, our hosts looked after us as if we were royalty and I can tell you it felt great. Fairmont Chateau Whistler is a magnificent structure which is close enough to the village to walk but far enough away to be somewhat secluded.
The rooms are spectacular and the service from all staff concerned is first rate. It's what we have experienced at every Fairmont property we've been fortunate enough to stay at so this was not an anomaly.
We were there to play some golf along with discovering what visitors can do outside of golf if they desire. No surprise here, there was plenty to choose from.
Starting with golf, we got to experience a hat-trick of above par golf in the region with all three courses delivering something different when it came to scenery, layout challenges and all that golf entails at their course.
We teed off first at the Whistler Golf Club which opened in August of 1983 and was designed under the watchful eye of Arnold Palmer, "It's very playable and fun but there is an opportunity to really challenge yourself if you decide to go from the back tees," explained Director of Sales, Ro Davies.
This a parkland style course in the midst of the mountains and features nine ponds, two creeks which wind around the course and some of the biggest trees (width and height) I personally have ever seen. Most are over three-hundred years old and some have topped the four-hundred year mark.
"What really makes it unique and has that 'Arnie' flare is that the greens are massive, with plenty of undulation on them, and lots of pin placement opportunities for a creative mix of the golf course regularly," said Davies.
Hole #16 is a standout in my mind as you can see Whistler and Blackcomb Mountains along with all the other mountains which gently hug Whistler Valley. It's the only elevated tee on the course and it's referred to as the 'Gallery' since the walking/bike trail runs directly past it.
Davies says people will gather behind the tee box to give you just a little more adrenalin to course through your body as you look at the pond and creek you need to clear off the tee.
Once the round is done you can kick back on the patio or if the weather doesn't allow that, then a comfy setting inside is just fine. The crew in the dining area really get it says Davies and the food backed up that statement serving a wide variety of dishes to meet many tastes.
In fact, Davies says during the summer months the patio is packed with golfers and people who are just coming to the course for lunch. It all ties into their tag line - "Palmer's design, Whistler's attitude."
The next golf adventure took us to Nicklaus North Golf Course which opened in 1995. It has the distinction of being the first course Jack Nicklaus said could carry his full name, not Golden Bear or Bear, said General Manager of Nicklaus North, Jason Lowe. "We looked it up recently and it looks like it's one of four courses in the world that he's given that honour to."
The 180 acres of property allows for some generosity off the tee but there's plenty of adventure around the greens, making for a tremendous golf experience.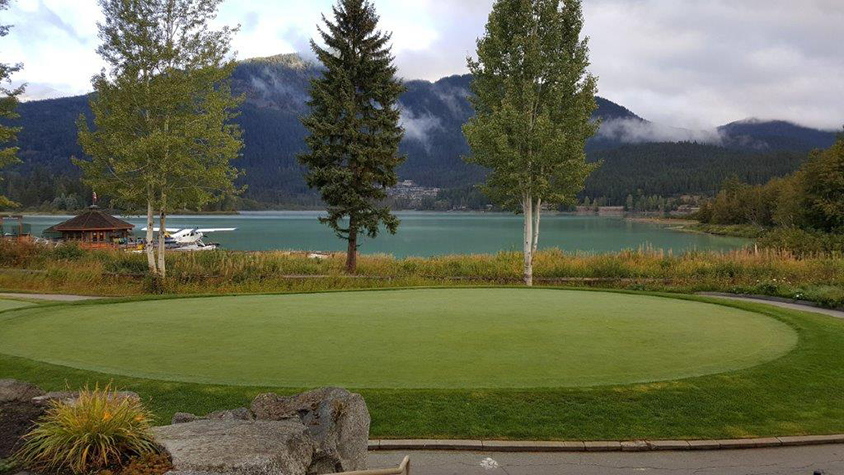 The holes are situated just right so you don't miss the scenery which embraces this course and you can catch a seaplane or two landing or taking off from the glacier-fed Green Lake which runs alongside #17.
Even though the course is on the Whistler Valley floor, you still get that mountain golf feel with the added bonus of being a walkable 18 holes if you desire. You really can use just about every club in the bag during a round as it plays very fair with each hole holding no surprises.
"It really is a good design feature that we don't have blind shots and forced carries and not a whole lot of trouble in front of the greens," said Lowe. "And with the par four and fives where you can actually use the approach."
The par threes all have some bite and you do have to negotiate some water on holes #2,10 and 12. They may be par 3's but there is room to bail out if you feel the water is too much to take on.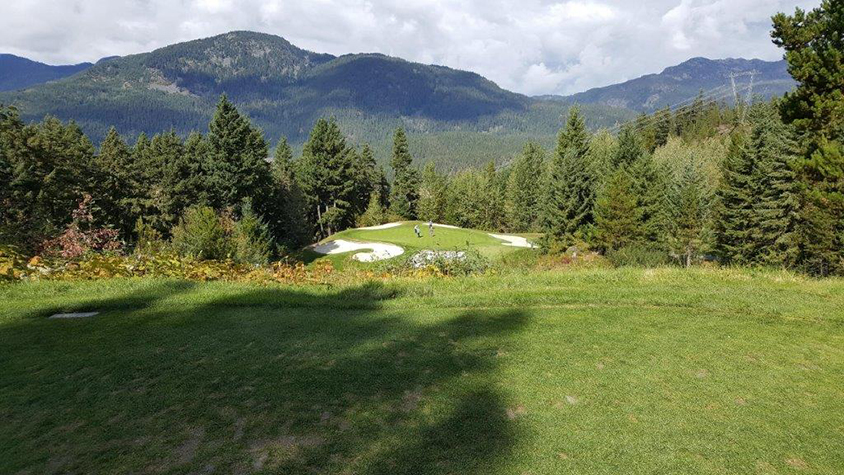 Fairmont Chateau Whistler
The apres-golf food experience was fantastic at Table 19 with one of the best chicken club sandwiches in my opinion. The patio is another treat during the summer months which has Green Lake dominating the view, making it difficult to leave that behind. "Obviously we pride ourselves in pampering our guests, but we also want to do it in a Whistler-casual, very authentic way," added Lowe. The final 18 holes of the trip was the stunning Fairmont Chateau Whistler which starts with a four-hundred foot climb over four holes to the bench of Blackcomb Mountain.
You know you are in the mountains but it's subtle in some ways as there are not a lot of dramatic elevation changes.
Robert Trent Jones Jr. is the man behind the design which gives you all you can expect from this setting. "He made good uphill holes which are very tough to do," said Nick Droulis, Director of Golf at Chateau Whistler. "We have a collection of holes - three, four and nine, which are really good uphill holes."
With all of them you are presented with some obvious ways to play those holes and even though you are hiking uphill, you can see everything in front of you, said Droulis.
Maintaining the pristine conditions at Chateau Whistler is demanding as the course has its own micro-climates to deal with during golf season. Some holes have more sun than others, some have better protection from the elements due to trees, others get more snow in the spring time, so crews are dealing with many variables.
"And being on the side of a mountain we can get water flow from any direction, so we have to be prepared for that," said Droulis.
The course is an easy six-minute walk from the hotel but Droulis says they will store your golf bag for you, deliver them to the course and you can take a shuttle there and back if you desire.
It's all part of the customer experience at Fairmont, he said. Once again, the food at the golf course was way past the simple burger and fries from days gone by as the chefs go that extra mile to give you a food experience to remember.
"They don't want you to be bored.They want to wow you with an experience you will take away and talk about," said Droulis.
All three courses do make the effort to support local businesses when it comes to food sources and most certainly the area breweries are very prominent when it comes to beverage selection.
Off the golf courses visitors can be as busy as they want to be and get their adrenalin rush requirements met.
How about climbing more than three-thousand feet up the side of Blackcomb on an ATV to dine on salmon at the top? The next day you are taking a deep breath and heading down the side of a mountain on a zip-line which has you travelling faster than most local speed limits.
If you want to stay on the valley floor, maybe a bike ride along a narrow trail which will challenge you or one which leisurely winds through the community.
In any event, Whistler delivers and after all is said and done you can dip into the cold/hot pools at Scandinave Spa.
This is only scratching the surface of one of the most varied locations for those who love the outdoors and being pampered when you get back to the Fairmont Chateau Whistler.
Treat yourself to a trip to Whistler and you are likely going to leave, maybe grudgingly, but with a smile on your face for weeks to come.