The Golf Community Mourns The Passing Of Alvie Thompson
Details

Category: Inside Golf
Published: 2017-10-30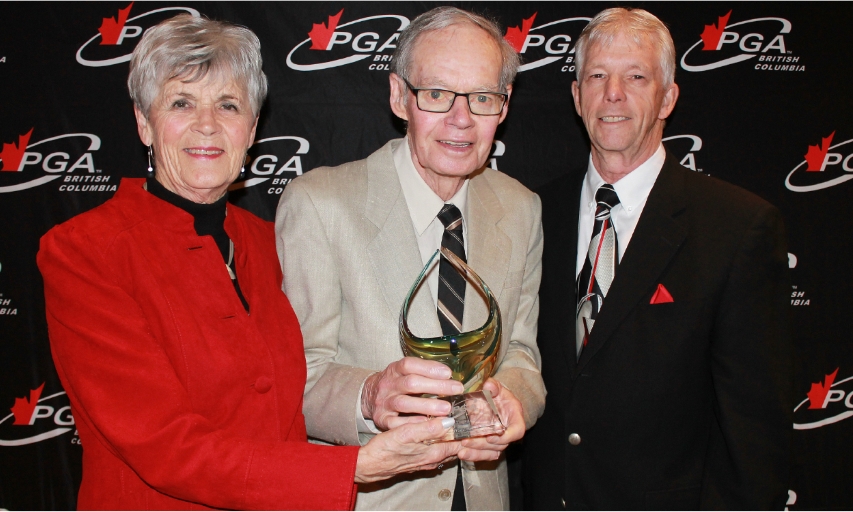 Life Professional Alvie Thompson (Centre) Is Joined By Wife Donna While Receiving A Trophy From Barrie McWha To Commemorate His Induction Into The PGA Of Canada Hall Of Fame Earlier This Year. Thompson Has Passed Away At The Age Of 81. (Photo/PGA of BC)
RICHMOND, British Columbia (PGA of BC) — The PGA of BC is saddened to learn that honoured Life Professional Alvie Thompson has passed away at the age of 81.
Born in Unity, Sask., in 1936, Thompson became a Professional in 1957 and spent the majority of his career based in British Columbia. First working as an assistant at Marine Drive Golf Club in the late 1950s, Thompson moved on to postings in Ontario and Quebec before returning to Marine Drive as Head Professional in 1972 for a four-year stint. He then spent 18 years as Head Professional at McCleery Golf Club before retiring to the Sunshine Coast in 1994.
Thompson was an accomplished player as well, perhaps best known for his 28th-place finish in The Masters in 1963. He collected a number of impressive titles over the years, including the 1962 PGA of Canada Championship – defeating George Knudson and his own personal mentor, Stan Leonard, in a playoff – and the 1963 PGA of Canada Match Play Championship. He was also a three-time winner of the Manitoba Open and captured the 1959 PGA of BC Assistants' Championship among many other notable domestic and international results.
Thompson's legacy in BC continues through the many Golf Professionals who looked up to him early in their careers. Much in the way Leonard was a major influence on him, Thompson passed on his knowledge and expertise to several esteemed PGA of BC Professionals, including Jim Pringle, Mike Smedstad, Norm Jackson, Derek Thornley, Pat Dunn and others. He also had a major impact on the playing career of Richard Zokol, who was a junior at Marine Drive while Thompson was the club's Head Professional.
Thompson received a Lifetime Achievement Award from the PGA of BC in 2014 and was inducted into the PGA of Canada Hall of Fame earlier this year. He was also named to the Golf Hall of Fame of BC in 2015. The PGA of BC's Teacher of the Year Award is named in Thompson's honour.
Thompson is survived by wife Donna. The PGA of BC extends its deepest sympathies to Thompson's family, friends and industry colleagues during this difficult time.