McGarry Named Alberta PGA's Golf Professional Of The Year
Details

Category: Inside Golf
Published: 2017-10-30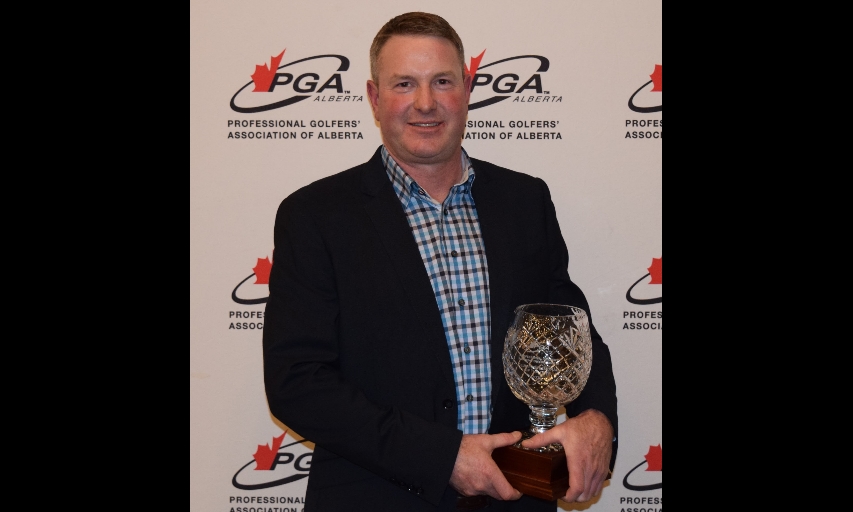 (Photo/PGA of Alberta)
EDMONTON, Alberta (Gord Montgomery/iG) — For Greg McGarry, the head pro at the Glendale Golf & CC in Edmonton, awards aren't anything new. After all, he's won some pretty big ones during his 23 years in the business.
Then again, the latest honour bestowed upon him as the 2017 PGA of Alberta's Club Professional of the Year has a special feeling to it. After all, it didn't come about from one thing in particular but rather it's a compilation of all the good things he's done during his 13 years as Glendale's lead man.
McGarry, like many other winners of this particular award, said this wasn't the first year he was one of the finalists, but it was the first time his name was called out at the awards dinner.
"I was trying to count," he responded when asked how many times he's been in the running for the award. "I have been nominated, I think, the last four or five years. Four for sure and this time, I was lucky enough to win.
As to what makes a good head pro and leads to this award, and how that person can lead others to success in the golf industry, McGarry noted there are a number of things that have to come in one package. And not only that, it's a real battle when it comes down to the final choice being made.
"Even the selection committee, trying to choose from all the nominees, then the short list and then trying to pick (the winner), you could probably close your eyes as every one of the finalists was worthy of the award.
"There are many hats we have to wear. At our course, an active facility, you start with the retail which is a huge component of the Glendale. Bringing in the clothing, the equipment, accessories, stuff like that. It's a member-owned retail facility so I have to be prudent and deliver some numbers. That's one of the hats, and a big part of what I do.
"Then there are a lot of good players at the Glendale so I have to keep up my playing ability and teaching ability to deliver those services to the members. I wouldn't say they demand, but they encourage all the pros here to play," which includes Adam Bruce who won this year's PGA Championship and Kylie Barros, who captured the Ladies Alberta PGA Championship.
"Playing with the members promotes what we do, what the club has to offer. Junior golf is a big part of it. Offering a good product to the members; we do a few camps and clinics," which eventually spirals into memberships being purchased for young players who are "the future of the game."
As to his work ethic and mannerism, McGarry said he's a believer in keeping an even keel with his staff and club members, which leads to everyone being happy.
"I think I deliver a constant product year after year and is likely why I've been nominated," for this award several times. "There are no real big surprises. You know what you're going to get and hopefully that's at a real high level."
An award like this shows the things the winner is doing on an on-going basis are the correct things but as such it doesn't add any weight to the load he shoulders going forward.
"It's nice to be recognized by your peers and in the end, that's what the award is, my association recognizing me. I wouldn't say (winning) it puts extra pressure on. Every year, we're looking for the best practises (used) by other clubs or when we travel and see new things, all our staff is open to things like that.
"I don't think I'm going to stagnate and just settle in," because he's now captured the title. "It's a very competitive market and industry we're in so you can't rest on your laurels. You've got to always be moving forward."
In his opinion, the most important things he, or any head pro, needs to pass on to their staff is, "Just learn all aspects of the industry. What I've always told some assistants that have worked here, "You don't know where your next job is going to be. If you need to work at a resort and learn things that will help you. Always stay abreast of what's new. Try different things whether that's a different job …" I like them to work on everything, do everything for everybody and by mentoring them that way they can move onto the next level."
Awards like this serve as not only inspiration for the winner but also for those working under that person, so McGarry noted he was more than happy to share this with his staff. Fittingly enough, Bruce and Barros both received awards for their play on the same night, so it was smiles all around at the Glendale table.
"We had a good celebration that night. There were other people here that work with us that didn't win an award but they felt part of it and without them, I don't win the award. I think it definitely inspires them. Hopefully they see what I do everyday and learn by osmosis or by watching what I do to become better professionals."
In closing, McGarry said it was an honour to win this award that will join other significant career achievements he's reached including the PGA Assistants Championship in 2001 and back-to-back PGA Club Professional Championships in 2005-06.
"I love every day. It's different every day. That's what's great about the job. But there are dog days of summer, long days, you're away from your family. It's a reward, kind of a cherry on top of all the hard work for the sacrifices you've made. I guess that's the biggest thing … for me even now to reflect, yeah, you've been recognized at the Provincial level," and from there it's on to the National level where his name is up against the other top club professionals from each province as having been the best in the business in 2017.