New Owner For Tobiano Golf
Details

Category: Inside Golf
Published: 2017-11-06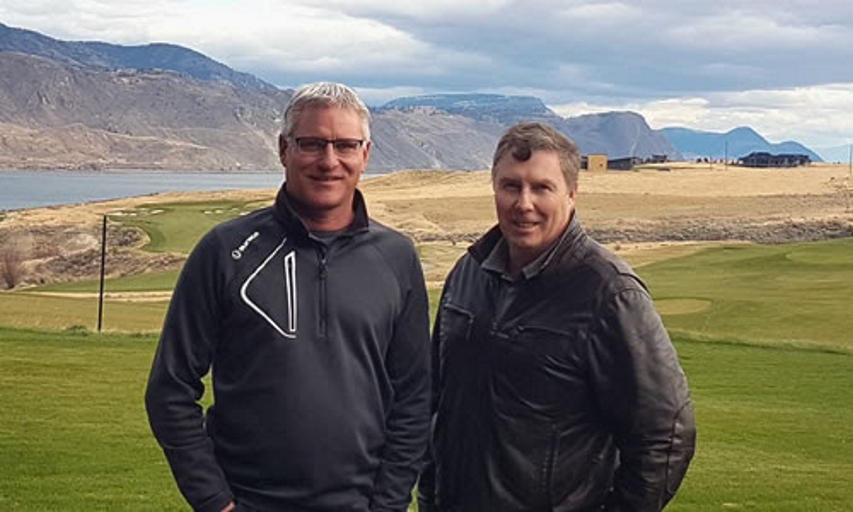 New Owner Of Tobiano Golf, Michael Ternier (R) And Tobiano General Manager, Terry Smith (L)
KAMLOOPS, British Columbia — Tobiano is excited to announce a change in golf course ownership and welcome Michael Ternier to the fold. "I am thrilled that I was able to seize a rare opportunity to acquire one of the most remarkable golf courses in North America," says new owner Ternier, who is also part-owner of the Tobiano real estate development.
Ternier, who owns 50% of Tobiano Living, and now 100% of the Tobiano golf course, is looking forward to a fantastic collaboration between the real estate and golf course operations going forward. "When the golf course was sold to (previous owners) John Preston and Henry Bereznicki, it provided me with the opportunity of a lifetime: to acquire the Tobiano real estate development. Although I love golf, especially Tobiano, my expertise was in land servicing and development and, at that time, I did not feel ready to take on ownership of the golf course." But earlier this year, "having worked closely with such a great team operating the golf course", Ternier was ready to approach the owners with a view to amalgamating the two.
"Owning both makes it much easier to integrate many of the operations, and the two will complement the long-term growth and success of each other," says Ternier, who has few plans to change much at Tobiano Golf. "The management and staff in all departments are truly excellent and I will not be making any changes," he says. Ternier also points out that Tobiano golf course is amazing, consistently ranking amongst the best, and he has no plans for any significant changes aside from "minor upgrades to some tee boxes, the driving range, and maybe some work on our challenging eighth hole."
The main priority for the golf course will be the opening of a new hotel - bringing on-site accommodation and stay & play packages to Tobiano. "The process of determining the best location for our first hotel, the hotel branding, and the selection of an architect is already underway."
Over the next three years, there are plans for additional community amenities and services including:
Village Centre
Tennis courts
Pickle ball courts
Exercise stations and additional walking paths
Community gardens
Community amenity building featuring pools, hot tub and exercise rooms
"We already have such great amenities at Tobiano, including Bruker Marina and the golf course itself, and these additions will make both the golf experience and Tobiano living even more appealing than it already is," says Ternier. "I look forward to a prosperous collaboration and partnership between Tobiano Living and Tobiano Golf for many years to come."