Heffernan Credits A Loss And Again Having Fun To His Success This Year
Details

Category: Inside Golf
Published: 2017-11-10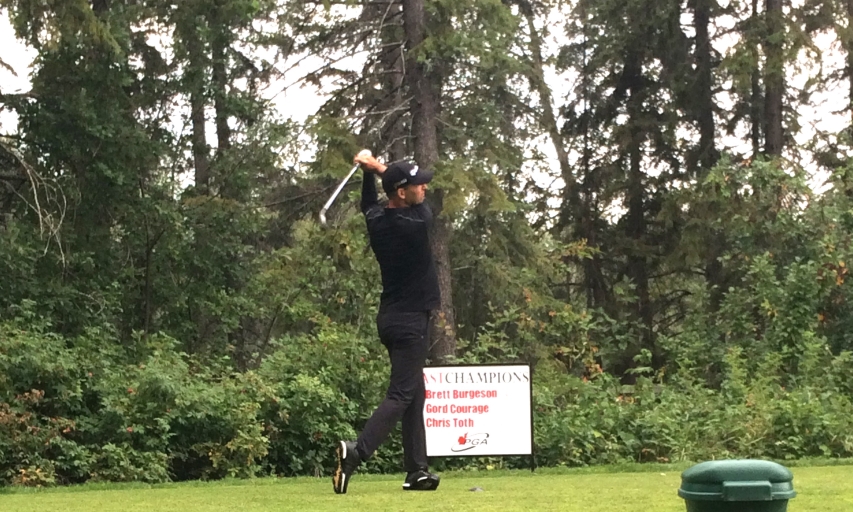 Wes Heffernan From The Golf Canada Centre In Calgary Credits Much Of His Success In The 2017 Playing Season To Simply Having Fun On The Golf Course Again. (Photo/Gord Montgomery)
CALGARY, Alberta (Gord Montgomery/iG)  — If ever there was an adage that may be out of whack at times, it's "Those that can't, teach." Wes Heffernan is proof positive of that.
Heffernan put that old cliche´ to bed this past year as he was named the PGA of Alberta's Player of the Year. This award is separate from the Order of Merit and the winner is decided upon by a selection committee that looks at tournament scoring averages, money earnings and competition levels.
During the 2017 season, Heffernan played in eight PGA of Alberta events, finishing second on the earnings list to 2016 POY winner Dustin Risdon by $9, with $7,531.00. Heffernan, who recorded a scoring average of 70.25 was first on the Order of Merit standings with 149, five more than David Macomb from Blackhawk. He was also named to the Cobra Puma Golf Assistants' Team.
Interestingly enough, the PGA of Alberta's Player of the Year winner for 2017 said it was a loss in the 2016 season that set all of this success in motion.
"Last year when I went head-to-head with Dustin (at the PGA of Alberta's Assistants' Championship) that kind of kickstarted my last few years. Kind of the way I lost that tournament (giving up a lead with just a few holes to play) got my juices flowing to get better."
Now in his second year as a CFM as an instructor at the Golf Canada Centre in Calgary, Heffernan said it is somewhat difficult to teach all day and then go play high-level golf without a lot of practice.
"A short answer is, definitely. For someone who used to play on tour, where all you do is practice and play, it's been a big change. This year, I played less than 10 times which is very low for me. I've always practiced but I like to play my way into tournament shape. That's been the hardest part, developing a way to get ready for tournaments other than just hitting a few balls here and there."
Despite that, Heffernan had what he considers a good season, noting, "Sometimes when you play so much (like on tour) maybe you get a little burned out on that path where you're super focused on getting ready."
One thing he has found from playing less is that he's now looks forward to competing more than ever.
"Because I've played a lot less the last few years, I've been more excited, happy to go out and play. That trumps anything, any rust," he noted, pointing to his great finish at the Mackenzie Tour-PGA TOUR Canada event in Calgary where he finished second by a single shot.
"I didn't actually prepare for it. I just kind of showed up and four days later, I finished second. That moment when you're in contention, those competitive juices start to come back."
Another key to his recent success is teeing it up with friends, even though they are competing. "In the PGA (of Alberta) events, PGA Canada events, it's a lot more fun and when you're having fun, it's a lot easier to play well."
In reviewing his year, the POY for 2017 said, "I kind of started out slow. I played a couple of rounds with Scott Stiles, one of the best putters I've ever played with, and he noticed something with my stroke. I took that to the practice green and the very next tournament, I won. From there I went to the Canadian Tour event and putted probably the best I've ever putted. It was nice to putt well again," as well as enjoy playing up to expectations.
In speaking to what this latest award means to him, Heffernan said it serves two purposes, one personally and one professionally.
"There are a lot of good players in Alberta and always have been. It means I'm still playing very well and it shows that I have consistency, I guess. I think the reason is I had a lot of fun this year.
"(The award) certainly helps in that (teaching) sense. Being a good player doesn't necessarily mean you're a good teacher although it doesn't hurt. I feel like I'm a really good teacher too, so if I can keep playing well and improve as a teacher, that will help my business."
---
About the Writer
Gord Montgomery is a retired sports editor of two weekly newspapers in the Edmonton area and is a member of the Golf Journalists Association of Canada. He is now in his 10th year of writing for Inside Golf.
He can be reached at This email address is being protected from spambots. You need JavaScript enabled to view it.. He's also on Twitter at @gordinsidegolf and on Instagram at gordinsidegolf2.