Double Award Winner Stays Golf Busy Year-Round
Details

Category: Inside Golf
Published: 2017-11-22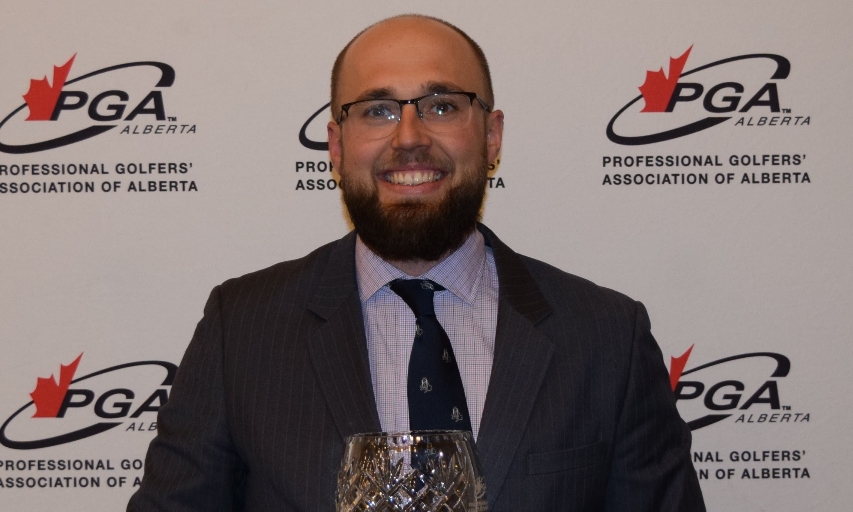 Sean Thompson (Photo/PGA of Alberta)
CALGARY, Alberta (Gord Montgomery/iG) — As anyone in the golf industry knows, in the warm months the business is more than an eight hour a day shift. And when you're in the business on a year-round basis, as Sean Thompson is, it's more than a six or seven month season.
Thompson, from the Calgary Golf & CC, earned the respect of the PGA of Alberta for his work habits and business enthusiasm as he walked away with two honours from this year's award ceremony, held in October in Edmonton. He was named the Assistant Professional of the Year (Class A) as well as being named the winner of the Professional Development Award.
In a phone interview, Thompson noted it took him a while to land the two titles but now that he has them on his mantle, he's going to keep doing what he's been doing to improve in his role in order to better serve his clientele.
"I've been up for it (Assistant Professional title) the last couple of years so it was nice to be recognized in that regard, finally," he said with a small chuckle. "I've been involved in the association quite heavily over the last couple of years," including committee work on education, tournaments and sitting on the assistants' board as VP. "And I just try to volunteer as much as I can with the PGA on Wheels, the Consumer Show and volunteer coaching opportunities.
"I just think a lot of this stuff, a lot of the programs we've managed to establish on the board went into winning the award this year. We've been trying to focus the assistants' board a little more on what we've been trying to achieve and we've got some cool projects in the pipeline here over the next year or two."
Then to top all that off, Thompson has been growing the game by taking time to teach non-playing staff members at his Calgary club the game he loves. He's taken members on golfing trips to Scotland and Ireland with more journeys planned. He has also travelled extensively for work, visiting other private clubs, especially in B.C., where he's studied what they're doing and brought some of their ideas back to his club. In other words, this really is a full time job.
"Yeah, that's right, especially in the winter.  In the summer, my time is so occupied with club stuff, association things. As soon as the fall hits and things slow down I'd rather be busy than quiet, so it's nice to have a few things to focus on."
To Thompson, the assistant pros at any golf club play a vital role in keeping day-to-day operations running smoothly.
"I think assistants in particular, we're the guys executing the individual responsibilities for the most part. Head pros are there to help if you need it but for the most part, whether it's operating tournaments and leagues, managing inventory, or whether it's managing and training seasonal staff, you're the guys kind of on the front lines. (Head pros) are out there and visible, but generally when something needs to get done, it's usually one of the assistants executing it and that's where you gain your experience that prepares you for a head pro job."
As for the Professional Development Award, Thompson noted, "It's recognizing the individuals who are looking to further themselves the most and there's a bunch of criteria people get points for depending on their participation in community events, tournaments, other bits and pieces where you accumulate points."
That's where his travels to B.C. clubs came in handy, building up points for his time spent working away from his own club.
"Kind of outside the box thinking as to how you can develop yourself as a golf professional," which also included him completing the first three levels in becoming a Rules Official, with the fourth and final stage on the horizon.
As to which award means the most to him, Thompson noted they both hold a special place in his heart, but when all is said and done, the Assistant Professional of the Year is likely his favourite.
"I view them a little differently. It was certainly an ambition of mine to win the Assistant of the Year … so I'd say I'm probably more proud of that. But, I probably view the Professional Development award as more valuable because it's recognizing people that further themselves the most … and that's an ambition anyone can have if they apply themselves for 12 months of the year," something Thompson has done with admirable ability over the past year and for the years before his double award win.