EverBank, The LPGA Launches Girls Golf Chapters to Empower Youth
Details

Category: Inside Golf
Published: 2017-12-13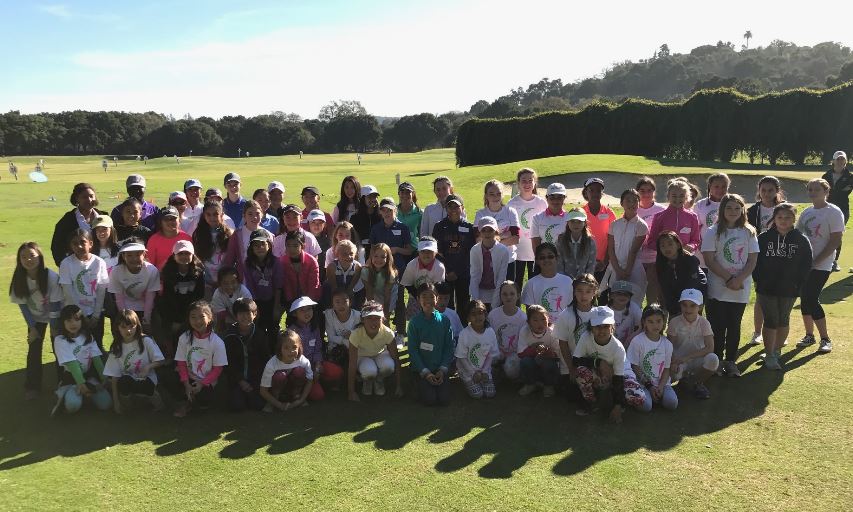 EverBank Teamed With The LPGA To Launch Girls Golf Chapters Nationwide To Empower Youth. (Photo/Business Wire)
JACKSONVILLE, Florida — EverBank's relationship with The LPGA continues to grow with the launch of new LPGA-USGA Girls Golf chapters nationwide. LPGA-USGA Girls Golf is the only national junior program specializing in girl-friendly environments to learn the game of golf and develop vital life skills. With EverBank's support, a new chapter has been established in the San Francisco, CA area. This chapter will be a fresh place to empower girls with confidence and enrich their lives through the game of golf.
A kickoff ceremony was held on December 10, 2017 in Palo Alto, CA at the Stanford Golf Course, located at Stanford University.
"Our relationship with the LPGA has been extremely rewarding and we are only getting started," said Christina Estrada, Chief Human Resources Officer of TIAA, FSB, the successor to EverBank. "Together, we will be able to bring golf to underserved girls and families that may not be able to participate otherwise. The program empowers young women with confidence, develops their leadership skills and positions them to make a positive impact and be a role model in their community."
Nancy Henderson, Chief Teaching Officer and President of The LPGA Foundation, spoke at the event about each organization's commitment to empowering youth.
"Our goal is to ensure that EVERY girl is able to learn to play golf in a fun, supportive and affordable program; and our relationship with EverBank is helping us achieve this goal," said Henderson.
"LPGA-USGA Girls Golf provides an opportunity for girls ages 7 to 17, to learn golf in a fun, supportive 'girls only' environment, preparing them for a lifetime of enjoyment with the game of golf," added Henderson. "Together with EverBank, we are truly making a difference in the lives of girls and helping to change the face of golf."
At the conclusion of the ceremony, the girls and young women received their first golf lesson.
Each Girls Golf site is overseen by LPGA teaching professionals with over 415 sites nationwide and over 70,000 girls participating. EverBank has an established relationship with the LPGA and the organizations are working together to identify the next market to open a second Girls Golf chapter made possible by EverBank.
---
About EverBank
As a part of TIAA's Retail Financial Services business, EverBank, a division of TIAA, FSB, provides full-service, nationwide banking and lending services to consumer, commercial and institutional clients through a variety of channels, including online, its Florida-based financial centers and at other business offices throughout the country. More information on EverBank can be found at https://about.everbank.
About the LPGA
The LPGA is the world's leading professional golf organization for women. Founded in 1950 and headquartered in Daytona Beach, Fla., the association celebrates a diverse and storied membership with more than 2,300 members representing more than 30 countries. With a vision to inspire, empower, educate and entertain by showcasing the very best of women's golf, LPGA Tour Professionals compete across the globe, while the Symetra Tour, the official development and qualifying tour of the LPGA, consistently produces a pipeline of talent ready for the world stage. Additionally, LPGA Teaching and Club Professionals directly impact the game through teaching, coaching and management.
The LPGA demonstrates its dedication to the development of the game through The LPGA Foundation. Since 1991, this charitable organization has been committed to empowering and supporting girls and women through developmental and humanitarian golf initiatives, such as LPGA*USGA Girls Golf.
Follow the LPGA on its television home, Golf Channel, and on the web via www.LPGA.com. Join the social conversation at www.facebook.com/lpga, www.twitter.com/lpga and www.youtube.com/lpgavideo, and on Instagram and Snapchat at @lpga_tour.