British Columbians Macdonald, Harlingten Survive Q-School Pressure-Cooker To Earn Web.com Tour Status For 2018
Details

Category: Inside Golf
Published: 2017-12-13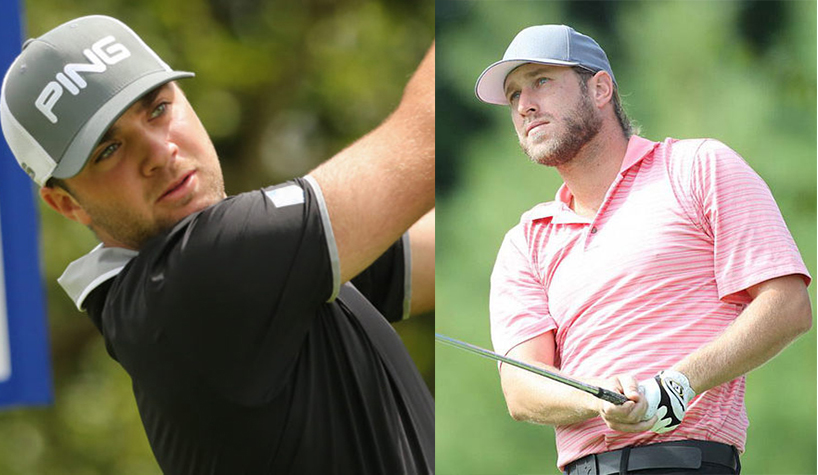 BCer's Stuart Macdonald (L) And Seann Harlingten (R) Both Survived The Pressure Of Q-School To Obtain Solid Status On The Web.com Tour For 2018. (Photo/PGA TOUR Mackenzie-Tour Canada)
Calgary's Ryan Yip And Toronto's Albin Choi Also Earned Status As All Four Canadians In The Final Stage Of Web.com Q-School Finished Inside The Top 45 
By Brad Ziemer, British Columbia Golf
If there were any doubts about whether he could make birdies when it mattered most, Stuart Macdonald erased them on the back nine of the fourth and final round of the Web.com Tour qualifying school.
With the butterflies in his stomach in full flight, the 23-year-old rookie pro from Vancouver's Point Grey Golf & Country Club, calmly made six birdies on his final nine holes to earn Web.com Tour status for 2018.
No sweat? Not really.
"When we turned to the back nine that is when I really started to feel the pressure," a relieved Macdonald said after his round. "I don't think I have ever felt more pressure on a golf course in my life. I was glad I was able to handle it."
Macdonald finished his round in style, chipping for birdie on the 18th hole at the Cattail Course at the Whirlwind Golf Club in Chandler, Ariz. He closed with a five-under 67 to finish tied for 23rd spot at 16-under par.
The top 45 and ties in the 144-player field earned solid status on next year's Web.com Tour. West Vancouver's Seann Harlingten finished tied for 30th at 15-under to also earn playing privileges. In fact, all four Canadians competing at Whirlwind finished inside the top 45. Calgary's Ryan Yip tied for 10th spot at 18-under, while Albin Choi of Toronto tied for 23rd.
Macdonald had to weather an up-and-down front nine before his back nine birdie binge. "The front nine, I really couldn't get any momentum," Macdonald said. "Whenever I made a birdie on the front I'd make a bogey on the next hole. I couldn't get anything going."
That changed on the back side when he started rolling in putts for birdie. He knew he needed them. Late on the front nine, Macdonald had fallen one shot out of the top 45. "I just knew that I had to make birdies and finish strong," he said.
"I think I proved to myself today that I am able to make putts and make some birdies when I absolutely have to. I needed a back-nine charge and that is exactly what I did. I was really happy about the way I played on the back nine and the way I played the whole week."
So was Harlingten, a seasoned PGA TOUR Canada-Mackenzie Tour veteran who had come close at Q-School last year when he finished tied for 72nd at final stage. He fired a four-under 68 in the final round and had made enough birdies early in his round to survive a couple of late bogeys.
"It's exciting," said Harlingten. "I feel like I've been getting better the last three years. I'm just going to keep doing what I'm doing. I am going to maybe grind a little harder now. I've got something to focus on now. I can plan my next year's schedule on a different tour than the Mackenzie Tour."
Harlingten, now 31, got his first taste of the Web.com Tour at age 16 when he became the youngest player to Monday-qualify his way into an event. Actually, it was so long ago that the tour was then called the Nationwide Tour. "That was half my life ago," Harlingten chuckled. Harlingten did not make anything worse than a bogey in his four rounds at Q-School, where avoiding the big numbers is one of the keys to survival.
CLICK HERE for complete final scoring
"I was close on the last hole today, though," he said. "But I grinded for bogey. I hit my driver really well this week, I putted pretty good and I was solid around the greens. I want to say I made it easy on myself but it was still too close for comfort."
Harlingten finished just one shot inside the magic top 45 and ties number. Macdonald did make some big numbers in what was an eventful third round. He made a triple-bogey on the 13th hole after hitting a shank into the desert.
"My ball ended up on a pile of sticks in the desert," he said. "I go over there and am checking out my lie and I step on one of the sticks and the ball moves. So it's a one-shot penalty plus an unplayable. I got to the fairway and end up making a triple. Then I doubled the last hole -- a plugged lie in a bunker. . .It put me in an interesting situation today."
Macdonald, who completed his collegiate career at Purdue University in Indiana in the spring of 2016, did not turn pro until this past spring. He played on the Mackenzie Tour this past summer and his early results were not particularly encouraging.
He missed seven of 11 cuts and did not make enough money to finish inside the top 60 on the money list to secure status for 2018. Now he's on the Web.com Tour. Golf's a funny game. "I'd like to say that when I initially turned pro that I thought I could be where I am right now, but after my first little while on the Mackenzie Tour I didn't feel too confident," Macdonald acknowledged.
"I thought I might be on the Mackenzie Tour again or maybe fighting to play on the Mackenzie Tour. But you see and hear so many stories about guys that get their tour cards, lose their tour cards, get bumped down to the Web or bumped down to the Mackenzie or lose all their status, so it kind of gave me peace of mind that maybe it wasn't going to happen instantly, it was going to be a process. Some guys get there quicker than others."
Macdonald is happy to be one of those guys. He and Harlingten, along with Choi, are guaranteed spots in the first eight events on the 2018 Web.com Tour schedule. If they make some cuts along the way, they'll be able to play the entire year. Yip, by virtue of his top-10 finish at Q-School, is guaranteed 12 starts. Yip cashed a cheque of $15,000 at Q-School, while Macdonald, Harlingten and Choi each earned $10,000.
Macdonald and Harlingten both got to final stage of Q-School the hard way. They each had to first pass through the first and second stages of Q-School to earn a spot in the finals. "I think that helped," Harlingten said. "Each tournament is a high-stress week under pressure. I had to play pretty good to get it done."
Macdonald and Harlingten will join fellow British Columbians Adam Svensson of Surrey and Roger Sloan of Merritt as Web.com regulars.
CHIP SHOTS: Lee McCoy of Clarkesville, Ga., won the Q-School with a 72-hole score of 28-under par. He earned exempt status for the entire year and $25,000. McCoy won the Mackenzie Tour's season-opening event, the Freedom 55 Financial Open, at Point Grey Golf & Country Club in June. Germany's Max Rotluff, who won the Mackenzie Tour's Bayview Place Cardtronics Open at Uplands Golf Club in Victoria, earned his 2018 Web.com Tour privileges thanks to a 10-under 62 in the final round of Q-School. . .The 2018 Web.com Tour season starts Jan. 13 with back-to-back events in the Bahamas.