Me, Golf, And Mr. Harry White
Details

Category: Inside Golf
Published: 2018-01-09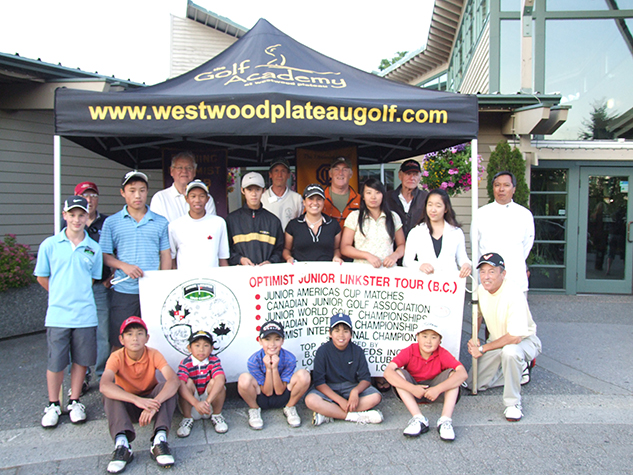 A Photo From A Junior Event Held At Westwood Plateau A Few Years Back With A Young Chris Crisologo (3rd From Left Standing, Middle Row) And His Acknowledged Mentor Harry White (Back Row, Centre). (Photo/Brad Ewart, Kneeling, Far Right In Photo) 
One of Harry White's most gracious and talented young disciples, Chris Crisologo, pays tribute to the gentleman who helped him fall in love with the game, but more importantly, as Chris iterates, taught him so many valuable life lessons.
By Chris Crisologo (reprinted with permission)
The one question I get asked often is 'why did you choose golf?' The short and quick answer I like to give is that my dad thought it was a good idea to introduce me to all sports and see which one stuck.
Here's the long story that got me hooked to competitive golf, one that seems very fitting.
Golf really isn't the most affordable sport in the world. Golf clubs cost money. Golf tournaments cost money. Travelling to golf tournaments cost money. Fortunately, at one of the local driving ranges in Richmond, a piece of yellow paper caught my mom's attention.
She browsed through it and saw that this 'tour' held a number of tournaments throughout the year. These events were very affordable and something that her 7 year-old son could possibly enjoy. Me being me, I was mortified at the idea of trying something new and doing something different.
The rules of golf were so foreign to me I wouldn't be able to remember any of them. There were too many of them. On top of that, there was etiquette to the game. There was just no way I would be able to play the game. That all changed when I met Mr. Harry White.
Harry was the coordinator of the Junior Linkster Tour Canada in BC. He had a passion for the game and that showed throughout his tour. Respect, sportsmanship and camaraderie were the biggest themes.
I remember at the beginning of the year, there would be a rules seminar, where all the junior golfers would attend and learn the rules and etiquette of the sport. Sure, there were a lot of them and sure you had to get 7-12 year olds to pay attention for a couple hours, but the amazing part was that he did it. It was all based on respect and all the kids would listen.
Not surprising, there were few problems with etiquette and the rules on the tour. Crazy to believe these were 7-12 year old kids. There was a sense of respect and integrity that Harry instilled in all his juniors and that has carried on with me throughout my golfing career.
The Junior Linkster Tour was the first place that allowed my game to grow. Competing against other kids, in a competitive yet fun and affordable environment gave me an opportunity to enjoy the competitive nature of golf. I fell in love with it immediately.
Harry's tour introduced me to the competitive nature of the game. He instilled in me the values of the game and how to respect it. But Harry was much more than a junior tour organizer to me. On top of giving me a place to compete in, he took me under his wing and gave me a home.
Getting a 10 year-old kid a membership into a private golf club isn't easy. Through his connection at Marine Drive Golf Club, he was able to help me gain junior membership status. There is no explanation in the difficulty of getting a kid with no family connection at the club a membership, but many juniors like m got in because they were recommended by Harry.
Being able to play a few rounds with Harry gave way to some of the aspects of my golf game. How do you learn to hit the ball far? "Tee it high and let it fly, there aren't any hazards in the sky". Harry also taught me the importance of visualizing a shot and feeling how my body should move in order to create that shot. He gave me a picture book when I was a little older that I found childish, but yes, at times I still like to envision the yellow highlighter colour streak, following the path where the ball should go.
My relationship with Harry was more than golf. He was a graduate of Vancouver College and he wrote one of my recommendation letters. He captained the two Junior Americas Cup teams that I played on. I struggled playing at altitude in Colorado and I forced a few too many things playing in Hawaii but he was there to console me, saying that these experiences will help me grow as a player.
From Colorado, I learned that you should always be prepared for anything, including doing math on the golf course. From Hawaii, I understood that it's just a game - you're going to struggle so there is no point on dwelling on it. There's "just another hole to make a birdie." I was not one of the best juniors at the time, but Harry put his confidence in me, hoping it would work out in the end. I like to say it did, but I realize now that the life lessons traveling with him were more valuable than anything else.
There are countless memories and lessons I learned from knowing Harry White. He played an instrumental role in who I am today. From many friends I was able to make playing on the Junior Linkster Tour, to the valuable life lessons from road trips, to the connections I was able to make through him. He also valued the Optimist Creed, since his tour operated under the Optimist Club banner. Those words have stuck with me ever since. If there was one person who I could point to who lived those words, it was Harry. In doing so, he became a role model to me on how to live life.
It hurts that I won't be home for his memorial service. Fitting as I'm heading to Argentina for a tournament. An opportunity that I would never have had if my mother missed that bright yellow piece of paper. I know there will never be another person so dedicated to introducing the game of golf to children.
I am truly grateful for having crossed paths with Harry White. To one of the people who inspires me every day, rest easy Harry. You taught me that being unique isn't something to be scared of. It's something to strive for. Thank you for everything you have given us. I promise.
— Chris Crisologo (@CJCrisologo8) January 2, 2018