Adam Hadwin Plays Himself Into Contention At Phoenix Open With 65 And 191,400 Spectators
Details

Category: Inside Golf
Published: 2018-02-03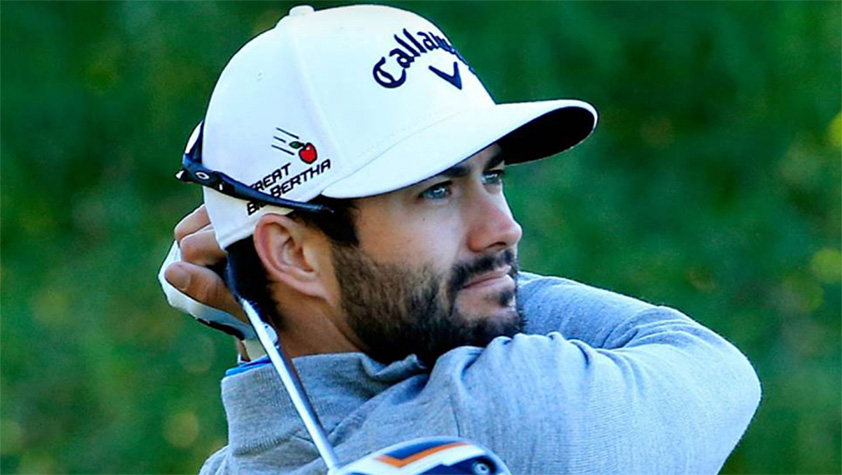 Adam Hadwin Has Himself In Contention Going Into The Weekend At The Waste Management Phoenix Open - Image Courtesy Adam Hadwin Website
By Alfie Lau
It was a tough Thursday night for Abbotsford's Adam Hadwin, who had seen a promising opening round at the Waste Management Phoenix Open devolve into just a (-1) round of 70. But as darkness settled in Scottsdale, Hadwin made a prediction of what was to come after his closing bogey.
"It was an unfortunate three-putt, but it is what it is," said Hadwin. "I just need to clean it up tomorrow, shoot 4 or 5 under."
Well Hadwin did even better than that, making six birdies in his final 9 holes to shoot a (-6) round of 65 and rocket his way up the leaderboard. His blemish-free scorecard included those six circles and 12 pars.
Hadwin, who started his round at the first hole, made pars all along the front nine, and then exploded with birdies on 10, 11, 14, 15, 17 and 18. His birdie at 15 was notable because he chipped in from the right fringe after a poor third across the green. At 18, he made a 15-foot putt as waves of Canadians cheered lustily for him.
For Hadwin, there wasn't much difference in his ball striking from Thursday to Friday. "I played those first or five holes on the back side the same as yesterday," said Hadwin. "The big difference is I played them in a couple under today."
Hadwin said he played well on the front 9, even though his scorecard didn't show it. "I hit some good shots, hit some good putts, nothing fell," said Hadwin. "I plodded my way around. It was just a matter of waiting for it to come." And come it did, as Hadwin has placed himself in prime position for the weekend.
Hadwin did say it was good to get his Friday round done before the late afternoon, when fans in Phoenix get traditionally more boisterous. "Absolutely, we get them when they're only one or two beers deep instead of 12 beers deep," said Hadwin, who added that he doesn't ever have anything special planned at the 16th hole. "I'm the quiet guy," said Hadwin. "I just go about my business and just try not to get booed."
Hadwin was lucky to leave 16 unscathed because the fans were in fine form early and got more boisterous as the day went on. One of the ushers outside the 16th hole said that when he arrived for work at 5:30 a.m. Friday, there was a group of New England Patriots fans, in full throat, waiting for the gates to open at 7 a.m. so they could rush through the gates to secure their spots on the 16th hole.
Another traffic cop said it's a strange phenomenon that traffic prior to 7 a.m. is crazy because the die-hards are trying to get to Scottsdale. And then during traditional morning rush hour, it's quiet because those who couldn't make it early are getting rest before making it in the afternoon. That means there's an unusual second rush hour, just after 11 a.m. when people are trying to get to TPC Scottsdale for the afternoon flight of golfers, which includes crowd favourites Phil Mickelson and Jon Rahm.
Mickelson and Rahm are tied with Hadwin in a large group within striking distance of leaders Rickie Fowler and Bryson DeChambeau, who finished at (-10). Fowler got it to (-11) at the par-5 15th, only to give it back with a sloppy bogey at the 17th to fall back to (-10).
DeChambeau finished birdie-birdie to grab a share of the lead, amidst news there will be a new champion at the Waste Management Phoenix Open because two-time defending champion Hideki Matsuyama had to withdraw with a sore wrist prior to his second round on Friday morning.
Of the Canadians, Ontario's Ben Silverman sits at (-3) after Friday's 68. Also playing this weekend is Abbotsford's Nick Taylor at (-2) after Friday's even par 71.
The tough luck Canuck story has to go to Dundas, ON's Mac Hughes, who bogeyed his final hole to miss the weekend by that one shot. Hughes, who started on the 10th hole, didn't have much going early, but jumpstarted his day with three birdies in a row at 15, 16 and 17, including one of the best shots at 16, just 3.5 feet away from the hole, which he easily converted for birdie.
Hughes got it to (-5) with just seven holes to play, only to get on the bogey train, making five bogeys including four in a row to finish tied with Jordan Spieth, perhaps the highest profile casualty of the cut. Spieth had an ice-cold putter and also was the victim of several ill-timed shouts from inebriated fans on both Thursday and Friday which had to have cost him the stroke he needed to play this weekend.
But the bigger news is the announced attendance of 191,400 for Friday, a new record for the second tournament day. With a weekly total of 439,088, the weekly record of 655,434, set in 2017, could be broken Saturday, with 800,000 total spectators within reach.
104,375 was the announced attendance Thursday, just below the all-time Thursday record of 118,461 set in 2015 when the Super Bowl and Tiger Woods were both part of the equation.
The Waste Management Phoenix Open is one of the few tournaments which has a larger Saturday attendance than Sunday. It's no surprise, considering the final Sunday in Phoenix is Super Bowl Sunday.
The Waste Management Phoenix Open tries to get its final round complete by 6 p.m. Eastern, or approximately 30 minutes before the start of the Super Bowl so that couch potatoes can seamlessly go from watching live golf to live football, but that hasn't worked out the last two years because Matsuyama needed extra holes both years to vanquish Rickie Fowler and Webb Simpson respectively.
With Matsuyama now out of the tournament, perhaps that bodes well for a normal time finish on Super Bowl Sunday.
About The Writer:
Alfie Lau has been a contributor to Inside Golf for several years and is making his annual pilgrimage down the coast for the PGA TOUR's West Coast Swing. He can be reached at www.twitter.com/AlfieLau