4 A.M. Golf Fans – The Greatest Saturday In Golf
Details

Category: Inside Golf
Published: 2018-02-04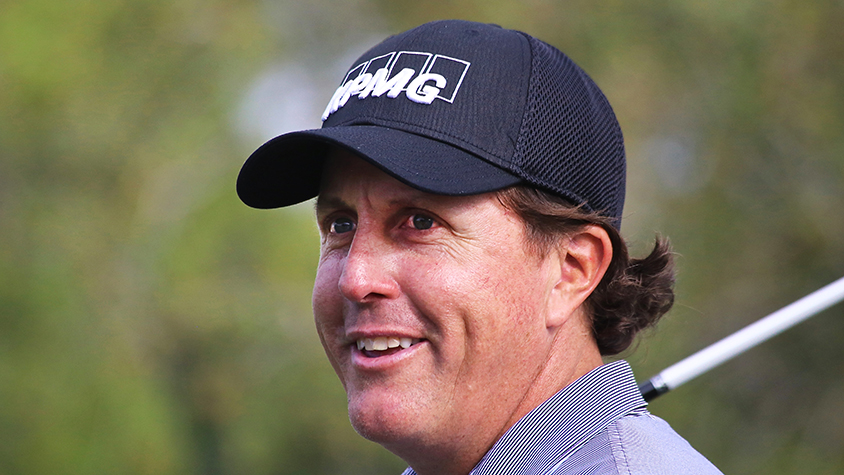 Fan Favourite Phil Mickelson Was Front And Centre In The Action Saturday At The Waste Management Phoenix Open In Scottsdale - Image Courtesy Flickr
By Alfie Lau
The Twitter pictures showing fans lined up at 4 a.m. were the first sign Saturday at the Waste Management Phoenix Open would be special. And then word started going around that at 8:30 a.m., the Thunderbirds, the local organizing committee, were passing out 3,800 burritos to fans who had braved the morning craziness to be first in line at the 16th hole grandstands.
By the time lunch time came and went, the area behind the 16th hole grandstands, which are adjacent to the 10th green and 11th teebox, were so packed with people that movement wasn't possible and you could only go up the 17th fairway if you wanted to see any more golf action.
Welcome to Saturday at the Waste Management Phoenix Open, where 216, 818 people, some of them golf fans, helped organizers break one record and be on the precipice of another: Largest Saturday attendance and, when added to the 438,088 people who've already been to TPC Scottsdale this week, that's 654,906 people who attended the 2018 tournament, just 528 short of the total of 655,434 set last year.
There will be that many people who don't find their way home from the Bird's Nest on Saturday night and just turn around to attend the final Sunday of the tournament. For the record, attendance was 58,654 in 2017, with a Sunday record of 93,475 set in 2007 so you can expect somewhere in between those numbers for what will surely be a tight finish on Sunday.
But the numbers don't tell the story of just how crazy it is here at TPC Scottsdale. Look down one row of the grandstands near 16 and it seems strange that nobody is sitting in the prime seating overlooking the green. But walk down there and you'll see why. Piled three feet deep, all along the row, are beer cans deposited by the rowdy fans who've been drinking – at the course – since sales started in the morning and probably since 4 a.m. when the first fans started lining up.
Another fan talked about going into a Porta-Potty to discover a pair of women's underwear. He probably wasn't the only person to discover this unique situation. As players finally made their way through the tunnel at 16 just before noon Saturday – there was a split tee start between 10 a.m. and 11:50 a.m. – the fans were in full form.
Between imploring the standard bearers to spin their sign to begging the caddies to race to the green, the only way fans could be placated was with swag, including Jon Rahm handing out more of his red Rahmbo headbands.
Besides all the silliness, it was also revealed that Canadian Ben Silverman, who entered Saturday at (-3) and put in a workmanlike (-1) round of 70 to get to (-4) had earned another distinction: Winner of a new Ford Expedition.
It appears Silverman played the 16th hole off the tee in the best way possible and won a 2018 Ford Expedition. The Ford "Drive For Your Ride" competition rewarded the player with the combined closest-to-the-pin tee shots on No. 16 in rounds 1 and 2 with the spanking new car. Silverman's combined total of 15 feet, 8 inches just nipped Irishman Shane Lowry for the title and the car.
It doesn't appear a Canadian will win this tournament as another day of immaculate weather and perfect scoring conditions saw many players move up the leaderboard. Second-round co-leader Rickie Fowler shot a (-4) round of 67 to get to (-14) and a shot clear of Jon Rahm, Chez Reavie and second-round co-leader Bryson DeChambeau, who shot rounds of 65, 67 and 68 respectively.
Fowler will be trying to win here just two years after giving the tournament away to Hideki Matsuyama. For those with good memories, Fowler had a two-stroke lead heading to the 17th tee, only to blow driver into the water behind the hole and his lead disappeared instantly. Fowler was so overcome with emotion that at the post-round press conference, he broke down in tears because he was trying to win, for the first time, in front of his grandfather, who was in attendance in Phoenix.
Just two strokes back are another three chasers, including Xander Schauffele, Daniel Berger and local fan favourite Phil Mickelson, who carded a (-5) round of 66, including birdies on his final three holes.
Mickelson's signature moment came on the 10th hole, when his approach shot went way right, to just in front of the world famous $7 ThunderDog stand. With thousands of spectators in the area, many of whom needed to be moved, it led to a very interesting situation.
"That was a unique situation because the people were great, the police officers and the Thunderbirds did a great job, but that was one of the most uncomfortable moments that I can remember with that many people and being swarmed like that," said Mickelson.
In Typical Phil fashion, he hit a massive flop shot and made the par putt.
For Canadian golf fans, many of whom made it to Scottsdale wearing decidedly non-golf clothing such as Auston Matthews Toronto Maple Leafs, Sidney Crosby Team Canada and Johnny Gaudreau Calgary Flames jerseys, there wasn't much to cheer for.
Silverman moved down to T42 despite shooting an under-par round, but Abbotsford's Adam Hadwin had a much more precipitous fall, going from three strokes out of the lead and T8 to a (+3) round of 74 and a T42 tie with, among others, Silverman.
Nick Taylor also fell 12 spots, to T62 after a (+2) 73.
In reality though, many of the spectators who came to TPC Scottsdale were not even aware that a golf tournament was taking place. The best evidence of this: As Phil Mickelson walked up the left side of the 18th fairway after hitting a perfect drive, a young woman, dressed in Arizona State University colours turned to her friend and said: "I came just to see Phil. Do you know where he is?"
About The Writer:
Alfie Lau has been a contributor to Inside Golf for several years and is making his annual pilgrimage down the coast for the PGA TOUR's West Coast Swing. He can be reached at www.twitter.com/AlfieLau