Pebble Beach Paradise
Details

Category: Inside Golf
Published: 2018-02-06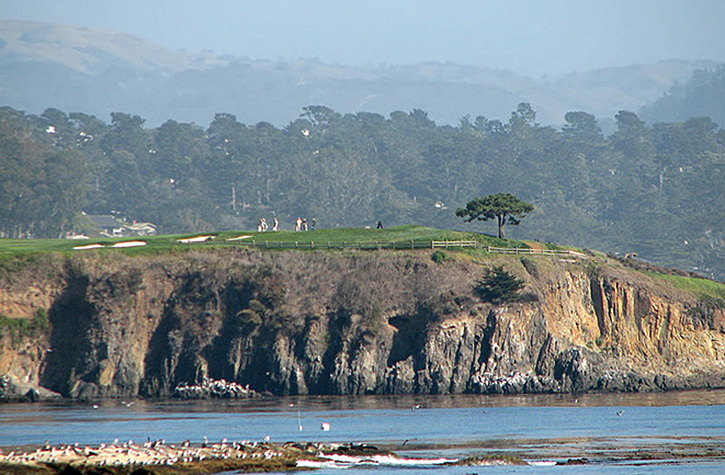 The 6th Hole At Pebble Beach, A Place Known To Many Golf Fans As Heaven On Earth - Image Courtesy Wikimedia Commons
By Alfie Lau
Google 'Mesa to Pebble Beach driving time' and you'll see that you have to travel 711.2 miles in 11 hours and 14 minutes to do the trip. In reality, after a missed turn or two, plus traffic, it worked out to 1,290 kilometres in 19 hours, which included time pulled over to shop, sleep and eat.
Only a madman would do this for the fourth year in a row, but once you enter 17 Mile Drive and the paradise that is the Monterey Peninsula, you realize it's all worth it.
It's a beautiful sunny Tuesday at the AT&T Pebble Beach Pro-Am and this has already happened:
While in line to get my picture taken with the Houston Astros World Series Champion trophy, I looked back and saw two young guys also wanting their pictures taken. It didn't take long to recognize golfer Patrick Reed and his caddie and brother-in-law Kessler Karain happy to see the trophy. Reed said he's a big Astros fan, being from Houston and he went off to play his practice round after the picture was taken. The best part: None of the three people attending to the trophy had any idea who Reed was
Dustin Johnson took part in a charity putting competition and was supposed to do a press conference afterwards. But since DJ is a man of few words, he took time during the putting exhibition to answer 7 questions. A sampling: When asked what preparation he has done for Pebble in the last week, Johnson answered: "I was just at Sherwood, practiced, played a little bit. Went over to Vegas and saw Butch and worked on some things, but normal off week." When pressed what he worked on with Butch Harmon, Johnson answered: "No, just, we didn't work on much, I was swinging pretty good, so just hanging out." Yup, the man lets his golf do the talking for him
In a celebrity putting competition, complete with obstacles you would see on a mini-putt course, we got to see celebrities Larry Fitzgerald, Aaron Rodgers, Harris Barton, Justin Verlander and Kelly Rohrbach show us who was the boss of the moss. Well, with the first three being football players, and the fourth a star baseball pitcher, it meant Rohrbach, an actress and model, was decidedly different than the other four competitors
The media centre for Pebble Beach has moved from the conference centre in the Lodge, just above the putting green and the 18th green, to across the street from Casa Palmero, adjacent to the tennis courts. On the positive side, we're in a shiny new tent, with all the technological advancements we've come to expect. In addition, our food area is in the same tent, which means no more risking life and limb to run across the street for late afternoon cookies. We're also much further up the first fairway, so that means we can get out to the third green and fourth tee box, and the immaculate walk all the way out to the iconic 7th green and eighth tee box. And as long as our media shuttle runs like it always has, getting out to Lot 8, the old equestrian area, will not be a problem. Still to be determined: Losing our prime spot overlooking 18 means post-round interviews are much further away
It's a matter of who you know that gets you into Pebble Beach. No surprise there are six Canadians in the field of 156. Nick Taylor and Mac Hughes can pick their schedule, while Web.com graduates Corey Conners and Ben Silverman easily made the field. The other two Canadians relied on past goodwill to get themselves into Pebble Beach. David Hearn gets in for the second time in 3 weeks, after just finishing out of the top 125 last year, and he'll be playing with his normal amateur, rich Saskatoon businessman David Dube. And getting a sponsor exemption is Mike Weir, who has always been good with his amateurs and is getting some karmic payback for that now. Weir traditionally plays at Cypress Point on Tuesday before coming to Pebble Beach for a Wednesday practice round
The missing Canadian? Adam Hadwin has decided to take the week off after playing the first three legs of the West Coast Swing. Hadwin made a big cheque in Palm Springs and also made the cut in both San Diego and Phoenix. Hadwin sent best wishes via Twitter to his amateur partner last year, actor Chris O'Donnell. The Abbotsford native will be back in the saddle next week at Riviera for the Genesis Open. He revealed that he's never played a round with Tiger Woods and with Woods in the field in Los Angeles, that may be a possibility if both make the weekend cut
The descriptions of some of the amateurs in this week's tournament are interesting, to say the least. Former Dallas Cowboys quarterback and current CBS football analyst Tony Romo is called the Chairman of CBS. Gerry McIlroy is listed as retired, which is true because Rory's father is playing with his son, Rory's first time ever at the AT&T Pebble Beach Pro-Am. Alex Smith, who played with Mac Hughes last year, is still listed as the quarterback of the Kansas City Chiefs even though his rights have conditionally been traded to the Washington Redskins in a deal that can't be official until March 14. Best for Smith not to wear any shade of Kansas City red or Washington maroon during his rounds of golf
It's set to be a picture perfect weather week here in Monterey, with temperatures in the high-60s and low-70s, much more bearable than the low 80s in Phoenix all last week. Surely this weather can't hold a candle to January and February in British Columbia, right?
About The Writer:
Alfie Lau has been a contributor to Inside Golf for several years and is making his annual pilgrimage down the coast for the PGA TOUR's West Coast Swing. He can be reached at www.twitter.com/AlfieLau