Horton Honoured By Provincial, National Awards For Coaching Excellence
Details

Category: Inside Golf
Published: 2018-02-07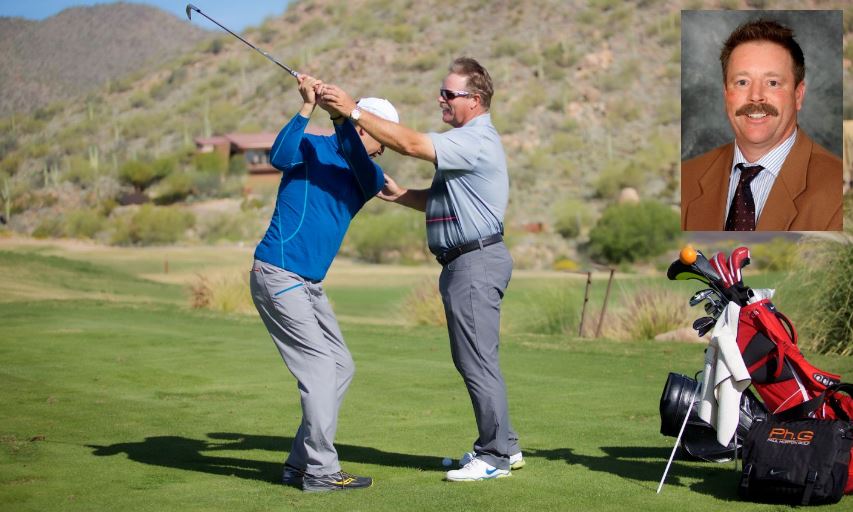 Paul Horton From The Heritage Pointe Golf Academy In Calgary Was Honoured As Canada's Coach Of The Year At The Recent PGA Show In Orlando, Florida. Horton Shown Here Working With A Student Has Instructed A Number Of Professional Players, Including Former Calgarian Stephen Ames.
CALGARY, Alberta (Gord Montgomery/iG) — By striving to be the best he could be be, Paul Horton became the best in Canada.
While honours for instructing others in the game of golf are nothing new to the Calgary-based golf guru, Horton noted that such acclaim, on both a provincial and a national level, is satisfying.
As the winner of the relatively new Coach of the Year award for the Alberta PGA this past season, and capping that off with the national title in the same category, Horton notes there is a difference between being a coach and being a teacher. By the way, he had previously won both ends of the Teacher of the Year category.
"The Coach of the Year is a different category than the Teacher of the Year award," he began. "The Coach of the Year has only been available for two years in Alberta. The Teacher of the Year I won twice, back in '03 and 2011. I won the national Teacher award in 2011 and through the rules of the PGA of Canada, you can only win those awards once."
In talking about those two national honours, Horton said to him there is quite a difference between being referred to as a 'coach' as opposed to a 'teacher'.
"Being a coach is working on more than just the swing. A lot of teachers are, I'd say, somewhat stuck on the swing component," he said in differentiating between the two. "I've streamlined my student base down to about 60-some odd, where I can actually coach the player on all aspects of the game. There are teachers that do that, but I'd be involved with all my students on an annual basis where we work on technical and practical, how to play the game, nutrition, fitness, all of that stuff. How to play golf. How to compete at the highest level."
While he has been nominated, and won, under both titles, Horton said he prefers to be referred to as a golf coach.
"To the general public it probably doesn't make much difference," he commented on separating the two. "In 2009 I decided to branch out, do more coaching, have a longer term relationship with my players," and that's paid off for him and those that come under his tutelage.
The Calgary mentor has a number of big names as students included on his resume´, including the likes of PGA winner and former Calgary resident Stephen Ames for four years as well as Champions Tour stalwart Gary Hallberg, PGA TOUR vets Steven Bowditch  and Tim Wilkinson and a number of CPGA professionals from in and around Calgary. The thing is, Horton doesn't just take high-end players under his wing. He'll work with anyone as long they're willing to give as much back to him as he gives to them.
"I have a lot of high level players but also a lot of mid-handicaps, and I'm just looking for commitment on their part. I think it's always better to find somebody that will coach you and get to know you on a personal level and understand how your mind works to play golf better. I assess their game, where they want to take their game and how much time they have to commit to it because I've found that one lesson here and there is never really valuable to anybody."
Asked to define what he feels makes a good coach, Horton started by saying "Well, a number of things," before continuing on with that thought by narrowing the criteria down to two aspects in particular.
"The two biggest keys in coaching anything, whether it's golf or something else, is being a great reader of people and being an excellent communicator."
While the player leans on a coach, like Horton, in learning how to improve his/her game, where does a coach look for lessons? For this coach, it's all about networking.
"In terms of how toetter myself as a coach, I travel a lot and do a lot of professional development. I belong to a group called the Proponent Group which includes a couple hundred of the top teachers in the world and we have annual teaching summits … where I go to seek out knowledge and become a better coach."
Speaking to his latest award, Horton noted, "I'm less concerned about my own game and it's more about shining the light on the players I coach. I get more enjoyment out of the players receiving the spotlight."
"It is a great honour, obviously. It is kind of what I've strived for most of my career in terms of trying to get myself to the highest level, so I'd consider this sort of the pinnacle of my coaching career in terms of the Canadian PGA honouring me with this award. It wasn't something I was seeking in the early stages. I just wanted to be the best that I could be," which, as it turns out, now means he's the best in Canada.
---
About the Writer
Gord Montgomery is a retired sports editor of two weekly newspapers in the Edmonton area and is a member of the Golf Journalists Association of Canada. He is now in his 10th year of writing for Inside Golf.
He can be reached at This email address is being protected from spambots. You need JavaScript enabled to view it.. He's also on Twitter at @gordinsidegolf and on Instagram at gordinsidegolf2.