Do You Feel Lucky At Pebble Beach?
Details

Category: Inside Golf
Published: 2018-02-08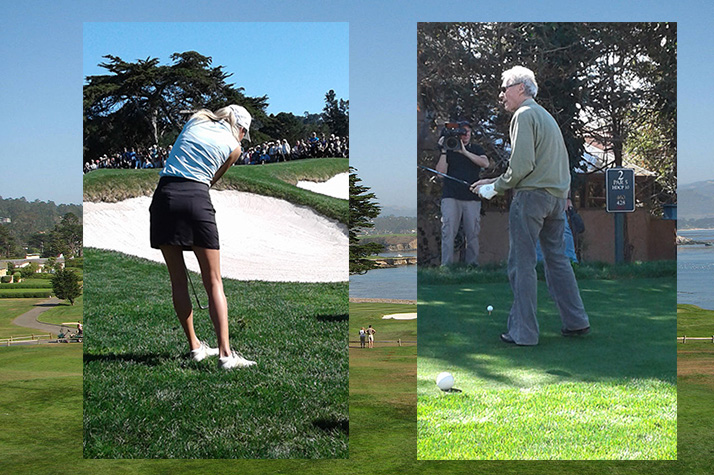 Celebrities Abound At The AT&T Pebble Beach Pro-Am. Including Actress Kelly Rohrbach (L) Whose Shot In This Instance Caromed Off Of 6-Time Major Champion Nick Faldo's Backside. Also On Site Is Legendary Hollywood Actor And Director, 87-Year Old Clint Eastwood (R) - Images Credit Alfie Lau & Wikimedia Commons
By Alfie Lau
The greatest thing about Pebble Beach is it puts ordinary people (like myself) into situations with extraordinary people.
It's just after 11 a.m. on Wednesday and celebrities are playing the five-hole Whisky Trail that Bing Crosby and his cronies made famous. Where else would you see LPGA legend Juli Inkster hitting balls alongside actor Bill Murray while pregnant LPGA star Gerina Piller is caddying?
But their star power is nothing compared to an old gunslinger who has slowed just a little due to age.
Clint Eastwood, a spry 87 years old, was part of Wednesday's festivities and unlike last year, when health issues precluded him from hitting balls, Eastwood hit a beautiful drive on the second hole.
Eastwood still loves golf and the movie business, as his newest directorial venture, The 15:17 to Paris, opens Friday and stars the real-life heroes who stopped a terrorist attack on yes, the 15:17 train to Paris.
Actress and model Kelly Rohrbach hit the shot of the tournament, a greenside chip which was nowhere near the hole, but managed to clip CBS broadcaster Nick Faldo in the backside. Faldo, looping for Eastwood, joked with the crowd that there were a lot of people who would love to hit him in the back with a golf ball and nobody argued that point.
Rohrbach is part of possibly the most photogenic foursome in the tournament. Rohrbach and her partner, Gary Woodland, the winner of last week's Waste Management Phoenix Open, are paired with former Las Vegas actor Josh Duhamel and Colt Knost.
There's rarely six degrees of separation at Pebble Beach.
For example, last year, while stuck at Spyglass waiting for a media shuttle that never came, golfer Jason Bohn took pity on me and invited me into his player shuttle. We started talking, first with my profuse thanks for getting me a lift, and then it came out that his regular Pebble Beach playing partner is Stanford professor, Augusta National member and former U.S. politician Condoleezza Rice.
Bohn and Rice get along well and as long as she's invited to Pebble, he's invited. When I went out to the 7th hole on Tuesday afternoon, the first person I see? Condi Rice.
For the six Canadians in the field at the AT&T Pebble Beach Pro-Am, there's a lot of familiarity. Mac Hughes gets his partner from last year, Kansas Chiefs, soon-to-be Washington Redskins quarterback Alex Smith. (As an added bonus, Hughes and Smith are paired with Kevin Na and former San Francisco 49ers quarterback Steve Young). David Hearn gets his usual partner, Saskatoon millionaire David Dube. Mike Weir gets his regular rich partner, George Roberts.
Tour rookies Corey Conners and Ben Silverman get Ken Petersen and Boston Bruins owner Jeremy Jacobs as their respective partners, while Abbotsford's Nick Taylor gets Pamela Norley, a charitable organization executive.
As for the rich and famous, for what seems the umpteenth year in a row, Dustin Johnson and his father-in-law Wayne Gretzky are paired with defending champion Jordan Spieth and his partner, country singer Jake Owen.
Spieth is the story at Pebble Beach, with AT&T one of his major sponsors, so much so that for the second time in three years, he'll be honoured with a bobblehead which will be given out to the first 5,000 spectators on Saturday.
You also get the amusing spectacle of Jason Day, a winner just two weeks ago at the Farmers Insurance Open in San Diego, talking about his amateur playing partner, The Bachelor host Chris Harrison and how much (or little) he watches the reality show.
"Just through my wife actually," said Day of the long-running show. "She watches it every Monday religiously. And when I hear the stuff that comes out of these people's mouths, I just walk out shaking my head sometimes. So it's actually a pretty entertaining show, if you get down to sit and watch it, but I can't get hooked on it."
Day's wife Ellie won't be able to quiz Harrison about who "wins" this year's Bachelor, which is entering its stretch run on ABC because she's home sick with their daughter Lucy.
Rory McIlroy, making his 2018 PGA TOUR debut and also his inaugural appearance for the AT&T Pebble Beach Pro-Am, will have his father Gerry as his amateur partner. McIlroy joked that his dad has played more rounds of golf than he has in the last several months.
Gerry McIlroy, playing off a 5 handicap, has been getting his game in shape at Seminole in Florida and Rory said it's almost like an early 60th birthday gift for Gerry to be able to play Pebble Beach with his superstar son.
The McIlroy's are paired with Phil Mickelson and his amateur Jimmy Dunne III, who also happens to be a family friend of both Rory and Phil.
The superstar pairings won't play Pebble Beach until Saturday afternoon, when CBS puts the attention squarely on the amateurs, with in-depth analysis of Rohrbach and Owen's swings. Conners and Weir will be part of this circus, which also includes their opening round at Spyglass Hill and Friday rounds at Monterey Peninsula.
Last, but not least, Tony Romo, CBS' lead football analyst, will not only be trying to win the Pro-Am portion of Pebble Beach, he'll be getting his game in shape for the PGA TOUR event at the Corales Golf Club March 19 to 25 in the Dominican Republic. An opposite-field event – the Match Play is taking place at the same time in Austin, TX – the Corales Puntacana Resort & Club Championship offered a sponsor's exemption to Romo, who's also been getting his game in shape by playing practice rounds with Jordan Spieth.
"I'll badger him with questions throughout his entire round and then make him wait for me as we hit three more balls to get it right," said Romo of Spieth. "His longest rounds are definitely when he plays with me because I make him sit out there all day."
Well, long rounds are often the norm at the AT&T Pebble Beach Pro-Am so both Romo and Spieth will be well-prepared when the real action begins at 8 a.m. Thursday.
About The Writer:
Alfie Lau has been a contributor to Inside Golf for several years and is making his annual pilgrimage down the coast for the PGA TOUR's West Coast Swing. He can be reached at www.twitter.com/AlfieLau