McIlroy (Gerry...not Rory) Hits Shot Of Tournament At AT&T Pebble Beach Pro-Am
Details

Category: Inside Golf
Published: 2018-02-09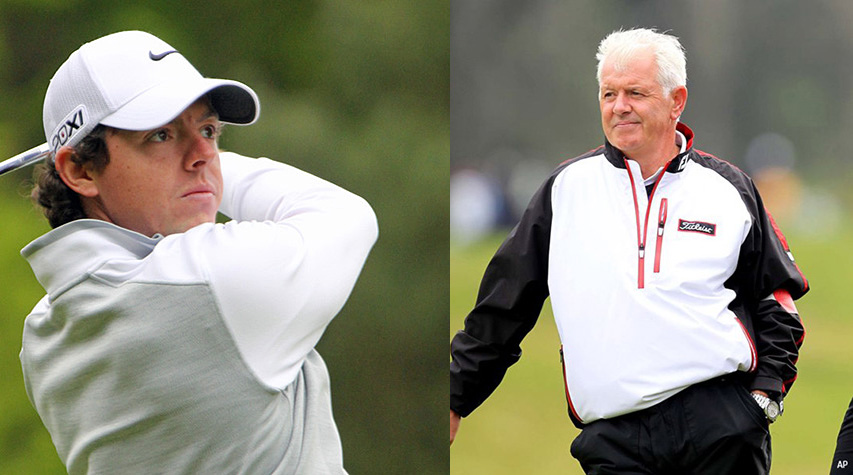 Rory McIlroy (L) Is In The AT&T Pebble Beach Pro-Am Mainly Because Of His Dad, Gerry (R) - Images Courtesy AP & Wikimedia
By Alfie Lau
As Phil Mickelson was walking up the second fairway at Spyglass Hill, he was commending Gerry McIlroy for getting his son Rory into the AT&T Pebble Beach Pro-Am.
Without betraying too many state secrets, Mickelson said he's heard several versions of what finally got Rory to the Monterey Peninsula in February but the one that resonated with Phil the most was there was no way Rory could say no if his Dad wanted to be a part of the festivities.
Welcome to the AT&T Pebble Beach Pro-Am, where you can be the sixth group of the day off the first tee box and be 10 minutes behind before you even hit a golf ball.
That's what happened with the McIlroy's, Mickelson and his amateur partner Jimmy Dunne III. Scheduled to tee off at 8:55 a.m., Mickelson didn't hit his wayward left drive until past 9:05 a.m. en route to a sloppy opening bogey.
Throngs of fans were out early at Spy to see celebrities such as Aaron Rodgers, Larry Fitzgerald, Wayne Gretzky, Kelly Rohrbach, Bill Murray and Tony Romo tee it up in the Super Bowl of Celebrity Golf. In fact, the putting green at Spyglass on Thursday morning was an autograph hunter's paradise.
To the left, Gretzky was signing a tonne of Edmonton Oilers and New York Rangers jerseys, while to the right, Rohrbach was signing some bikini shots. McIlroy (Rory) skipped by en route to the driving range while Romo stopped to watch Mickelson tee off.
By the time they hit the golf course, behind schedule en route to the dreaded six-hour round of golf, there was a lot of time for banter amongst the golfers and their amateurs. Gerry McIlroy is as nice a guy as you could hope for, stopping to talk to an Irish photographer on the third hole as everybody waited for Rohrbach to putt.
When they got to the par-4 fourth, after Mickelson hit his wedge approach to 10 feet, Gerry McIlroy stepped up and hit his wedge up the right side of the green and watched it funnel back to the hole, stopping less than a foot away for a tap-in birdie.
Gerry seemingly used his practice time at Seminole well, adding that he played Cypress Point on Monday and hadn't even seen Spyglass until this first round. He certainly played the fourth hole like a veteran member.
As Mickelson waited for a rules official to come and confirm a free drop (because of a sprinkler head) near the sixth green, coming down the first fairway was Canadian Mike Weir, who was (+4) after just 9 holes alongside his friend and amateur partner, George Roberts, the co-chairman and co-CEO of Kohlberg, Kravis and Roberts.
Weir can't get many starts on the PGA TOUR, but as long as he and Roberts are tight, Pebble Beach is as near a certainty every year on the calendar as Augusta in April for the 2003 Masters Champion.
Weir certainly was in good company, as his playing partner Ernie Els was at (+3) after nine holes alongside his amateur partner Jerry Yang, venture capitalist and founding partner of AME Cloud Ventures.
Yup, this tournament is all about who you know and how much dough you have, but as I went to catch a media shuttle back to Pebble Beach for lunch, my driver Stephanie was all atwitter about the fact that former President Barack Obama might be on site at the tournament.
Local media are reporting that Obama has flown to the Monterey Peninsula to be a part of the AT&T Leadership Conference and with clubs in tow, he would most probably be at Cypress Point, getting a round in just three days after Gerry McIlroy had played there. Or, as some media wags joked, perhaps they were trying to find a way to tell Larry the Cable Guy that he'd been replaced by the 44th President of the United States.
As for the actual golf, this is the toughest tournament to cover because of the sheer numbers: 3 courses, 156 professional golfers and 156 amateur golfers. The leaders, at (-7) are Kevin Streelman and Beau Hossler, one shot ahead of Matt Kuchar, Julien Suri and Aaron Wise.
But if you weren't following any of these players from the start, finding them later on in their rounds becomes a matter of getting a driver who knows how to navigate 17 Mile Drive like a race car driver.
Who could have seen Patrick Cantlay ace the 11th hole at Monterey Peninsula unless you were a huge fan of Jon Rahm, who was playing in that same group with David Abeles, the CEO of TaylorMade, the company that Rahm is repping.
And even then, getting out to the 10th tee box at Monterey Peninsula is a long and arduous affair because it's about as far from the Lodge at Pebble Beach as you can imagine. You have to cajole and sweet talk your shuttle driver, say the lovely Stephanie, with news about Barack Obama's whereabouts, to get a ride out to that tee box.
McIlroy would finish with a (-4) round of 68, while Gerry, playing off a 5 handicap, contributed just two more strokes to Team McIlroy's (-6) amateur total. Mickelson came back from a rocky start to finish at (-3) 69, with his amateur, Jimmy Dunne III, playing off a 3 handicap, only able to contribute one more stroke to the team's (-4) total.
As for the six Canadians, there's a mixed bag of results, with Ontario's Corey Conners leading the charge at (-3) 68 at the par-71 Monterey Peninsula Shores Course. Ontario's Mac Hughes, one of the last players on the course Thursday at Spyglass Hill, finished at (-1) 71, tied with another two Ontario natives. Brantford, ON's David Hearn shot (-1) 71 at Pebble Beach while Ben Silverman carded a (-1) 70 at Monterey Peninsula.
It was a tough outing for Abbotsford's Nick Taylor, who shot a (+3) round of 75 at Pebble Beach and even worse for Weir, who finished at (+5) 77 at Spyglass Hill.
About The Writer:
Alfie Lau has been a contributor to Inside Golf for several years and is making his annual pilgrimage down the coast for the PGA TOUR's West Coast Swing. He can be reached at www.twitter.com/AlfieLau