Ted Potter Jr. Wins AT&T Pebble Beach Pro-Am, Larry Fitzgerald/Kevin Streelman Win Amateur Title, Wayne Gretzky's Edmonton Back Doctor
Details

Category: Inside Golf
Published: 2018-02-11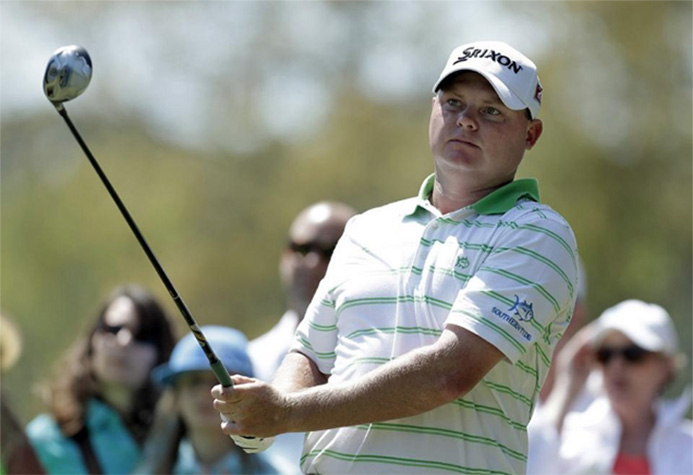 In The Classic Mode Of David Beating Goliath, Or In This Case Ted Overcoming Dustin, It Was Ted Potter Jr. Outplaying World Number One Dustin Johnson Head-To-Head To Win The AT&T Pebble Beach Pro-Am - AP File Photos
By Alfie Lau
Nobody cheers for Goliath against David and that's what everybody had to be thinking when they saw the final pairing of journeyman Ted Potter Jr. playing with 2016 U.S. Open Champion Dustin Johnson.
Potter Jr. is a lefty best known for breaking his foot after he stepped off a curb in Montreal while playing the RBC Canadian Open. He's better known on the Web.com Tour than on the PGA TOUR and with a lone victory at the Greenbrier in 2012. (And his infamy on the Web.com Tour is because he went one whole season, 24 events, without making a cut).
Johnson hits it further, has a model girlfriend in Paulina Gretzky and a future father-in-law in Wayne Gretzky. Johnson even made news on the endorsement front, as he announced this week a sponsorship deal with RBC which includes him playing the RBC Canadian Open this summer.
Even as Johnson and Potter Jr. started the day tied at (-14) and Potter made a sloppy bogey to start, it looked like a DJ coronation.
Not so fast, as Potter then reeled off four birdies in his next 7 holes and Johnson treaded water with two birdies and two bogeys and it was Potter who would be on his way to victory.
Johnson was missing one key element that helped calm him the first three days. Even though Johnson and Gretzky qualified to play the amateur side of the tournament, Gretzky withdrew late Saturday with what was termed a back injury. But unless his back doctor is in Edmonton, there's a better excuse for why Johnson was playing solo on Sunday.
Gretzky had to be in Edmonton on Sunday night to attend an event commemorating the greatest NHL team ever, as voted on by fans.
Gretzky's 1984-85 Oilers, known as the Boys on the Bus, were getting together in Edmonton's brand spanking new arena and people paid $99 per ticket to attend this sold-out event.
An ad for the event says: "Wayne Gretzky, Mark Messier and their 1984-85 teammates will host an intimate and interactive evening of storytelling and unique multi-media vignettes that will recount their journey to legendary status atop the list of greatest teams in NHL history."
Gretzky's absence would probably have been noticed. Especially by those who turned on the television in the afternoon and would have seen him at Pebble Beach if he had not been "hurt." But it could all just be a case of Gretzky's back doctor being based in Edmonton. Allegedly.
With Johnson in the final group and a tee time of 9:35 a.m., there isn't a private jet – or bus for that matter - in the world that could have gotten Gretzky from Monterey to Edmonton in time for the event.
With the way DJ imploded on Sunday, the duo wouldn't have won the amateur title, not with the way 13 handicap Larry Fitzgerald played alongside pro Kevin Streelman. The duo briefly lost the lead early on Sunday, but once they regained it, they ran away with the amateur title.
As the PGA TOUR heads south to Riviera and another comeback tournament for Tiger Woods, Pebble Beach has a lot to get ready for. This August, it will host the U.S. Amateur, a prelude to next June.
Pebble Beach in 2019 will be serving double duty. Not only will the AT&T Pebble Beach Pro-Am be contested in 12 months time, five months later, the U.S. Open will return to Pebble Beach for the first time since Graeme McDowell won the U.S. Open in 2010.
The AT&T will get a boost next February because many of the professionals who know they will be playing at the U.S. Open will use it as a chance to preview the course. And while Tiger Woods doesn't normally play Pebble Beach – he hasn't played here since 2012 – he will want as much course knowledge as possible in case he qualifies for the 2019 U.S. Open. So don't be surprised if there's a Big Cat sighting here next year at this time.
United States Golf Association officials were at Pebble Beach this week for a site inspection and reconnaissance work, including scouting hotels and different tent locations for sponsors and media.
There are only so many hotels in the Monterey Peninsula and they'll be commanding a premium during the U.S. Open next June. One media member said the independent hotel he was staying at this week came with the added surprise of a mouse. Whether that came with an added surcharge was a question I wasn't willing to ask.
It's expected the USGA will once again convert the short par-5 2nd into a long par-4 and that makes the par 71 for the U.S. Open.
In addition, with June being prime growing season, you can expect there to be "U.S. Open rough" and rock-hard fairways that will lead many drives to roll through the fairway and into this rough.
After three weeks on the road, and having seen all of the world's top golfers in play, here are some observations and predictions.
Tiger Woods looked the healthiest he has in the last five years and that's the good news. The bad news is that all the young guns have passed him effortlessly. World No. 1 Dustin Johnson hits it further and straighter, as does World No. 2 Jon Rahm. Jordan Spieth and Rory McIlroy may not be in mid-season form but both are just one Major away from completing Career Slams and are so young that they'll each have multiple opportunities to complete that feat.
The West Coast Swing can be a grind, but each of the events offers something different. The CareerBuilder challenge is a birdie fest. Farmers Insurance is the de facto start of the golf season, with all the big names happy to test their games on a U.S. Open track.
The Waste Management Phoenix Open is all about fun and debauchery, and perhaps some golf. AT&T Pebble Beach is about old money, old relationships and the greatest confluence of golf courses in North America. And the Genesis Open is all about a traditional golf course that has withstood time and is probably the biggest tournament Tiger Woods has yet to win.
If I had any suggestion on how to improve the West Coast Swing, I would like to see the five events split up into a group of three in the winter and a group of two later in the year, perhaps in the spring. Texas gets a couple of looks with Houston and San Antonio getting pre-Masters slots and Dallas getting May slots. Imagine Pebble Beach or Torrey Pines in May and you get an idea of how the West Coast PGA TOUR stops could be even better than they already are.
Golf is pretty big here on the Monterey Peninsula, but sometimes you have to stop and smell the roses, especially when you're getting a deal to do so.
The cash toll to enter 17 Mile Drive is now $10.25 – and since I've never had to pay it because it's waived during the week of the tournament – that doesn't mean I haven't taken advantage of driving along the scenic road and imagine what could be.
Every night, I drive to a lookout adjacent to Cypress Point Golf Club, where you can see the 1st, 2nd, 14th and 15th holes and imagine what it would be like to be invited to play this most private of private courses.
I also make it out to see the Lone Cypress, a Monterey cypress tree which stands on a granite hillside and is one of the most photographed trees in North America. The iconic tree is pictured on Pebble Beach's logo, may be 250 years old, has been scarred by fire and has been held in place with cables for 65 years.
And lastly, I drive out to the Dunes Course at Monterey Peninsula Golf course, where they have one hole on the water side of 17 Mile Drive. It's the beautiful 177-yard par 3 14th, featuring a tee box by the Point Joe parking lot/outlook and is one of the best places on the Peninsula to watch the sun set.
As the sun sets on my 2018 West Coast Swing, I'm looking forward to getting home and getting my own golf game in gear. After all, if wearing shorts for the past three weeks and walking six iconic golf courses in Torrey Pines South, Torrey Pines North, TPC Scottsdale, Pebble Beach, Monterey Peninsula Shore and Spyglass Hill can't get you excited for the upcoming golf season, nothing will.
About The Writer:
Alfie Lau has been a contributor to Inside Golf for several years and is making his annual pilgrimage down the coast for the PGA TOUR's West Coast Swing. He can be reached at www.twitter.com/AlfieLau