Lydia Ko On-Hand As McKayson New Zealand Women's Open Announced Ticket Details
Details

Category: Inside Golf
Published: 2017-02-15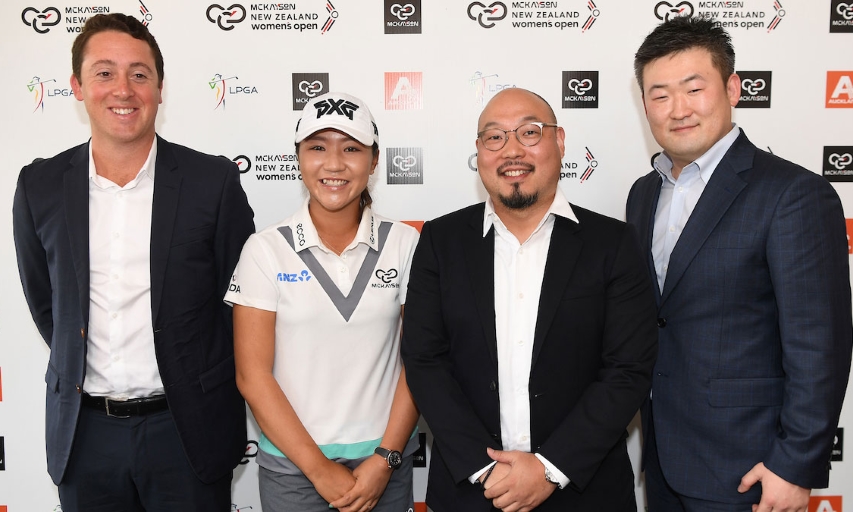 Lydia Ko All Go As Tickets On Sale For MCKAYSON New Zealand Women's Open. (Photo/Photosport Ltd)
The world's number one golfer Lydia Ko was on hand in her home city of Auckland as organizers announced the ticket details for the historic 2017 MCKAYSON New Zealand Women's Open.
Tickets will go on sale next month for the first LPGA Tour event to be staged in New Zealand, set for the new Windross Farm Golf Club in Auckland on September 28 to October 1.
Ko, back home for a brief visit en route to her season opener at the Australian Open, was joined at Windross Farm Golf Club by Min Cheol Kim, the Chairman of global apparel brand MCKAYSON. The company is the title sponsor for the New Zealand Women's Open and has recently signed as Ko's apparel partner.    
They were joined by Sean Pyun, the LPGA's Managing Director of International Business Affairs who has headed the Tour's global push into the Asia-Pacific region.
Event promoter, The Clubhouse, today announced that tickets will go on sale on 15 March, with  limited season tickets available for just $99. Daily entry to the event will be only $39 for Thursday and Friday, and $49 for Saturday and Sunday.
"We are excited to launch our ticket prices for the MCKAYSON New Zealand Women's Open, and we are sure that sports fans from across New Zealand will be excited to come to Auckland to watch world's greatest compete in our own backyard," said Michael Goldstein, Managing Director of The Clubhouse.
Ko, who had a chance to reacquaint herself with the Windross Farm course today, was thrilled to be home for the occasion.
"It gets more exciting each time I am home and come to this course that I realise that we have an LPGA event coming here," said Ko. "I think the girls will just love this course and I am looking forward to hosting them at home in Auckland and show off everything this city has to offer."
She said it was more special as she launches her 2017 season wearing her new MCKAYSON golf range.
"I am really honoured to be working with the MCKAYSON brand and it is fantastic to be my own sponsor as well as backing the New Zealand Open."
MCKAYSON chairman Kim was impressed with his first visit to New Zealand and is thrilled to support both the historic first LPGA Tour event in this country and the launch of his new apparel partnership with Ko.
"It is also an honour for MCKAYSON to be able to partner with the New Zealand Open and with Lydia. I have enjoyed my time in New Zealand and we are looking forward to helping make this a great event."
The LPGA Tour is also excited to head to New Zealand with their head of International Business Affairs giving a thumbs-up for the new Windross Farm course.
"Firstly I am impressed with this course. For a new course it looks excellent and will be a good test for the LPGA players," Pyun said.
"The LPGA has embarked on a strategy to grow the game at all levels. Auckland will be our 17th tournament outside of USA and we continue to have record numbers of girls taking up the game around the globe."
Fans who pre-register for the limited run of $99 season tickets go into a draw for a VIP Experience at the event.
CAPTION: (from left) Promoter Michael Goldstein from The Clubhouse, Lydia Ko, Chairman of naming sponsor MCKAYSON, MC Kim and LPGA Managing Director of International Business Affairs Sean Pyen at Windross Farm Golf Club today.
For full ticket details: www.nzwomensopen.com.