Stacey Collins Joins LPGA As Senior Vice President Of Tour Operations
Details

Category: Inside Golf
Published: 2018-02-21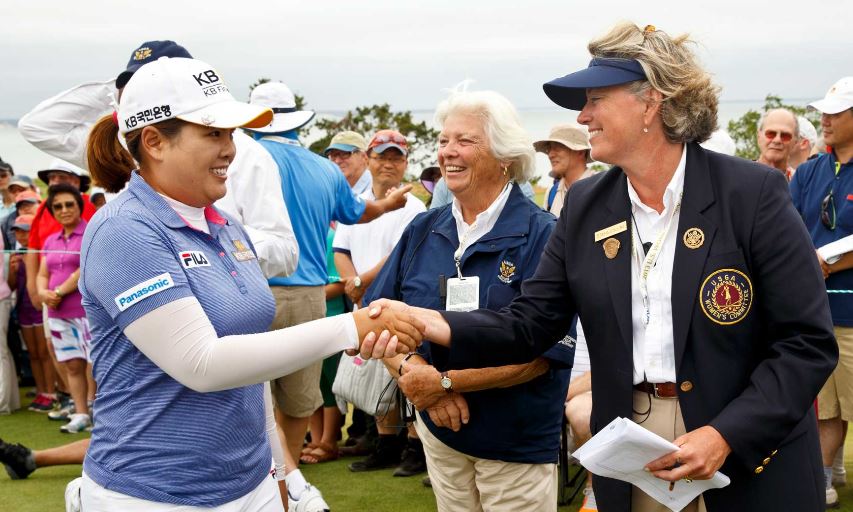 Collins Will Make Her LPGA Tour Debut 'On The Road' At Honda LPGA Thailand. (USGA/Darren Carroll)
DAYTONA BEACH, Florida (LPGA) — Stacey Collins, a highly respected rules official who has worked at more than 50 United States Golf Association (USGA) championships, has joined the Ladies Professional Golf Association (LPGA) as Senior Vice President of Tour Operations and will make her first appearance 'on the road' at the Honda LPGA Thailand.
Collins, who has a bachelor's degree in business administration from Michigan State University and an MBA from Loyola (Md.) University, began her new role with the LPGA on Feb. 6 and will report to Heather Daly-Donofrio, the LPGA's Chief Communications & Tour Operations Officer.
"We conducted an exhaustive search to find the right person to lead our Rules, Competition and On-Site Player Services efforts," said Daly-Donofrio. "We talked to experts from numerous different tours and golf organizations, as well as individuals from all parts of the world. Through the entire process, our search committee just kept coming back to Stacey. Her incredible mix of experience, personal passion and leadership skills made her a unanimous choice among those that spent time with her." 
Collins, who grew up in Michigan but now calls Maryland her home, has held several leadership positions for the USGA over the past two decades, most notably as a championship official and as a nine-year member of the Women's Committee, serving as chairman in 2015-16. She was chairman of the U.S. Women's Amateur Public Links Championship from 2009-12, a member of the Joe Dey Award Committee from 2013-14, and served on the Bob Jones Award Committee from 2015. She also worked on the U.S. Senior Women's Amateur Committee from 2004-08 and the Regional Associations Committee from 2001-04. 
Collins was also president of the Maryland State Golf Association Women's Division from 2006-07 and competed in the 2009 U.S. Women's Mid-Amateur Championship. 
"I'm very happy to say that I now get to work with many players who I watched during their amateur careers and can now help in their professional careers on the LPGA Tour," said Collins. "Our team has many goals in 2018 but one of our biggest is to continuously improve the way we service our LPGA membership. We want to provide a fair and challenging golf course set-up that allows LPGA players to showcase their talents. In my first couple of months on Tour, I will definitely be in listening and learning mode, and eager to hear from players on the driving range, the putting green and in player dining. I really want to hear what they have to say."
Outside of golf, Collins worked in the healthcare industry for 20-plus years in sales and marketing for a variety of different products, including surgical instruments, biologic and vascular products and non-narcotic pain management alternatives. A perennial high achiever, she has earned Top Sales Representative and Top Sales Manager awards, and has been a lead trainer for many of the products she represented. 
Throughout her career in medical sales, management and marketing, golf was always part of the background picture for Collins, who first met LPGA Commissioner Mike Whan nine years ago and continued to catch up with him on a regular basis at USGA meetings.
"Right from the start, I was impressed with Stacey's leadership skills, ability to communicate and extensive experience as a rules official," said Whan. "I told her in 2010, 'someday I'd like to work on the same team.' I am so excited that 'someday' begins now. The LPGA is very fortunate to have her on board as our Senior Vice President of Tour Operations." 
Collins had just one request to make before she committed to the LPGA: that she would be able to serve as USA captain for the 2018 Women's World Amateur Team Championship to be played from Aug. 29-Sept. 1 at Carton House Golf Club in Dublin, Ireland. That request was immediately granted.
"One of the most rewarding achievements working in golf is to represent your country," said Collins. "I am so honored to lead our team in this prestigious championship."