Golf Now A 12-Month Sport In Cold, Snowy Northern Alberta
Details

Category: Inside Golf
Published: 2018-02-22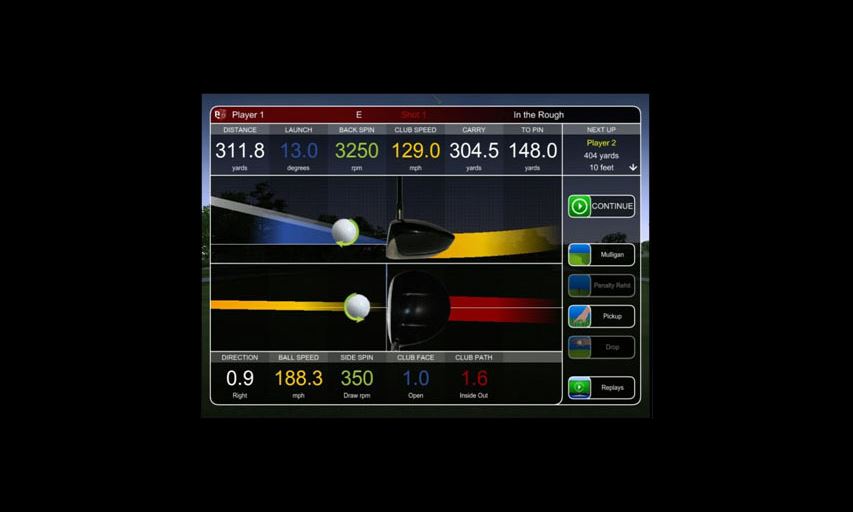 The Beauty Of Simulator Golf Is That Players Can See The Path Their Club Takes To The Ball, As Well As Their Clubhead And Ball Speed, And Total Distance.
STONY PLAIN, Alberta (Gord Montgomery/iG) — Once winter settles in over north-central Alberta, with snow piled up on your favourite golf course's fairways, you know the cold is here to stay for a long, long time.
But now, suddenly, it seems that you can still head over to your local links, tee it up, and have some fun with friends, even in the middle of a bitterly cold January. You see, golf has become a year-round activity at golf courses in the Great White North with the introduction of virtual reality golf to their offerings.
The two courses presently offering simulator-style golf are the Stony Plain Golf Course and the Leduc Golf Club. What's unique about this is that these are actual golf course operations offering the indoor variety of the game, which will cease when the outdoor season gets underway.
Speaking as to why actual golf facilities have entered the business of having people whack away at a picture of a golf course projected onto a large screen while the snow falls and the wind blows outside, Robb James from Stony Plain said, "It definitely keeps golf on the mind for residents that don't have the opportunity to go away for the entire winter. Or, if they're going away for part of the winter, a winter tune-up. It's an opportunity to keep the golf swing going."
As a municipally owned golf course, there were a few hoops to jump through in having the system set up at the Stony course. In fact, for this year at least, the TruTrack Golf In system with E6 software is being leased. However, the pro said that they're keeping an eye on purchasing such a unit, or two, if the usage suggests this is a good idea.
"We are doing a risk analysis on it," said James. "With this one year lease we've embarked on, we'll be comfortable at the end of the winter. This is enough for us to test the waters without getting in over our heads, so to speak."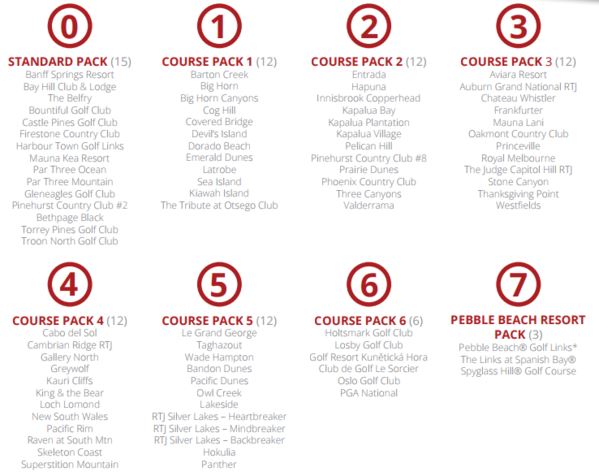 The E6 Software Provides A Huge Variety Of Golf Courses To Choose From, Allowing Players To Experience Courses They May Otherwise Never Have A Chance To Play.
In Leduc, the course has two simulators up and running, an idea that began in the winter of 2017. So far, says head professional James Whitton, the pubic is buying into the idea of room temperature golf while ice and snow rule outside.
"It's a year-round revenue chaser," he began. "In the (Alberta) golf industry you're busy for six, seven months of the year and then you're chasing it for the other five. If you can sell this experience it becomes an easier thing for people to become involved with."
While the indoor game is the basically the same for both course, the one thing that sets Leduc apart in the virtual reality stream is the way putts are processed. On most such games you putt into a 2-dimensional green on a screen, which for some people can be awkward given the depth perception issues. In Leduc, they have an 18-foot putting mat where you place your ball on that and putt to an actual cup.
"I've played virtual golf and I hated the putting," said Whitton. "You're rolling the dice. Like, who knows? With this, you putt live time. As much as you can replicate the summer, the better."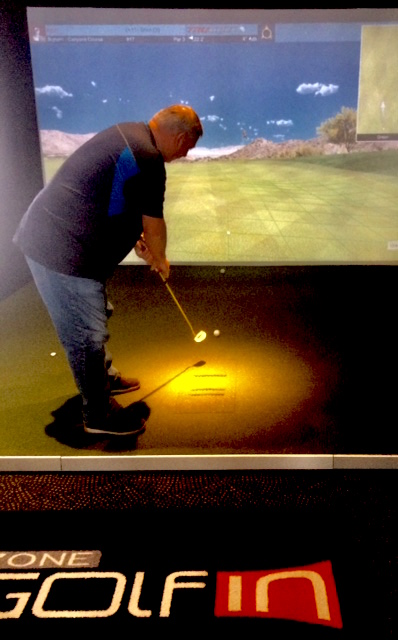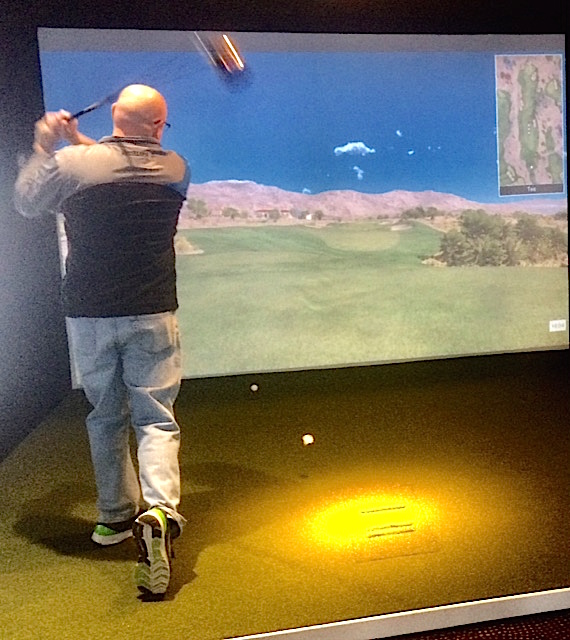 While The Distances For Long Clubs Seem To Be Pretty Much Spot-On With Simulator Golf, Sometimes There Can Be Issues With Putting And Chipping, As Some Players Find It Difficult To Adapt Their Game To A 2-Dimensional Target.
Both courses say that the public is jumping on board with this idea and the number of rounds/practice times on the simulators is going nowhere but up.
"Absolutely," said James
"Totally," commented Whiten, whose facility tees things up with a Foresight sim.
In regard to the accuracy of these machines, which have sometimes been questioned in the past, both pros agree they're "crazy accurate."
Once all that snow finally disappears the pros are also pretty much in agreement that there is benefit to whaling away inside and then transporting your skills from there outside.
"Indoors, you're still doing it, seeing the shot shape when you hit the ball," Whitton noted.
The one slight pitfall to sim golf is the fact that every lie is perfect when you step up to the ball. But even so, the positives outweigh the negatives by a lot, James feels.
"It's indoors. You're swinging comfortably. You're not swatting mosquitoes! It may take a bit for some people to get comfortable swinging indoors and we see people take 5 or 10 minutes to get there," but once they do, they're off and whaling away, just like they're outside enjoying the sunshine, gentle breezes and green grass.
As for adding five months to the golf season in this part of Alberta, James noted, "We are definitely looking to create more of a 12-month culture around the golf club," something that until recently was pretty much unheard of in the cold and snow of Alberta.
---
About the Writer
Gord Montgomery is a retired sports editor of two weekly newspapers in the Edmonton area and is a member of the Golf Journalists Association of Canada. He is now in his 10th year of writing for Inside Golf.
He can be reached at This email address is being protected from spambots. You need JavaScript enabled to view it.. He's also on Twitter at @gordinsidegolf and on Instagram at gordinsidegolf2.