Calgary's Bearspaw CC Named National Retailer Of The Year
Details

Category: Inside Golf
Published: 2018-02-22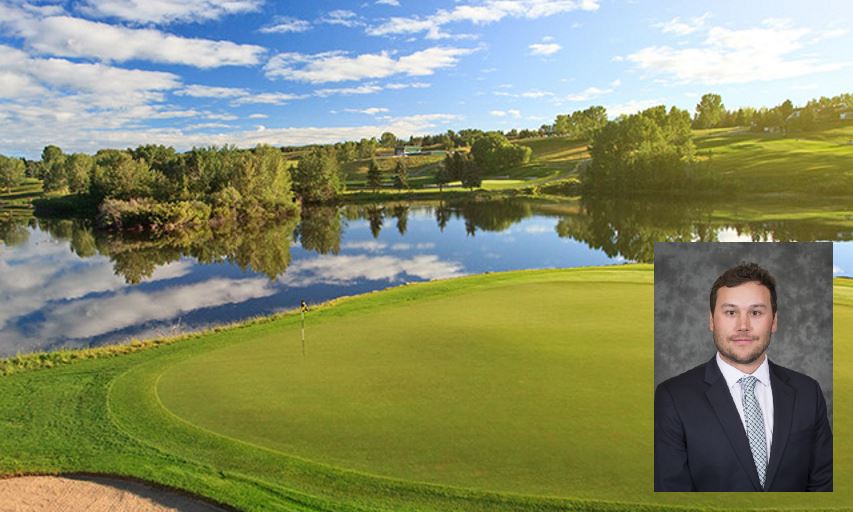 Bearspaw Country Club (Photo/Bearspaw Country Club)
Inset: Michael Matuch (Photo/PGA of Alberta)
CALGARY, Alberta (Gord Montgomery/iG) — Sometimes it takes a while to get where you're going but confidence in a plan makes you certain that the path you've taken will pay dividends in the end.
That's the story for the staff at the Bearspaw Country Club in Calgary, including general manager Blair Felesky and head pro Mike Matuch, who were named as Canada's winner of the Pat Fletcher Retailer of the Year honour. You see, to end up where they are, the vision began taking form a half dozen years back and that goal has now come to be.
As to what makes a good retailer, in fact what makes a retail golf operation out of a club the best in the country, Matuch had this this to say: "I think it starts with our team here at Bearspaw. It's an individual acknowledgement but it's definitely a team award. So it starts with building our team here, from our professional staff to our merchandisers and buyers, to our shop staff and what we can do for our members.
"The Retailer of the Year is more of a reflection on our entire operation and the experience we provided our members is more important than just the stuff we have in our shop."
In the national award category, clubs nominate themselves in hopes of receiving the honour. That follows a provincial association award and when it comes to the Canadian title, it sees no distinction between private clubs and public courses, which is the case provincially. Matuch explained there is a 10-question document to fill out about how a club's operation functions in hopes of gaining national acclaim.
Asked about the difference between private and public pro shop sales, Matuch said that at a private venue the staff becomes aware of what their members are looking for, while at a public facility you hope you hit the whims of the buying public.
"At a private club you can gauge over the years what works and what doesn't where at a public course you don't know who's going to walk through the door on a daily basis. We've been able, over three years with the team here, to know the key brands that work for us and have some tough conversations with reps whose brands aren't working. You just know your customer a little better because you know the customer that's walking in."
No matter if a golf shop is private or public, Matuch stated there's more to this than simply putting things for sale up on racks.
"It goes beyond retail and to the experience someone gets when they walk in the shop," he explained about catching people's eyes and drawing them into the buyer mode. "For us, we talked a lot in our nomination about the music we have. We have an essential oils thing going. It is more than just walking in and seeing clothing on a rack. We really focus on the customer experience and training the staff on engaging the customer when they walk in, whether they're members or not. It goes above and beyond just standing behind a counter … telling them why this might work for you. 'If you like this, you might like this as well.' Putting product in people's hands instead of just picking it up off a shelf."
That, to the national winner, is a big reason why golf pro shops have a leg up on the big box retail stores who often offer name brand goods at discounted rates. Simply put, you can get clothing and hard goods at those establishments but you don't get the service you receive at a golf course emporium.
"For us, and I sound like a broken record here, it's about the experience," said Matuch. "We don't charge for club fittings (which, needless to say, doesn't happen at a place like Costco). We don't charge any extra for custom orders. We brand all our clothing so we hope our members have pride in ownership, are proud to wear the Bearspaw logo. We're a very young staff here and we're very on-trend with what we're bringing in and we're not afraid to step outside the box."
About winning this award, Matuch noted in closing: "It's a validation that what we started down the road six years ago is working and recognized outside of our staff and members. For the team it's just a validation of what we're doing on a daily basis and some of those long July days, going above and beyond for members pays off at the end of the day."
Matuch received the national award on behalf of Bearspaw CC at the annual PGA Show in Orlando, Florida, in late January.
---
About the Writer
Gord Montgomery is a retired sports editor of two weekly newspapers in the Edmonton area and is a member of the Golf Journalists Association of Canada. He is now in his 10th year of writing for Inside Golf.
He can be reached at This email address is being protected from spambots. You need JavaScript enabled to view it.. He's also on Twitter at @gordinsidegolf and on Instagram at gordinsidegolf2.