2018 Vancouver Golf EXPO Proves 'Revitalized'
Details

Category: Inside Golf
Published: 2018-02-23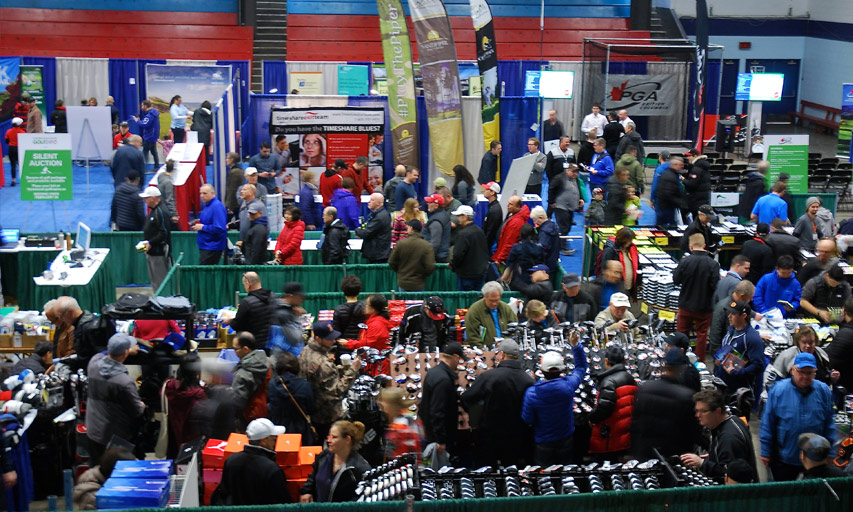 VANCOUVER, British Columbia (Jeff Sutherland/iG) — When the National Golf Course Owners' Association (NGCOA) took over the long running Vancouver Golf Show last fall, they plan to change much more than just the name.
It started with a new show layout to give attendees room to breathe plus an expanded tee deck to give everyone the chance to hit as many balls as they wanted.
The expanded range included equipment from five of the top manufacturers (Callaway, Cobra, Ping, TaylorMade, and Titleist) and its increased size saw almost no-one having to wait more than a few minutes to try out the latest clubs.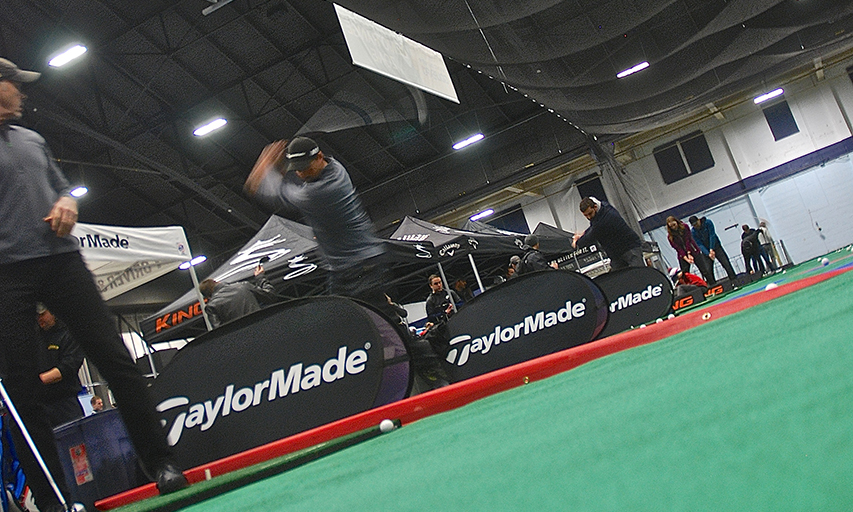 (Inside Golf/Jeff Sutherland)
There were also quite a few new exhibitors including the now renamed track at Point Roberts (now to be known as Bald Eagle at Point Roberts). Architect Wayne Carleton, who was a the show, has been busy updating the layout which will open in April with a new real estate component attached.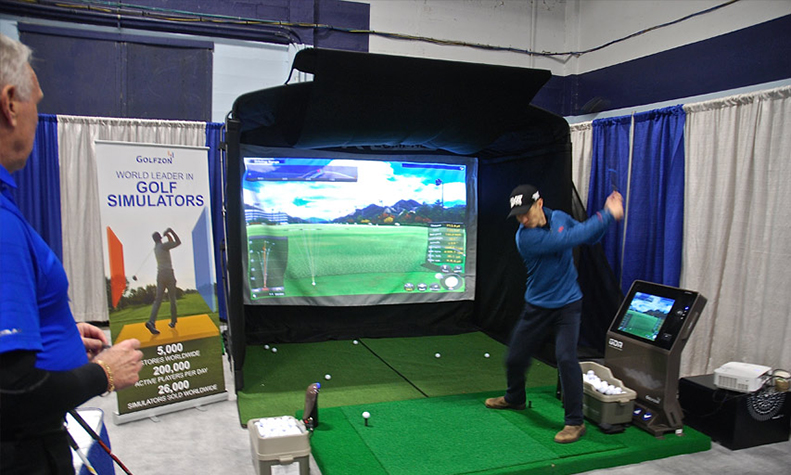 The Golfzon Simulator, Home To The Eaglequest Long Drive Contest Proved Very Popular. (Inside Golf/Jeff Sutherland)
This show has always been about deals and the competitive landscape in the Lower Mainland saw facilities offering some pre-season deals that were simply awesome.
The deals, most of which were only available at the Show, ranged from GolfBC offering a $250 gift card useable at any of their facilities for $200… in essence putting an extra 50 buck in your jeans to the Fraser Valley Golf Trail card where $119 got you one round of golf at Chilliwack, Sandpiper and The Falls… in other words for less than $40 per round. Redwoods GC had a deal where you could purchase two any day green fees paired with a power cart for only $126, a $60 (or 30%) savings!
Even those facilities who were there more to just promote their ongoing deals had some great offers.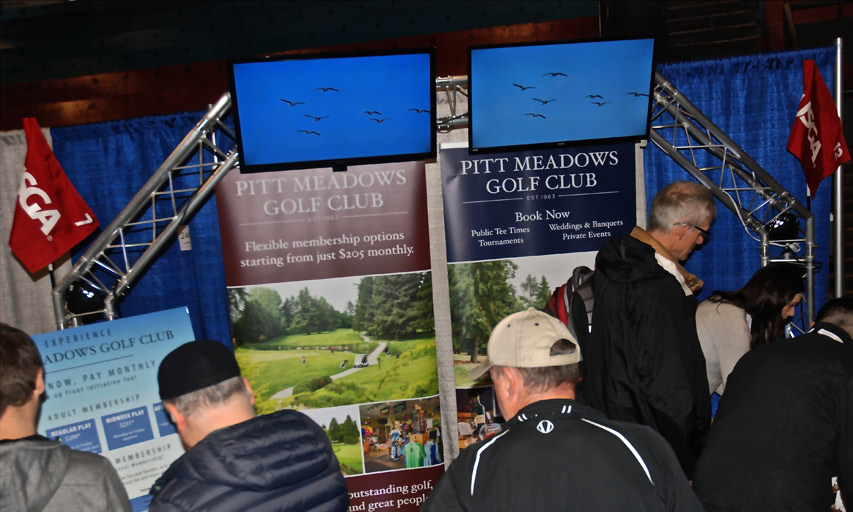 (Inside Golf/Jeff Sutherland)
One that really stood out was for Homestead just south of the border in Lynden where you could get a Mon-Fri annual membership for just $800… and that's in Canadian dollars.
Another is the long running Red Book (an NGCOA initiative with discounts for 118 facilities). This is one of those can't miss deals where the book pays for itself with its first use. And at the show they had it on for half price ($20).
The PGA of BC Stage, with speakers ranging from PGA Tour Canada player Corey Renfrew to well regarded teaching professional and Highland Pacific GM Jeff "Stick" Palmer was the usual hit, and the Peak equipment store was packed constantly.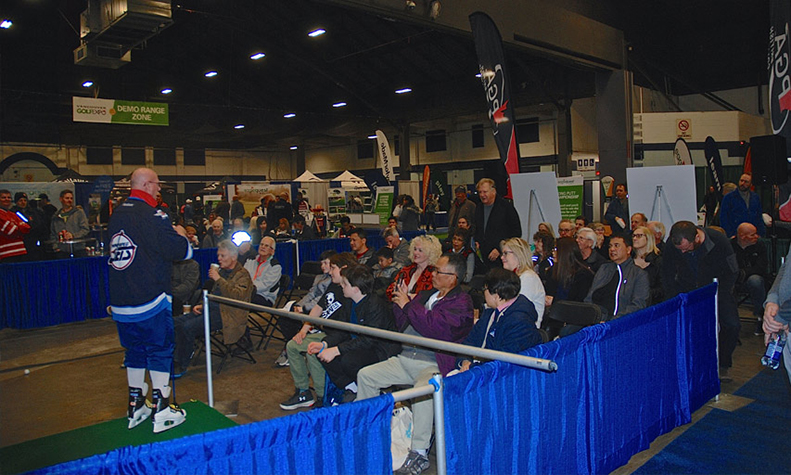 PGA of Canada Member and Trick Shot Artist Sandy Kurceba. (Inside Golf/Jeff Sutherland)
There were also an amazing number of contests.
These contests were not really heavily promoted through the website so some opportunities to win big may have flown under the radar a bit.
One that really stood out was from One Ocean Expeditions who are starting cruises around Maritime Canada where you stop to play the region's best tracks( e.g. Cabot Links) travelling from the boat in Zodiacs. Prices for the 7-night, multi-round expedition start at $3395 CAD. With only one trip planned in 2018 (June 27 - July 4), it is likely to be a sell-out. And, oh yeah, they gave away a chance to be part of this once-in-a-lifetime golf experience during the show!
One that still is running is the online auction to support junior golf. There are some items like golf for four at Morgan Creek. The current bid is $250 or $65 per round. Another is Two rounds at McCleery, Langara and Fraserview, a $3675 where the current bid is $260. Click HERE  to see all the items and make your bids. Auction runs until Feb 28th, 2018.
Bottom line, the overall change this year was a new vitality. The show was fresh, the exhibitors were offering some great deals and the contests were fun with first-rate prizes.
One word to the wise when you are planning to go to the EXPO next February.
Going on Sunday is a great idea. The crowds are a little smaller, the exhibitors are a little more available so finding those great deals and contests will just be a little bit easier.