Five Good Reasons For Attending The 2018 PGA of Alberta Consumer Show
Details

Category: Inside Golf
Published: 2018-02-28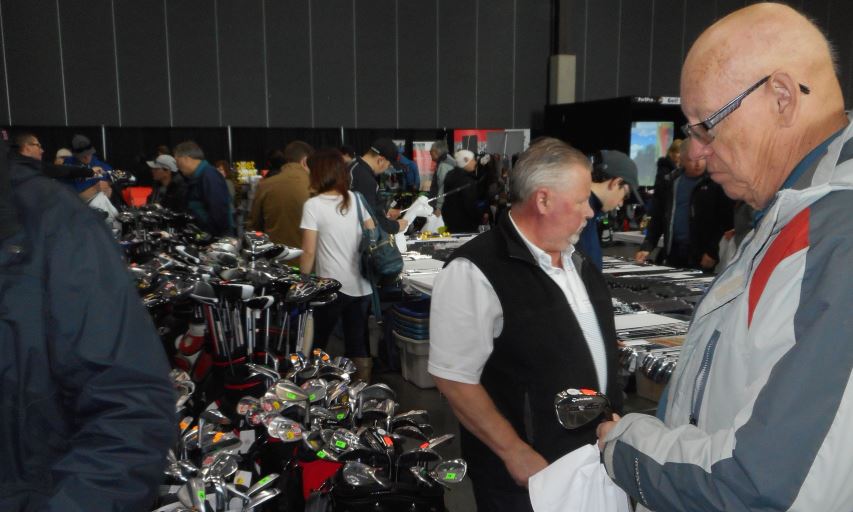 The Busiest Place At Both Golf Shows, On Both Days, Is Always The Clearance Centre, Where People Go Looking For Great Deals On Last Year's Merchandise. (Photo/Gord Montgomery)
EDMONTON, Alberta (Gord Montgomery/iG) — If you're sick and tired of the cold wind, snow, and icy roads, then there's good news on the horizon … and not just the fact that the weather seems to be finally warming up. While that fact is high on everyone's list of positives, the most exciting thing coming down the line in the next little while is the annual PGA of Alberta Consumer Golf Shows in Edmonton and Calgary.
As always, the Edmonton show has the honours of teeing things up first when manufacturers,  courses and resorts show off what they have to offer the golfing public, on March 10 and 11. The Calgary show follows two weeks later.
For those that haven't been to this event before, or even for those that have, here's a list of five of the top reasons you should take a break from shovelling your sidewalk/driveway and one, or both, of these golf shows.
The chance to swing some sticks: One of the biggest draws every year at the shows is the chance to test out the new gear manufacturers are offering. While the majority of product has already hit most major retailers by the time the shows run, there are courses that haven't yet received their latest gear. So, this is the opportunity to test out some new of the new offerings from the likes of Callaway, PING, Cobra, Mizuno and Wilson. While you can't stand there and blast away all day, you can get the feel for what's new and make a decision on whether or not this gear is better than your old stuff.
The chance to plan a great golf getaway: Whether you're going to head out of province for a buddy golf trip, or simply want to take the family on an in-province weekend getaway, there are always lots of great courses and resorts on hand with information for you about their tracks and their rates. Many of those on hand have Show Specials, where you can get discounted rates not only on tee times but also on accommodation, so stopping by their booths is well worth the time and effort. And who knows? Perhaps the course/company rep can give you a tip or two in helping you shave some strokes off your score at their layout.
An inexpensive family Sunday adventure: The second day of the show in both Calgary and Edmonton is a great way to spend a few hours, or more, perusing golf stuff at a really good price. While the regular admission price for the show is $12 for adults (although there is an online coupon for a $2 reduction at www.albertagolfshows.com, on Sunday two adults can get admission for $15 and kids under 12 are free. For the kids, there are clinics each day and fun activities where it's easy for the little ones to have success that centred around the game. And as an added bonus, taking advantage of that online offer means you're automatically entered into a draw for a great six night Stay-and-Play package from Golf Vancouver Island.
And speaking of great deals: For those looking to show off their skills in a variety of areas, there are competitions galore starting with the Long Drive Contest for those who think they can whack the ball further than anyone else at the show. If you don't have the swing speed (anymore) for belting the ball a great distance, try the Closest to the Pin event, or the chipping contest … or the putting contest. And if your skills are perhaps a bit rusty after a long winter layoff, there's always the 50/50 draw each day to help offset some upcoming green fees, if you win.
Finally, maybe the best reason of all for going: The Clearance Centre. This is the biggest draw of the weekend for many, as golf courses have consigned some of their unsold gear — and we mean everything unsold from clothing to gloves to balls to pull carts to drivers, fairway woods, irons and putters, to head covers and on and on and on. For some, this is the main reason for going to the show but really, once you've got your steal-of-a-deal on last year's goods, why not drop it off at your car and then double back into the show to take a look at what's up for this great game in the summer of 2018.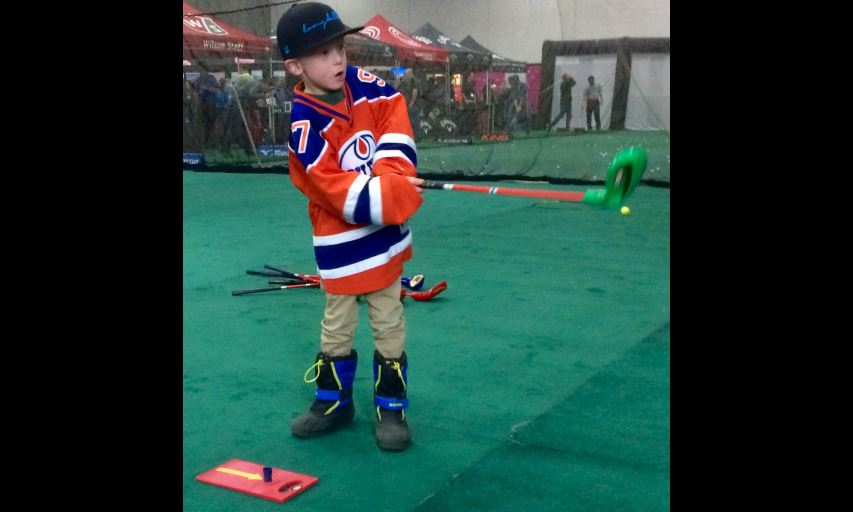 If You're Worried About Keeping The Kids Busy While You Scope Out The Great Deals From Courses And Resorts At The Upcoming Golf Shows, Don't Stress: There's Plenty Of Activities For The Kids To Keep Them Busy During The Day. (Photo/Gord Montgomery)
The shows run from 9 a.m. to 5 p.m. on Saturday and from 10 a.m. to 4 p.m. on Sunday in both cities. The Edmonton show, on March 10 and 11, will once again be held a the Edmonton Expo Centre, Hall H, while the Calgary event, March 24 and 25, goes at the BMO Centre in Hall B.
Oh, and one last thing — the first 50 paid people through the door each day at each show will receive a free Canada Golf Card.
So, for those reasons and others, it's a great idea to show up at one of the shows and start to once again think about golf because the season really isn't all that far away … no matter how much snow you may have had to shovel today!