Alberta Golf Announces Key Changes Within The Compete & Excel Department
Details

Category: Inside Golf
Published: 2018-03-05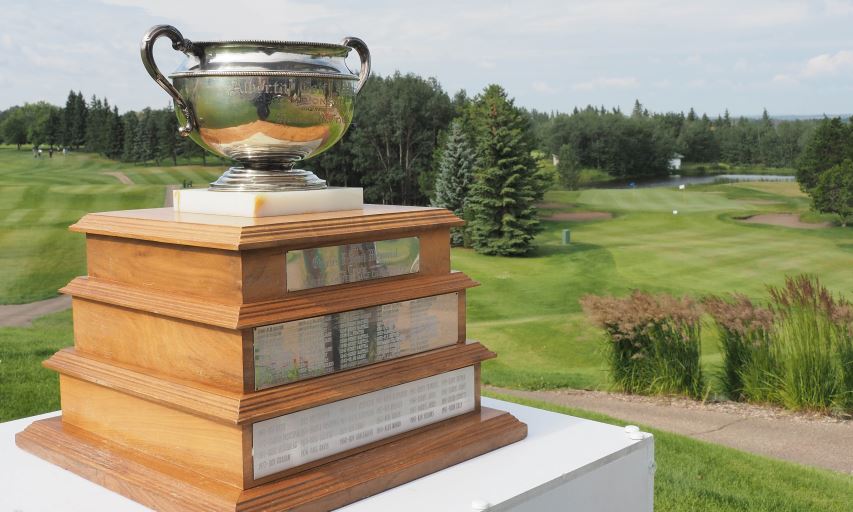 (Photo/Alberta Golf)
Alberta Golf is delighted to announce its competition schedule including host clubs and dates for the 2018 championship season. A total of 11 provincial amateur championships that serve as qualifiers for national amateur championships will be conducted this year. In addition, the Canadian Junior Boys Championship will be held at the Medicine Hat Golf & Country Club this July.
"We are thrilled with the high quality of member facilities on our schedule this year, beginning the season with our expanded Match Play Championship at Silver Springs and ending with a much anticipated return to Kananaskis Country for the Interclub Championship," said Alberta Golf Manager of Competitions, Stephen Wigington.
"Throughout 2017 we listened to player and stakeholder feedback and equipped with that information our team, including staff and our operating committees have made significant strides towards an enhanced compete and excel program offering."
In addition, a careful review of Alberta Golf's High Performance strategy to drive athlete performance and professional coaching to the highest levels in our province has been completed in coordination with Golf Canada. It became evident that providing more support directly to member facilities and to participants who are striving to excel in local markets will produce tremendous results for the long-term. For the past eighteen months, the focus of this intensive review has been on two primary objectives: to expand our program offering to every corner of the province and to ensure long term sustainability.
Golf Canada's Chief Sport Officer, Jeff Thompson, said "we are thrilled to be able to work closely with Alberta Golf as they continue to evolve, improve and invest in their sport programs – both grass roots/entry level and high performance. It is critical to have system alignment between the provinces and national to ensure we are as efficient and impactful as possible and Alberta Golf has been a leader nationally in this regard."
A balanced approach to skill building that includes repetition, periodization and exposure to higher levels of competition are keys to continued development in athletes. Using the resources at our disposal, including sharing knowledge, expertise and best practices amongst our coaches and athletes, we intend to support all local markets. We want to impress upon the entire industry throughout the province that the next Brooke Henderson or Mackenzie Hughes is already part of the club's junior program or they might be involved with another sport in the community – this is our potential and the opportunity.
Developing all junior programs to unlock this potential, using the tools and support available through Alberta Golf and Golf Canada, is the responsibility of each member club. The guidance and networking provided to coaches and to athletes by connecting with one another through the Canadian golf community serves to reinforce this message to all local clubs. The more often this formula can be repeated and the more comfortable junior golfers become at each level of competition, the more often we will witness quality results. As we achieve better results at the club level and regionally, we will soon find Alberta at the top of National and International leaderboards.
Alberta Golf Executive Director/CEO, Phil Berube, adds that "the association has dedicated a significant amount of internal resources to improve all program administration and we have acquired the necessary control of all elements of our high performance program. This aligns with our business plan and includes a more comprehensive approach to the recommendations being brought forward to our Board of Directors as well as the methodology in which athletes are supported and recognized. We are confident that we are on a path forward that will yield great results for all athletes and all coaches involved with Alberta Golf."
Jennifer Davison, Alberta Golf's Director of Sport Development & High Performance said that "one of the biggest findings during this internal review of our program has been the lack of administrative oversight for all programming. As this program has developed over the past decade, at times we have relied too heavily on third party input and information. While we have been successful in recognizing excellence amongst all players during this time, the information we have been providing to athletes and to parents has proven to be confusing, inconsistent and at times unreliable."
Alberta Golf is proud to highlight a number of our key changes for 2018 in the notes section below.
COMPETE & EXCEL NOTES:
The SVR Alberta Open has been expanded to a 54-hole stroke-play competition permitting it to be eligible for World Amateur Golf Ranking points. There will be a 36-hole cut to the low 60 players and ties for the final round. A Pro/Am event will be held the day prior for Professionals (club and touring) to bring a team and compete for prizes. The low amateur from the SVR Alberta Open will receive a team position for the 2019 Pacific Coast Amateur Championship.
The Alberta Match Play Championship is now a stand-alone event open to both male and female competitors who will compete in separate 16-player brackets. The first day of competition will be a shotgun stroke-play qualifier to determine the seeding for the matches the following two days. The qualifying field is open to 90 men and 30 women. The men's Match Play Champion will receive a team position for the 2019 Pacific Coast Amateur Championship.
For the first time, the Alberta Mid-Amateur Championship will feature dual hosts – The Glendale Golf & Country Club and the Stony Plain Golf Course. Alberta Golf's largest event from a participation standpoint can now accommodate up to 200 competitors who will play one round at each venue. There will be a 36-hole cut to the low 60 players and ties for the final round at the Glendale G&CC.
For the first time since 2013, the Alberta Junior Girls Championship will be conducted at a separate venue from the Junior Boys competition. This decision was taken after several seasons of conducting a joint Alberta Junior Championship. While this endeavor was successful from a logistical and promotional standpoint we feel strongly that a distinct championship for girls only will promote participation and camaraderie among young golfers with a focus on growing a competitive culture among junior girls.
2018 marks the return of the Alberta Interclub Championship to Kananaskis Country Golf Course. We are excited to return to K-country following a five-year hiatus from the perennial host due to the devastating flood in 2013. We wish to thank the Canmore Golf & Curling Club for admirably stepping up to fill the void over the last four seasons. For the first time, the Interclub Championship will be open to both male and female teams of four. The first 36 member club teams to register will make up the field.
The Canadian Junior Boys Championship will be held at the beautiful Medicine Hat Golf & Country Club this July 30 – August 2nd. Look for a strong contingent of young Albertans at the top of the leaderboard this summer.
We are thrilled to be working more closely with our fellow associations and tours this year by providing varied event management services including a full listing of all in-province events on our website schedule. We feel strongly that participation levels and value will increase for all golfers by working collaboratively. You can view the full schedule and toggle to future venues here.
We are very proud to name our 2017 Players of the Year in each category:
Matt Williams, Mens – Glencoe G&CC
Jaclyn Lee, Ladies – Glencoe G&CC
Ethan Choi, Junior & Juvenile Boys – Pincher Creek G&CC
Kehler Koss, Junior Girls – Glencoe G&CC
Annabelle Ackroyd, Juvenile Girls, Silver Springs G&CC
Hunter Thomson, Bantam Boys, Calgary G&CC
Kaitlyn Wingnean, Bantam Girls, The Derrick G&WC
In December of 2017, Alberta Golf announced an expanded high performance athlete development program. This is part of an organization-wide culture of commitment to supporting players, coaches and facilities committed to high performance athlete development. It features a tiered program offering that increases access to world-class support to a growing number of athletes across the entire province. More information can be found here.
The Tier 2 Regional Player Development Program schedule for 2018 can be found here. The program is $600 and includes a variety of camps. Applications are continuing to be accepted until April 22nd. Players who have already applied will be contacted to confirm their acceptance into this program.
For 2018, we will be transitioning away from a provincial order of merit to the national Golf Canada Order of Merit rankings. We will be recognizing the top Albertan on the national rankings at the end of the season at the amateur and junior level only. Information on the National Order of Merit can be found here. Our focus remains on celebrating results in our provincial championships and encouraging a competitive environment that is healthy from a training, competition and rest standpoint.
Updated information on exemptions for provincial championships, quota positions for national championships, and historical records can be found here. Information on selection for multi-sport games and teams can be found here. Athlete Assistance funding of over $25,000 in total will be awarded to those players who have met the criteria for the high-performance squad and provincial teams.
---
ALBERTA GOLF AMATEUR CHAMPIONSHIPS
Alberta Golf conducts 11 provincial amateur championships for annual competition to identify the best golfer in various age and gender categories, welcoming nearly 1,500 competitors each year. Provincial amateur championships are conducted at member facilities on a variety of high quality courses across the province to provide a best in class experience for competitors. Championships service as an opportunity for golfers to qualify for national amateur championships and are delivered by a committed and passionate group of staff and volunteers. Provincial amateur championships are conducted to promote competition, build pride in the community, and inspire future generations of golfers. Alberta Golf's provincial amateur championships are proudly supported by Sun Life Financial, Scott Venturo Rudakoff LLP, Alberta Sport Connection, Adidas Golf Canada, and Titleist & FootJoy.
ALBERTA GOLF HIGH PERFORMANCE ATHLETE DEVELOPMENT
Alberta Golf's High Performance Athlete Development program is designed to support athletes across the province by providing programs and services that ultimately help them reach their competitive goals in the sport. Support is provided to athletes, coaches and facilities who are committed to high performance. Alberta Golf invests nearly $300,000 annually in sport development programming. Team Alberta, the pinnacle of Alberta Golf's High Performance program, provides access to world-class resources including coaching, nutrition, sport science, mental management, equipment and elite competitive opportunities. The program builds on the support team members have received in their development years from their family, clubs, personal instructors, and coaches. Alberta Golf's High Performance Athlete Development program and Team Alberta are proudly supported by Golf Canada, Titleist, FootJoy, and Alberta Sport Connection.
ABOUT ALBERTA GOLF
The Alberta Golf Association was incorporated as a society in 1912 and continues today as a not for profit Provincial Sport Organization (PSO) operating as Alberta Golf. As the PSO, we are committed to realizing the positive impacts of golf on individuals and communities across Alberta. Our vision is that through golf, Albertans will enjoy a high quality of life, improved health and wellness, a strong sense of community, economic benefits and personal fulfillment.