BC's Abigail Rigsby Collects First Collegiate Victory For OCU
Details

Category: Inside Golf
Published: 2018-03-15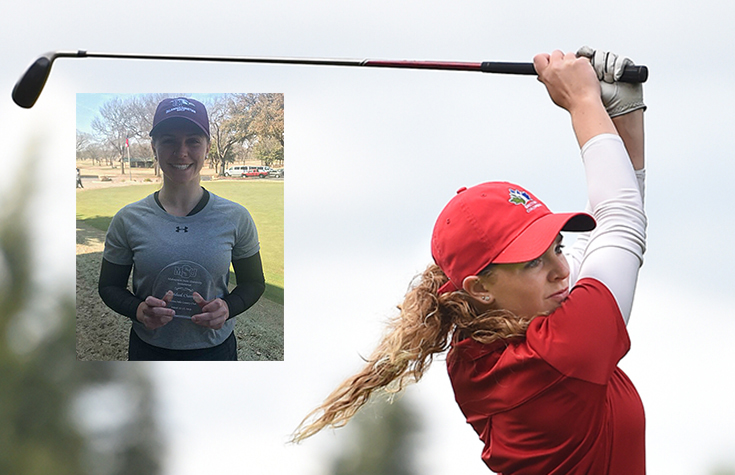 Courtenay, BC's Abigail Rigsby, Shown Above Playing On BC's Winning Team In The 2016 North Pacific Junior Ladies Team Matches, Won Her 1st Collegiate Title, Taking The Midwestern State Invitational. (Photo/Jurgen Kaminski of JKam Photos and OCU Athletics)
WICHITA FALLS, Texas (Oklahoma Christian University Athletics/Women's Golf) – Abigail Rigsby had been close to winning her first collegiate tournament so many times and the Oklahoma Christian golfer finally busted down the door to victory on Tuesday.
Rigsby pulled away from the field in her typical steady fashion, turning a one-shot lead to start the day into a four-shot runaway in the Midwestern State Invitational at Wichita Falls Country Club. Her final-round 4-over-par 76 gave the sophomore from Courtenay, British Columbia, a two-day total of 149 over the 5,843-yard course.
Her closest competitor was Peerada Piddon of Arkansas Tech, who was one of three players within a shot of Rigsby after the first round. None of them shot better than 79 on Tuesday, while Rigsby had nothing worse than a bogey to go with 12 pars and one birdie, on the par-3 No. 2, that came on her 16th hole and essentially sealed her win.
Rigsby's win was the 15th individual title by an OC golfer in the program's seven-season history. She's the fifth OC player to win a tournament, joining Anna Arrese Cortadellas (eight), Audrey Meisch (three), teammate Kate Goodwin (two) and Morgan Dockery (one). Before Tuesday, Goodwin was OC's most recent tournament winner, taking the Oklahoma Intercollegiate at Fort Sill Golf Course in October 2016.
In 20 career events, Rigsby now has 11 top-10 finishes, and she was coming off a runner-up showing last week in the Diffie Ford-Lincoln Invitational at Kickingbird Golf Course in Edmond. She was looking forward to returning to Wichita Falls Country Club, which hosted last year's NCAA Division II West Super Regional tournament, for which Rigsby qualified as an individual.
At that tournament, after shooting 11-over 83 in the opening round, Rigsby was the best player in the field over the final 36 holes, shooting a 71, then a 72 – the latter while battling severe illness – to squeeze into a playoff and earn an individual berth into the Division II Championship.
She opened this week's tournament with a 73 on Monday and showed little signs of nerves on Tuesday, never coming close to losing her lead.
Rigsby's win helped the Lady Eagles post an eighth-place finish in the loaded 19-team field that included several squads contending for a potential postseason berth. OC posted a team score of 324, giving it a two-day score of 647. Arkansas Tech won the tournament with a score of 624.
Goodwin, a junior from Tulsa, was OC's No. 2 player, tying for 14th in the 99-woman field at 158 after a second consecutive 79. Junior Elizabeth Freeman posted an 81 – a five-shot improvement over her opening round – and closed at 167, tied for 54th.
Sophomore Ashton Nemecek's 90 left her at 175, tied for 76th, while freshman Felicity Wittenberg shot an 88 and tied for 80th at 177.
The Lady Eagles will return to action next Monday and Tuesday in the Hillcat Classic, to be hosted by Rogers State at Bailey Ranch Golf Club in Owasso.