Morrison Puts Her Everything Into Every ProAm Golf Show
Details

Category: Inside Golf
Published: 2017-02-17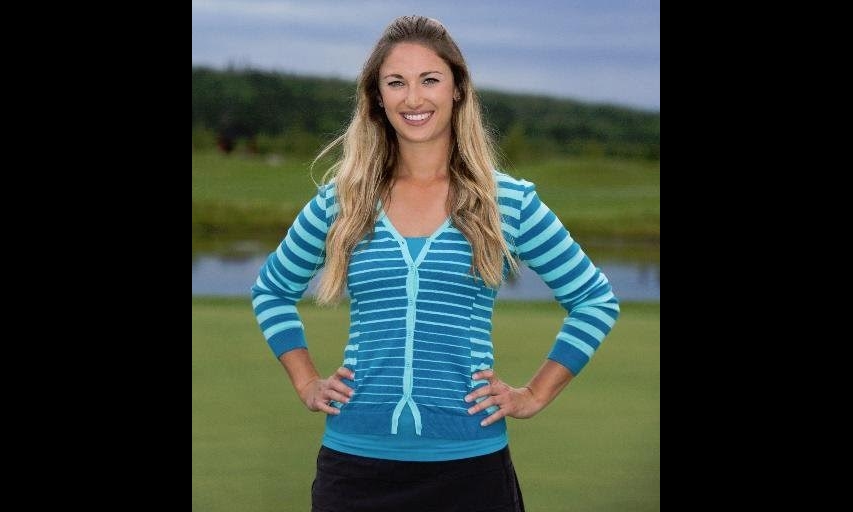 Meg Morrison Has Taken An Idea And Run With It For The Last Four Years Making The ProAm Golf Show A Popular Weekend Treat For Edmonton Area Golfers. The Show Will Expand Its Audience This Summer By Including Six Calgary Area Courses. (Photo/Gem Productions)
STONY PLAIN, Alberta (Gord Montgomery/iG) — If you want things done right, do them yourself. Or at least, do as much as possible by yourself. To that end Meg Morrison is essentially a one-man ... er ... woman army when it comes to putting her Edmonton-based golf television show on the air.
After all, in order to air the ProAm Golf Show through her business Gem Productions, she scouts locations, secures guests, buys the television space, sells advertising, and to top that off is the executive producer, director and a co-star in the half hour weekly program that airs on CTV. Because of all that and more, she notes with a laugh, her putting game has suffered greatly.
Since coming up with the idea of a golf-based 30-minute TV show, Morrison has averag-ing around 16,000 viewers each Saturday during the golf season. Now, she's looking at broadening her horizons by filming six episodes in the Edmonton area and then tacking on another six from the Calgary area.
"The numbers are fairly good as CTV Edmonton covers from Red Deer north in Alberta," she said of her numbers to date through four years. "And that's with really no adver-tising, other than social media. We've always done 12 episodes but now we'll be province wide instead of just the Edmonton area," with half a dozen shows from each area.
While most people assume that the advertisers and their sponsorship dollars are there for every TV shows, that's not the case. It has to be sold and in Morrison's case, she's the seller due to a very key reason.
"I buy that airtime from CTV and I sell the advertising. It's all on me."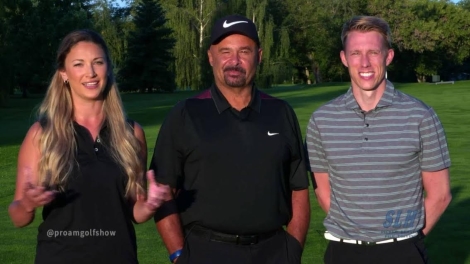 Meg Morrison Along With Co-Host Marc Kennedy (Far Right) Welcomed Another Ex-Oiler And NHL Hall Of Fame Player Grant Fuhr To The Show In 2016. (Photo/Gem Productions)
Over the past two seasons that selling job has been a bit tougher given Alberta's economic downturn but Morrison seems to have weathered that storm, thanks to an upbeat show, a great co-host in Olympic medal winner Marc Kennedy (former Edmonton Oiler Jason Strudwick used to be the co-host but had to leave due to full time job commitments) and a plethora of outstanding professional athlete special guests.
Because of her resourcefulness, and drive, the show has never lost money, Morrison pointed out. "I think the first year I broke even which I considered a success. It's been successful so far and it's a great way to get paid to golf for a living."
Asked what she was thinking by swinging into a career like this, where so much depends on her and her alone, Morrison just laughed, saying "That's a good question!"
"It was just the drive. I've always wanted to do a golf show but outside of maybe going to Golf Channel or something like that I didn't really see the opportunity to do this. I really didn't want my life to pass me by without ever having done one. Golf has always been my passion and I've always wanted to do something like this."
A key component to the show's success, Morrison feels, is the way the pro athlete guests are portrayed. They're not speaking into a dressing room mic after winning, or losing, a crucial game. On camera here, they're simply playing a so-called relaxing game of golf and are more at ease, thus letting viewers get a much better insight into their often closely guarded personalities.
Morrison has worked in radio and TV as a talk show host and sports anchor and has done the dressing room Q&A thing, so she too enjoys this step away from the competitive sporting fields to a more sublime locale.
"When you combine golf with these pro athletes' personalities, just relax with them, make jokes, it's a good recipe."
About her co-host Kennedy, Morrison said, "He was actually my guest on Season 3. When it came time to pick a new co-host (after Strudwick departed), I didn't know Marc that well but I know I really liked what I'd seen of him during the filming of our show. He was local, free in the summer and he's got a great personality. He was extremely in-terested and he's surprised me with how funny he can be. One never got that sense from him when he was curling. He adds a lot to the show. He's funny, self-deprecating and he's awesome to have on the show."
As for the pros that join in on the fun, those guys don't hesitate to become involved, the show's producer said. And now with a bigger stable of athletes to draw from considering the show's moving to southern Alberta as well as the north, that's an even better deal.
"The pros have all been great!" Morrison enthused. "This year in Calgary it will be inter-esting because the pool we can use extends that much more. The waters haven't been dried yet in the Edmonton area for who I can grab but it's nice to have that extra option now.
"Last summer I called Grant Fuhr and said "Hi. I'm Meg Morrison and I have a golf show. Would you like to come on it?" And he said "Yes. No problem." We've had Brent Sutter and it was the same thing. Called him up and he said "Yes," and through those contacts, and others, the list of guests grows.
While viewership numbers are quite stable week over week, the most popular visitor so far has been Captain Canada, ex-Edmonton Oiler Ryan Smyth, whose appearance helped spike the viewership. "But we've also had guests who aren't quite as high profile and still had good numbers," Morrison noted.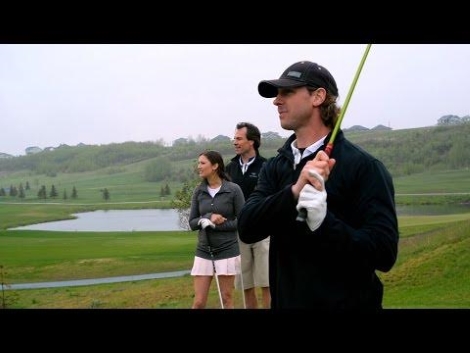 The Show That Drew The Largest Audience Thus Far Was The One Featuring Former Edmonton Oiler Player Ryan Smyth. (Photo/Gem Productions)
Over the past four seasons the show's format has been quite stable as well. There have been a few tweaks but for the most part the show just rolls along.
"The premise of the show has always stayed true," keeping the flow moving by never straying too far from the golf angle. "We don't want to do too much talking. They're shorter interview with more golf."
As well, they've introduced an animated segment to the show about the obsure or strange rules of golf which has also helped enhance the program.
Now, about that putting problem. That comes from, Morrison freely admits, being every-thing during the taping which messes with her mindset over those 10-footers for birdie.
"I'm really not as bad of a putter as I appear!" she exclaimed. "When we're on the course, I'm hosting, I'm directing, I'm organizing the entire crew. Figuring out camera angles, things like that. When I'm putting, I'm figuring out, "OK. if this goes in, this person wins but if this doesn't go in then I have to say this person wins and I have to mention the sponsor as well and then jump to commercial … soooo, the last thing I'm thinking about is the line or the weight of a putt."
That though is simply a minor concern. Morrison's five-year plan was to grow the pro-gram outside the Edmonton area and that's now been accomplished. Now with a fifth looming, Morrison says given how this started, with the weight of success fully on her back alone, she's thrilled with where things have gone.
"I'm really pleased with how everything has gone There is no end date for it right now and if we could one day take it national, that would be awesome. There's still struggles with the economy and the hope to get more sponsorship … so yeah, I'm pleased with how it's gone but it can always be better. And I've got the drive to keep making it better and better and better."
And she's shown that so far so there's no doubt that the ProAm Golf Show, now with a larger target market, will continue to grow under the guidance of this one man, er woman, army.
The ProAm Golf Show begins airing its fifth season on June 17 and runs through September 2 on CTV Edmonton and Calgary.