British Columbia Golf Goes For '3-Peat' In NPJL Team Matches
Details

Category: Inside Golf
Published: 2018-03-21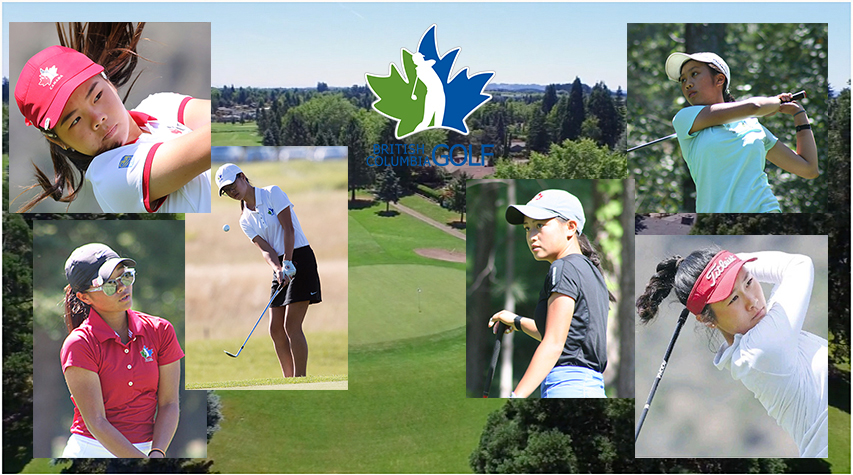 The 2018 Members of British Columbia Golf's NPJL Team: Clockwise From Top Left: Kathrine Chan, Claire Lovan, Phoebe Yue, Angel Lin, Tiffany Kong And Akari Hayashi 
This year is the 32nd edition of the North Pacific Junior Ladies' Team Matches and will see squads from British Columbia, Idaho, Oregon and Washington competing May 25th - May 27th at the Rock Creek Country Club in Portland, Oregon.
British Columbia Golf is looking for a 'Three-peat' in 2018 having won the last two versions, on home soil at Pitt Meadows Golf Club in 2016 and then defending their title at Illahe Hills Country Club in Salem, Oregon last year.
The event is patterned after the Curtis Cup Matches for amateur women (which stimulates friendly rivalry for women golfers from the United States, Great Britain and Ireland).
In 1997, the NPJL matches were expanded to include Oregon and Alberta, making it a four-association, six girls on each team, competition. Over the years the teams have changed and in 2015 Team Idaho was included. Each of the 4 teams now brings 6 players. Truly a "North Pacific" event.
This year's team from British Columbia is a mix of 'rookies' and 'veterans' of this event and is made up of the following players:
Team Roster:
BC Team members: (Home town in brackets)
Phoebe Yue - (West Vancouver)
Kathrine Chan - (Richmond)
Akari Hayashi - (Victoria)
Tiffany Kong - (Vancouver)
Claire Lovan - (Surrey)
Angel Lin - (Surrey)
note: Akari Hayashi and Tiffany Kong are returning members from the victorious 2017 BC team.
BC Team Coaches
Jennifer Greggain (Head Coach) 
Kathy Stecyk (Asst. Coach) 


Host Association - Oregon Junior Golf Association
The North Pacific Jr. Ladies Team Matches employs the following scoring system:
The four teams are composed of 6 players from each state/province. In all competitions, which are match play, the front nine is worth one point, the back nine is worth one point, and the 18 is worth one point.
On Day One, there are three four-ball matches, for a total of nine possible points. On Day Two, there are three foursome matches (alternate shot), for a total of nine possible points, and a two-day total of a possible 18 points.
Tee times begin at 2:00 Saturday with the Best ball match play (four-ball) on Saturday, and alternate shot match play (foursomes) on Sunday.