Shaughnessy, Many Other B.C. Clubs, Investing In Their Future
Details

Category: Inside Golf
Published: 2018-03-21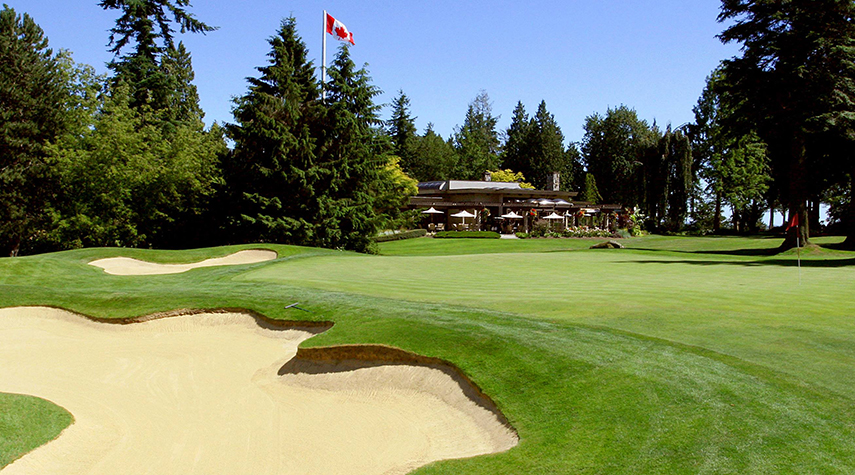 The Shaughnessy Golf & Country Club Is Taking Steps To Ensure The Venerable Club Remains One Of The Best In Not Only B.C. But The Entire Country Even As It Eyes The End Of Its Lease In 2033. (Photo/Shaughnessy G&CC)
Brad Ziemer, British Columbia Golf
As the clock ticks on its lease with the Musqueam band, there is no period of mourning planned at Shaughnessy Golf & Country Club. Instead, there is a celebration of life going on, one intended to make the final 15 years of the private club's existence its best ever.
Shaughnessy, it seems, is determined to go out on a high note. "There is no doom and gloom here at all," says general manager Jason Sigurdson. "We are really confidently looking forward to the future."
That future will last until 2033, when the Shaughnessy property along Southwest Marine Drive on Vancouver's posh west side, is returned to the Musqueam band. The club has leased the property from the band since 1958.
Until then, Sigurdson says it will be business as usual at Shaughnessy. And rather than cut back or reduce spending as the end nears, Shaughnessy is instead making significant investments to ensure the final 15 years are indeed very good ones.
Shaughnessy's board recently approved $2.5 million in capital spending over the next five years. That is in addition to the more than $2 million budgeted annually for regular course operations. "Much of that money is front-loaded," Sigurdson says, with just more than $1.1 million being spent this year.
Much of that money is being spent on tree removal to open up some especially shady spots on the course. "We want to get in front of weather patterns and mitigate some of those issues and really enjoy a longer season than what we did last year," Sigurdson says.
Like many of its neighbouring courses, Shaughnessy was hit hard last winter and its greens paid the price. It made for a short season. Sigurdson insists the extra capital spending is not intended to make a statement to prospective members, who may be leery about joining a club with a finite future. "I don't know if we are making a statement in as much as we are just making sure the last 15 years are as good as they can be," he says. "I mean, the only statement we are making is to ourselves in that it is important this remain a top-tier facility now and in the future."
A "family and friends" membership drive last year has the club filled to capacity with a waiting list. And the club continues to attract new members still willing to ante up an initiation fee in the high five figures. "We have had a lot of people who have said, you know what, I am slowing down at work or I am recently retired, I am 66, and this will take me until I'm 81 -- perfect, that's all I need," says Alan Palmer, director of golf at Shaughnessy.
The club is also looking to fill in its tournament calendar for its final 15 years. "You get 100 phone calls a year to host charity and provincial amateur events and national events," Palmer says. "Here is our timeline. What do we want to host and let's plot them in there. So if the club every three years wants to host a major, then we'll do that -- junior boys, junior girls, seniors, Canadian Amateur, all that stuff. So we can say these are the six events we are going to host over the next 15 years."
Actually, the one event topping Shaughnessy's wish list is the 2023 Presidents Cup. The club, which in recent years played host to the 2005 and 2011 Canadian Opens, is believed to be getting serious consideration for the Presidents Cup. Event organizers are scheduled to visit the course some time in April.
"It is something we are really excited about," Sigurdson says. "It's not a quick process, unfortunately. When the Presidents Cup looks at International sites they certainly don't pick them as far out as the American sites and I really believe there is probably a wider array of criteria that they are looking at which in some cases isn't money-driven, it's about expanding the game of golf and about expanding their product and the Presidents Cup.
"As you know over the last little while it hasn't been super competitive and so they are looking at a whole host of things. I would say Vancouver checks off a lot of the boxes. It's in the right time zone, it's easy to get to for players. We do know there are a couple of bids in Asia (China and Japan) and those would also be attractive markets for the Presidents Cup."
Shaughnessy is one of a number of British Columbia courses making big investments in their business. Its Southwest Marine Drive neighbour, Point Grey Golf & Country Club, is about to begin a $6.2-million expansion of its practice facility and has several other upgrade projects scheduled over the next few years.
"We are essentially tripling the size of our practice facility," says general manager Adam Zubek. "The idea is to put a best-in-class facility together. Two teaching bays, 20-plus hitting stalls. And we are looking to be one of the first TrackMan-ready practice areas in Western Canada."
At Predator Ridge in Vernon, three holes on the Predator Course -- 3, 4 and 9 -- are being redesigned to make them more playable and the first hole on the Ridge course is being realigned.
General manager Rod Cochrane says architects Les Furber and Doug Carrick have signed off on the changes. "Everything is being sodded and will be ready for play in June," says Cochrane.
image credit wikimedia commons
Predator Ridge Golf Resort In Vernon Is Also Making Some Changes Which Are Expected To Be Ready For Play By June 
"We did a bunch of work last fall and we're super excited about it because it allows us to update and renovate three holes on the Predator Course. Holes 3 and 4 were holes that slowed play down and frustrated golfers and now they will be holes that people will look forward to."
Over in Campbell River, the course once known as Sequoia Springs has been redesigned by prominent Canadian golf architect Graham Cooke and is scheduled to reopen this summer as Campbell River Golf & Country Club. A new clubhouse and driving range are also included in the project.
Ladner-based golf architect Wayne Carleton has two projects on the go. Carleton is putting the finishing touches on a complete makeover of the club formerly known as Point Roberts Golf Course, located just across the border from Tsawwassen.
The club, which gets the vast majority of its play from Metro Vancouver golfers, is being rebranded as Bald Eagle Golf Club at Point Roberts. It was recently purchased by an Asian company headed by Richmond resident Coco Luo.
Carleton is also involved in proposed changes at Eaglequest's Coyote Creek facility in Surrey. That course is being turned into a nine- or 12-hole facility to accommodate housing. The new owners of Furry Creek Golf Course near Britannia Beach have plans to revamp the course, add hundreds of townhomes, a boutique hotel and a general store to the facility.
Kris Jonasson, executive director of British Columbia Golf says all this work is indicative of the health of golf in the province. "Actions speak loudly in business and recent capital infusions into the golf industry confirm golf in British Columbia is in a good place," Jonasson said.
"Investments in improving member experiences by clubs like Shaughnessy, Point Grey and Eaglequest Coyote Creek point to increased growth moving forward. Purchases, renovations and investments in new technologies at clubs like Furry Creek, Campbell River Golf and Country Club and Bald Eagle show confidence in the future. The outlook for golf going forward looks pretty strong in B.C."