Great Early Season Deals On Golf At One Of World's Best Courses
Details

Category: Inside Golf
Published: 2018-03-24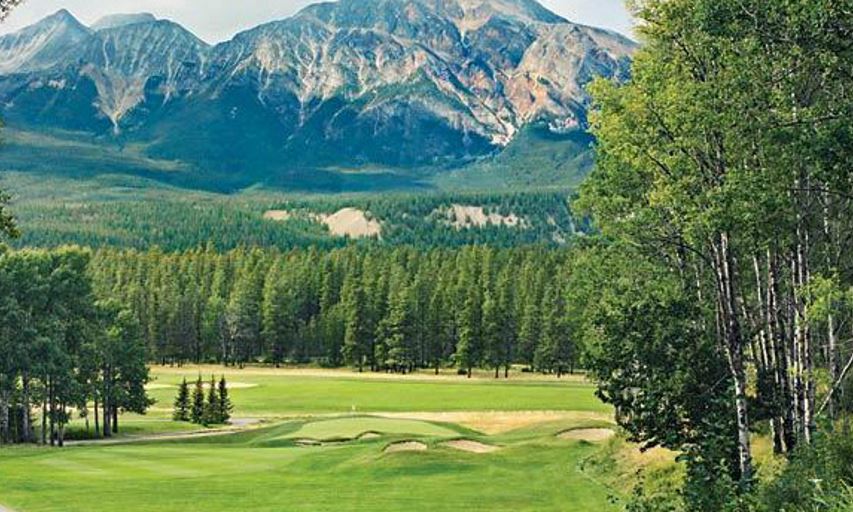 The Beautiful Surroundings, Including Wildlife Sightings, Are A Constant At The World-Famous Fairmont Jasper Park Lodge Golf Course.
EDMONTON, Alberta (Gord Montgomergy/iG) — For those of us who love mountain golf, but not necessarily the high prices that can come with that experience in mid-season, the great track in Jasper, AB., is giving you a mulligan of sorts.
While it's not a do-over, it is a do-again at the prices you'll be paying early in the season at the famed Fairmont Jasper Park Lodge Golf Course. Speaking to Inside Golf at the PGA of Alberta Golf Show in Edmonton, head professional Tahlon Sweenie said that while the national park was a busy place last summer because of Canada 150 celebrations, many people didn't get a chance to play the course due to limited accommodations in the area. So this spring, they're making the course available for a reduced rate to make up for that scenario.
"For the first time in probably 15, 20 years, Jasper Park Lodge is putting on a Golf Show special," he began about the bargain basement pricing. "We have a very aggressive rate where we're trying to get Albertans to book early for rounds in May. If you're planning on playing here in May, and you book your round before the end of March, we're giving a rate of $79. If you book before May 15, it's $89 and before the end of April it's $99. Just to put that in perspective, our peak rate in the middle of summer is $209, and our peak Alberta resident rate is $169.00."
Sweenie noted that many people have the idea that because it's a mountain course JPL opens later than many others in the province which he pointed out isn't true. "We open May 5. We've opened that first Saturday in May for probably the last seven years in a row and the course is going to be in fantastic shape. We're trying to get as many people as we can out to enjoy a fantastic golf course and play for under $100. You get unlimited usage of our practice facility, a power cart, club storage, so the value," for this is virtually unheard of.
What you get for this low price is a great day of golf, plus of course, the total Fairmont experience when heading to the playpen ranked as the Top Resort Course in Canada year after year.
"The most recent ranking by Golf Digest of the Top 100 Courses Outside The U.S. is the fist time Jasper has snuck in there," the pro noted. "We ended up being ranked 69th," and the mountain course was one of only 11 Canadian tracks listed, although one, Sagebrush Golf and Sporting Club, is no longer in existence. "Our SCORE ranking as the No. 1 resort course has been holding strong for over 10 years."
The great thing about the Alberta layout is that it was designed in 1925 by the renowned Stanley Thompson and through the years has remained unchanged.
"It's stood the test of time. You go out there, it's the original blueprint from what Stanley designed with 360-degree mountain vistas," Sweenie enthused about his course. "And in May or June, you have a good chance of seeing either a black bear or some sort of wildlife on the course which makes it that much more of an experience."
In closing, Sweenie summed things up in this way, "The Jasper golf experience is truly second to none," which for a limited time includes some great green fees for one of the greatest golf courses in the world.
For booking tee times online at the special discounted rates, to to www.fairmont.com/jasper/golf.