Penticton's Kylie Jack Receives Premier's Award For Aboriginal Youth Excellence in Sport
Details

Category: Inside Golf
Published: 2018-03-26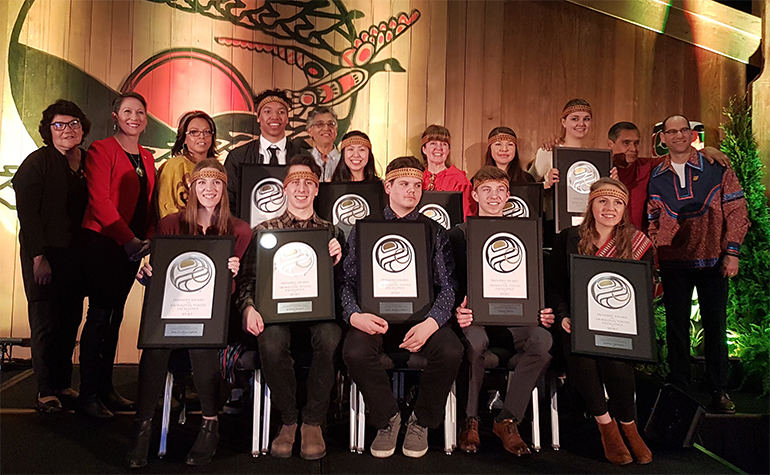 Twelve Outstanding Aboriginal Athletes Received The Premier's Award For Aboriginal Youth Excellence In Sport Including Penticton's Kylie Jack In Golf (Back Row, 4th From Right). (Photo/BC Government and I·SPARC)
Richmond, BC - The 2017 Premier's Awards for Aboriginal Youth Excellence in Sport were presented in Richmond on Tuesday, March 20 to twelve outstanding Aboriginal youth athletes from British Columbia. Their athletic accomplishments are as extraordinary as their commitment to their community and future aspirations.
The awards were presented by the Honourable Melanie Mark, Minister of Advanced Education, Skills and Training, during a formal celebration held during the opening ceremonies of the Gathering Our Voices Youth Conference at the Sheraton Vancouver Airport hotel in Richmond, B.C.
The 2017 Premier's Awards for Aboriginal Youth Excellence in Sport provincial recipients represent a wide variety of sports:
Kaitlyn Lafontaine, Basketball, Métis Nation BC
William Brewer, Snowboarding, Basketball, Track & Field, Lacrosse, Okanagan Indian Band
Sophie Scobie, Lacrosse, Track & Field, Métis Nation BC
Mark Anthony Roberts, Rifle Shooting, Wei Wai Kum First Nation
Alison Desmarais, Short Track Speed Skating, Métis Nation BC
Graham Stewart, Rowing, Métis Nation of Greater Victoria
Amy Levelton Leighton, Swimming, Metlakatla First Nation
Daniel Everton, Volleyball, Métis Nation BC
Kylie Jack, Golf, Penticton Indian Band
Zach Spicer, Sailing, Mikisew Cree First Nation
Hunter Lang, Softball, TS'KW'AYLAXW First Nation
Corben Bowen, Rugby, Haisla Nation
"I am impressed and inspired by the dedication these young athletes have demonstrated to achieve the 2017 Premier's Award for Aboriginal Youth Excellence in Sport," said Premier John Horgan. "As outstanding athletes and community leaders, this year's recipients truly represent British Columbia's best and brightest. We are proud to offer the training and development support that enables Aboriginal youth to reach this level of accomplishment. Congratulations!"
The Indigenous Sport, Physical Activity & Recreation Council (I·SPARC), in collaboration with the Government of British Columbia, created the Premier's Awards for Aboriginal Youth Excellence in Sport to highlight the incredible achievements of Aboriginal youth athletes in the province.
The annual awards honour Aboriginal athletes under 25 years of age who have achieved excellence in performance sport, are regarded for their leadership qualities, are committed to a higher education, and are recognized as community role models both on and off the field.
"It is my pleasure to honour these 12 extraordinary Aboriginal youth athletes with the 2017 Premier's Awards for Aboriginal Youth Excellence in Sport," said Rick Brant, I·SPARC's Executive Director. "In addition to being outstanding athletes, each has contributed to their community, made a commitment to their education and demonstrated outstanding leadership. They are an inspiration to us all."
From the 48 regional recipients selected in 2017, a total of 12 recipients (six male and six female) were selected to receive the provincial award.
Kylie Jack
Age: 22
Sport: Golf
Nation: Penticton Indian Band
Hometown: Westbank
Kylie Jack is a NCAA Division 2 golfer playing and studying at Simon Fraser University. In 2017, she placed second at the Greater Northwest Athletic Conference Championships and helped her team to a ninth-place finish at the Women's Golf Super Regional. At the Pacific Northwest Golf AssociationWomen's Amateur tournament in Renton, WA, Kylie finished in the round of 16 after starting the tournament ranked 30th. She embraces the challenge of combining university sport with full-time studies in Criminology while volunteering at junior girls' golf clinics and with SFU's Peer Cousins program. When she is home, she volunteers with the Westbank First Nation Youth Program and with Penticton's Four Seasons Cultural Society. Kylie says that embracing her Aboriginal Ancestry has been a great journey. And when she plays golf, she thanks the local ancestors for allowing her to play on their territory. Kylie plans to earn either her master's degree in criminology or attend law school at UBC or UVic.