Pyramid Putters Delivers Online Putting From Center, Heel Or Toe
Details

Category: Inside Golf
Published: 2018-04-05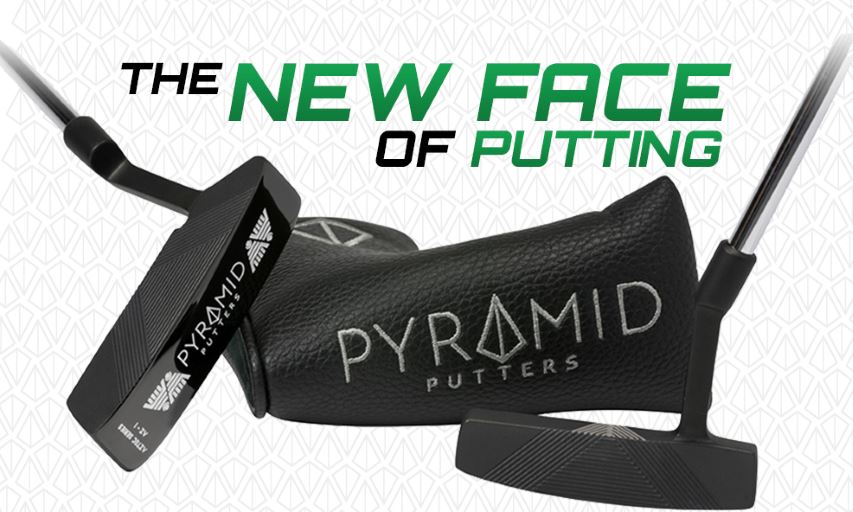 DENVER, Colorado — Pyramid Putters announces the launch of its Aztec Series of putters, a ground-breaking and holistic approach to putter design that features a Precision Grooved Face©, superior alignment and visual lie angle.
"Pyramid Putters give you the tools to sink more putts, plain and simple. We took a holistic approach to improve scoring on the greens," Colin Callahan, Creative Director of Pyramid Putters, said. "The Pyramid Putter features a unique milled face that reduces skid when hit off the sweet spot and provides a gear effect to keep your ball on line for putts that are hit off the toe or heel.
"The putter features a superb alignment triangle on the leading edge that helps the player imagine a tracking line to their target. In addition, the flange features a target line, that when aligned with the leading-edge pyramid, lets the golfer know that their lie angle is correct.
"Pyramid Putters also come standard with a parallel width grip to keep the wrist action to a minimum. The current Aztec series has the option of blade or mallet."
Debuting at the 2018 PGA Merchandise Show in Orlando, Fla., Pyramid Putters was recognized as one of the best new putters in the new products area and was named to "Tony's Top 10," an industry ranking compiled by Golf Talk Live's Tony Leodora. GolfTalkLive.net also named Pyramid Putters their "Product of the Month" in January 2018.
Pyramid Putters AZ-I (blade) and AZ-II (mallet) are available on the company's website and feature customizable lengths from 32" to 36", lofts from 2° to 4°, lie angles from 70° to 72° and standard, mid-size and jumbo grips.
The putters retail for US$279.95 each.
Learn more about Pyramid Putters on their website.