BC Golf Names 2018 PNGA Cup Team As Competition Returns To Seattle Golf Club
Details

Category: Inside Golf
Published: 2018-04-06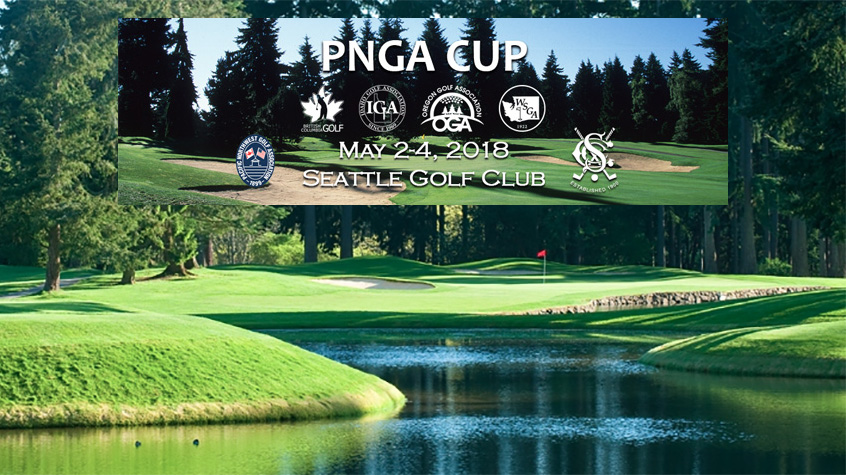 The 2018 PNGA Cup is being held this year from May 2-4, 2018 at the Seattle Golf Club in Shoreline, WA.
This Ryder-Cup style championship features some of the most notable amateur golfers in the Pacific Northwest region with 12-member teams representing the regional golf associations that makeup the Pacific Northwest Golf Association, which includes British Columbia Golf, Idaho Golf Association, Oregon Golf Association, and Washington State Golf Association.
Teams play four-ball, foursome and singles matches to select a champion.
Each team has eight men and four women with the men's contingent comprised of four mid-amateurs (25 years of age or older), two men at 40 years or older, and two senior men of 55 years or older.
The women's delegation includes two mid-amateurs and two women 50 years of age or older. With both Men's and Women's scores used to determine the team result, it is the only known event of its kind in the country.
The defending champions are from the Idaho Golf Association who took the title in 2017 on their home turf at the Timberstone Golf Course in Caldwell, Idaho. British Columbia Golf teams have won the title on 3 occasions with the most recent victory coming in 2014 at the Home Course in Washington State, the second of back-to-back wins for B.C.
Click HERE to see 2018 PNGA Cup Team Rosters (Please note one change to the B.C. Team: Karen Kloske has replaced Jackie Little in the Women's Mid-Am pairing)
Click HERE for further information on the PNGA Cup
Following is the team named to represent British Columbia Golf at this year's PNGA Cup:
Men - Mid-Amateur
Kevin Carrigan - (Victoria)
3rd - 2017 BC Men's Amateur
T3 - 2017 Zone 5 BC Men's Mid-Amateur
4th - 2017 Canadian Men's Mid-Amateur
T19 - 2017 RBC Cordova Bay Invitational
Dan Brown - (Grand Forks)
T4 - 2017 BC Men's Mid-Amateur
8th - 2017 Canadian Men's Mid-Amateur
Craig Doell - (Victoria)
1st - 2017 BC Men's Mid-Amateur
1st - 2017 BC Mens Mid-Master (40)
T8 - 2017 Canadian Men's Mid-Master (40)
T10 - 2017 Cordova Bay Invitational
T27 - 2017 Canadian Men's Mid-Amateur
Peter Jawl - (Victoria)
1st - 2017 Zone 5 BC Men's Mid-Amateur
2nd - 2017 Zone 5 BC Men's Amateur
1st - 2017 Victoria Golf Club Men's Club Championship
T21 - 2017 Cordova Bay Invitational
Men - Master 40
Sandy Harper - (Nanaimo)
1st - 2017 Zone 6 BC Men's Senior Amateur
2nd - 2017 BC Men's Mid-Master (40)
3rd - 2017 BC Men's Mid-Amateur
4th - 2017 BC Senior Men's Amateur
T5 - 2017 PNGA Senior Men's Amateur
17th - 2017 Canadian Men's Mid-Master (40)
Norm Bradley - (Kelowna)
3rd - 2017 PNGA Senior Men's Amateur
T6 - 2017 BC Men's Mid-Master (40)
8th - 2017 BC Senior Men's Amateur
T10 - 2017 BC Men's Mid-Amateur
T16 - 2017 PNGA Men's Mid-Master (40) Stroke Play Qualifying
T22 - 2017 Canadian Men's Mid-Master (40)
Men - Senior
Doug Roxburgh - (Vancouver)
1st - 2017 BC Senior Men's Amateur
1st - 2017 BC Super Senior Men's Amateur
4th - 2017 BC Men's Mid-Master (40)
T6 - 2017 BC Men's Mid-Amateur
Gudmund Lindbjerg - (Port Moody)
T2 - 2017 PNGA Super Senior Men's Amateur Championship
3rd - 2017 BC Men's Mid-Master (40)
T4 - 2017 BC Men's Mid-Amateur
T5 - 2017 BC Super Senior Men's Amateur
T11 - 2017 BC Senior Men's Amateur
Women - Mid-Amateur
Christina Proteau - (Port Alberni)
Medalist - 2017 PNGA Women's Mid-Amateur
1st - 2017 PNGA Women's Mid-Amateur
3rd - 2017 BC Women's Mid-Amateur
T7 - 2017 BC Women's Amateur
Karen Kloske - (Lake Cowichan)
7th 2017 BC Women's Mid-Amateur
T9 - 2017 BC Senior Women's Amateur
11th - 2017 PNGA Women's Mid-Amateur Stroke Play Qualifying
Rnd of 16 - 2017 PNGA Women's Mid-Amateur
Women - Senior
Josse Deslauriers - (Parksville)
1st - 2017 BC Women's Mid-Amateur
1st - 2017 BC Women's Mid-Master
T13 - 2017 BC Senior Women's Amateur
T13 - 2017 PNGA Senior Women's Amateur
Alison Murdoch - (Victoria)
4th - 2017 PNGA Women's Mid-Amateur Stroke Play Qualifying
Qtr. Finals - 2017 PNGA Women's Mid-Amateur
T4 - 2017 PNGA Senior Women's Amateur
7th - 2017 BC Super Senior Women's Amateur
T7 - 2017 BC Women's Mid-Master
T8 - 2017 BC Women's Mid-Amateur
T9 - 2017 BC Senior Women's Amateur
Team Captain - Patrick Kelly 
CEO - Kris Jonasson
Past Champions:
| | | |
| --- | --- | --- |
| YEAR | VENUE | CHAMPION TEAM |
| | TimberStone Golf Course | Idaho Golf Association |
| | Richmond Country Club | Oregon Golf Association |
| | Columbia Edgewater Country Club | Washington State Golf Association |
| | The Home Course | British Columbia Golf |
| | Crane Creek Country Club | British Columbia Golf |
| | Gorge Vale Golf Club | Oregon Golf Association |
| | Eugene Country Club | Oregon Golf Association |
| | Tumble Creek Club | Oregon Golf Association |
| | Crane Creek Country Club | British Columbia Golf Association |
| | Pronghorn, Jack Nicklaus Signature Course | Washington State Golf Association |
| | Victoria Golf Club | Oregon Golf Association |
| | Seattle Golf Club | Oregon Golf Association |