Fairview Mountain Makes Quick Recovery From Mudslide
Details

Category: Inside Golf
Published: 2018-04-09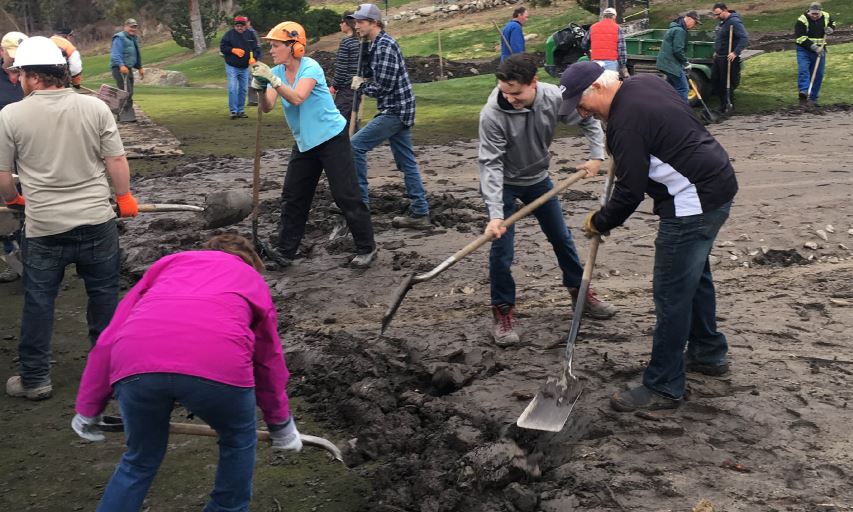 Fairview Mountain Golf Club Members Work To Clear Away Debris Covering A Green Following A Mudslide That Impacted Five Holes On The Golf Course. The Volunteer Efforts Of Club Members Helped Turn What Could Have Been A Lengthy Course Closure Into A Minimal Disruption And C Community-Building Endeavour. (Photo/Fairview Mountain Golf Club)
Courtesy PGA of BC
Fairview Mountain Golf Club opened all 18 holes for play yesterday, which may sound like routine early-April news for the Oliver facility. But considering that the course was covered by debris from a devastating mudslide in late March, the fact that Fairview Mountain is already back in business is nothing short of incredible.
The slide was triggered by heavy rain in the Interior region less than 24 hours after the course's initial opening day for the season, as staff arrived to the club on March 23 to find five holes seriously impacted by the slide's path. Some areas of the property were left unrecognizable, with a handful of greens suffocated under two feet of mud and rock.
"At first, it's overwhelming," Fairview Mountain Executive Professional Brian McDonald said of seeing the damage his course had sustained. "You're seeing your facility – for me, where I've been 24 years and take great pride in – pummelled, beaten up and covered.
"Most people, I think at best, thought we'd be out for a couple of months trying to clean this all up."
The Video Above Shows The Immediate Aftermath Of The Mudslide Before Restoration Efforts Began. (Video/Fairview Mountain Golf Club)
But those early estimates on the timeline to re-open were shattered with the help of dozens of dedicated Fairview Mountain members. McDonald said an average of 50 people per day volunteered to aid with the restoration. Sporting boots, shovels and rakes as they cleared away the rubble, their assistance helped cut the total time the course was out of commission to less than two weeks.
An estimated 3,000 tons of mud and debris – the equivalent of 400 dump-truck loads – had to be hauled away to an unused corner of the property.
"I certainly didn't think it was going to be 13 days," McDonald said of the time it took to re-open. "It's honestly mind-bending where we're at."
McDonald noted two members in particular were crucial to repairing the damage – Kevin Dolighan of Peters Brothers Construction and Mike Johnson of Mike Johnson Excavating – as their expertise was instrumental in determining restoration plans. But the overall response from members pitching in by the dozens to make the course playable again was humbling for the longtime PGA of BC Professional.
"I've always known there's a special vibe within the Fairview membership. There's a culture, for sure," said McDonald. "I knew I'd get support. I didn't know it would be this level … it was almost overwhelming how much we got and how much people wanted to help.
"I don't know that any other club could say they'd have 50 members a day out there when the membership is under 300 to begin with."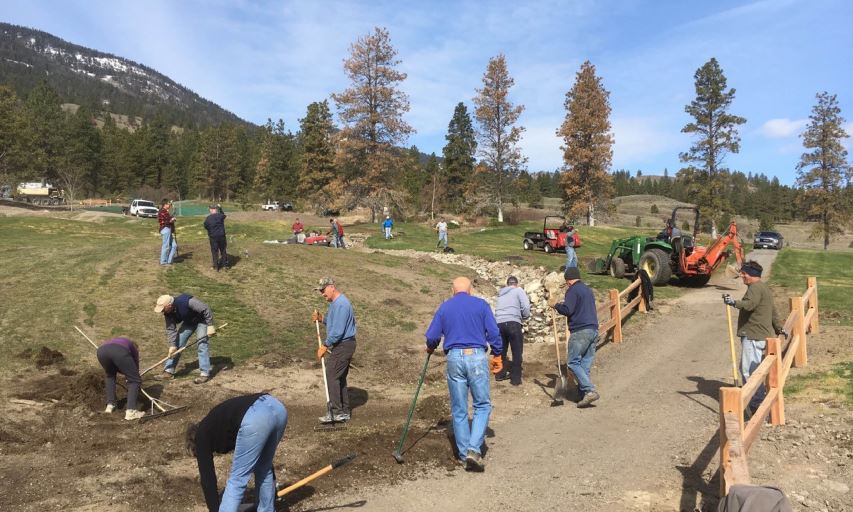 Crews Work To Repair An Area Near The 14th Tee Impacted By The Mudslide. (Photo/Fairview Mountain Golf Club)
Fairview Mountain members and staff have unfortunately dealt with their share of adversity at the club in recent years, as the mudslide appears to be the latest long-term impact of a wildfire that engulfed areas adjacent to the course at higher elevation in 2015. That blaze not only caused approximately $250,000 in smoke damage to the clubhouse and inventory at the time, it also left behind an unstable slope that triggered flooding on the property last year, and now the slide.
Rather than being discouraging, McDonald said it seems like each of those recent challenges has only served to "grow the Fairview Mountain spirit and culture even stronger."
"Our members want to make sure their club's protected. They love this place," he continued. "It's 93 years old, the club was built by volunteers back in 1925 and I think they all want to be proud and push this thing past 100 years and beyond."
Though back open for play, the course is still showing some scars from the aftermath of the slide. The front of the green on No. 3 took the worst of the damage and had to be removed and re-sodded. Excavator traffic to remove rocks from parts of the eighth fairway also prompted turf work that left some temporary ground-under-repair areas in place.
But McDonald said the course will not only rebound from the incident in short order, it may even wind up better than before. Amazingly, greens buried under knee-high mud at the eighth and 13th holes were ultimately unscathed, and seemed to benefit from nutrients among the slide debris.  
"The crazy part is a hole like No. 3 that was heavily impacted … it's actually going to be a better golf hole by the middle of May than it ever has been," he added. "It's been redesigned and looks fantastic."