The Sport BC 2018 AOY Award Winners Include Abbotsford's Adam Hadwin
Details

Category: Inside Golf
Published: 2018-04-09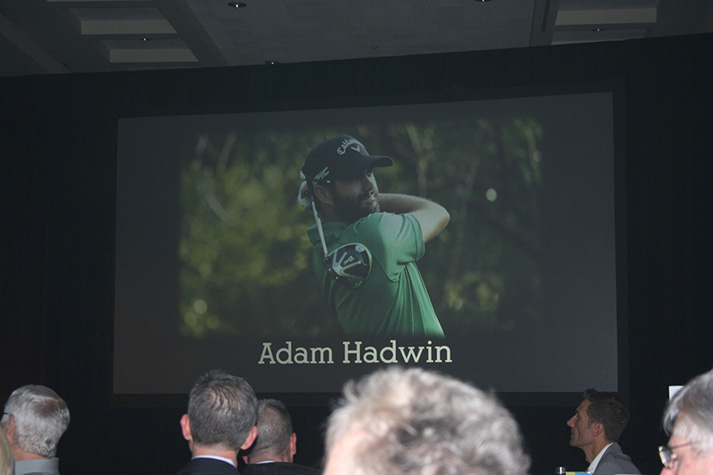 VANCOUVER, British Columbia — Sport BC is very proud to announce the athletes, coaches and officials who were the successful recipients of the 2018 Athlete of the Year Awards, held in Vancouver on March 28, 2018.
The Province of BC proudly supported the 52nd Annual Athlete of the Year Awards with the Honourable Lisa Beare, Minister of Tourism, Arts and Culture in attendance to honour the recipients. These extraordinary individuals were honoured for their excellence in and contribution to sport in front of 500 guests at the Westin Bayshore Vancouver Hotel.
The award recipients represented 13 communities and 13 various sports within British Columbia.
1. ATHLETE WITH A DISABILITY – presented by Markel This award recognizes an athlete with a disability who has demonstrated extraordinary athletic performance in provincial, national or international competitions in a team or individual sport in BC. RECIPIENT: Liam Stanley (Victoria) – Para-Athletics
2. COLLEGE ATHLETE OF THE YEAR – presented by SBC Insurance This award recognizes an individual who competed in a sport, team or individual, and who represented a college, university/college, or institution in the province of British Columbia in the 2016-2017 academic year. RECIPIENT: Megan Rosenlund (Vancouver Island University) – Volleyball
3. TEAM OF THE YEAR – presented by 13th Man Foundation This award recognizes an amateur team competing in a sanctioned league in the province of British Columbia. RECIPIENT: UBC Men's Track & Field Team (UBC) – Athletics
4. HARRY JEROME COMEBACK AWARD RECIPIENT – presented by Sport BC This award recognizes an athlete who competed in a sport, individual or team, in 2017 after having suffered an unusual setback (i.e. illness, injury, etc.) RECIPIENT: Spencer Allen (Kamloops) – Athletics
5. OFFICIAL OF THE YEAR – presented by Richmond Sport Hosting This award recognizes an official who has been responsible for officiating sport events at any level of athletic competition. RECIPIENT: Andree Montreuil (Vancouver) – Gymnastics
6. UNIVERSITY ATHLETE OF THE YEAR – presented by Helly Hansen This award recognizes an athlete enrolled in a recognized degree-granting university in the province of British Columbia, and who competed in a recognized Canadian Interuniversity Sport (CIS) or National Association of Intercollegiate Athletics (NAIA) sport or sports, team or individual, representing his or her school in the 2016-2017 season. RECIPIENT: Danielle Brisebois (UBC) – Volleyball
7. MASTER ATHLETE OF THE YEAR – presented by TSN1040 This award recognizes an athlete competing in a Masters division as defined as defined by his or her sport, taking part on a team or individual sport in the province of British Columbia. RECIPIENT: Christa Bortignon (West Vancouver) – Athletics
8. FEMALE HIGH SCHOOL ATHLETE OF THE YEAR – presented by the Vancouver Sun & The Province This award recognizes a female athlete who was enrolled in a secondary school in the province of BC and who competed in a sport or sports, team or individual, representing her school in the 2016-2017 school year. RECIPIENT: Jacqueline Lew (Pintree) – Wrestling
9. MALE HIGH SCHOOOL ATHLETE OF THE YEAR – presented by Delta Land Group Development This award recognizes a male athlete who was enrolled in a secondary school in the province of British Columbia and who competed in a sport, team or individual, representing his school in the 2016-2017 academic year. RECIPIENT: Ryan Baker (Windsor) – Football & Baseball
10. FEMALE JUNIOR ATHLETE OF THE YEAR – presented by Infigo Imaging This award recognizes extraordinary athletic performance by a female junior athlete who is competing on a team or in an individual sport in British Columbia. RECIPIENT: Maggie Coles-Lyster (Maple Ridge) – Cycling
11. MALE JUNIOR ATHLETE OF THE YEAR – presented by BCLC This award recognizes extraordinary athletic performance by a male junior athlete who is competing on a team or in an individual sport in British Columbia. RECIPIENT: Mathew Barzal (Coquitlam) – Ice Hockey
12. FEMALE COACH OF THE YEAR – presented by ProMotion Plus This award recognizes a female coach who has been responsible for coaching an amateur team(s) and/or individuals at any level of athletic competition in British Columbia. RECIPIENT: Tara Self (Coquitlam) – Athletics
13. MALE COACH OF THE YEAR – presented by Peace Hills Insurance This award recognizes a male coach who has been responsible for coaching an amateur team(s) and/or individuals at any level of athletic competition in British Columbia RECIPIENT: Steve Manley (Vancouver) – Wheelchair Tennis
14. KIDSPORT COMMUNITY CHAMPION OF THE YEAR – presented by Ritchie Bros. Auctioneers The KidSport Community Champion Award is presented to an individual who has made a significant and meaningful contribution to KidSport over the past year. RECIPIENT: Evan Dunfee (Richmond) – Athletics
15. FEMALE SENIOR ATHLETE OF THE YEAR – presented by the City of Vancouver This award recognizes extraordinary athletic performance by a female athlete who is competing on a team or as an individual sport in BC. RECIPIENT: Marielle Thompson (Whistler) – Alpine Ski
16. MALE SENIOR ATHLETE OF THE YEAR – presented by Sport Burnaby This award recognizes extraordinary athletic performance by a male athlete who is competing on a team or individual sport in BC. RECIPIENT: Adam Hadwin (Abbotsford) – Golf
17. DARYL THOMPSON AWARD RECIPIENT – presented by BC Games Society This award is named in honour of the late Daryl Thompson, former chair of Sport BC. Daryl's contributions to sport as an athlete, coach and executive officer were exemplary. This prestigious award recognizes an individual who has contributed their time in an extraordinary way to sport over a long period of time or has made a major contribution to amateur sport in British Columbia. RECIPIENT: Abdul Shaikh (Vancouver) – Badminton
18. BEST OF BC – presented by the Province of British Columbia The recipient of the prestigious annual Best of BC award is the individual or team thought to have best represented B.C. nationally or internationally, in professional or amateur sport. RECIPIENT: James Paxton (Ladner) – Baseball
19. IN HER FOOTSTEPS HONOUREE – presented by In Her Footsteps RECIPIENT: Deb Huband – UBC Women's Basketball Coach
20. IN HER FOOTSTEPS HONOUREE – presented by In Her Footsteps RECIPIENT: Michelle Pye – FIFA Women's Referee