PGA of BC Enters Partnership With Continental Pole & Lighting
Details

Category: Inside Golf
Published: 2018-04-11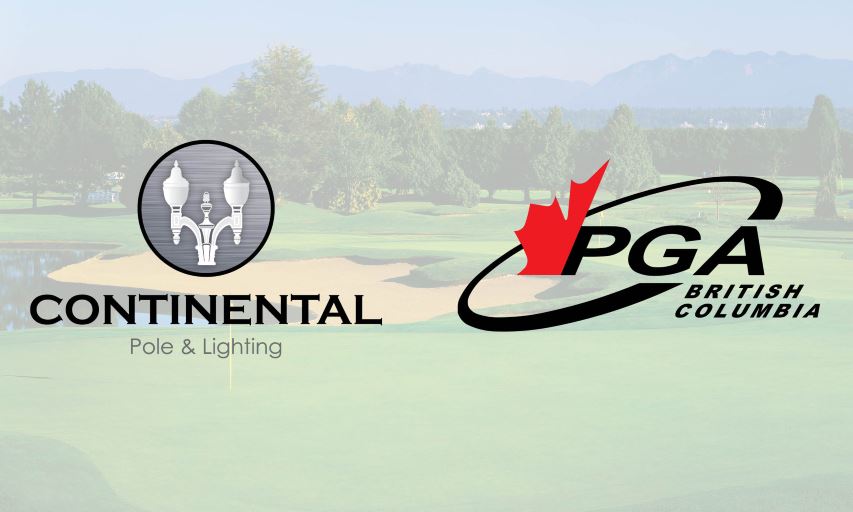 (Photo/PGA of BC)
RICHMOND, British Columbia (PGA of BC) — The PGA of BC is pleased to welcome Continental Pole & Lighting as an Affiliate Partner of the Association through 2019.
Continental Pole & Lighting (CPL) offers a wide range of light-pole applications that go far beyond just illumination. The company's state-of-the-art Smart Pole technology that can address areas of concern specific to golf facilities such as pace of play, security, on-course communication with patrons, environmental monitoring and more.  
"CPL is very excited to work with the PGA of BC and we look forward to forging relationships with Association members by offering a unique, high-quality product to the golf industry," said CPL National Sales Manager Rob Silzer Jr. "We feel our Smart Pole product has a solution for every facility. It all depends what kind of technology you want on your pole."
CPL is the exclusive North American distributor of Sansi Smart Poles, which are designed with modular components that provide essential functions for golf facilities, including:
High-definition video for 24/7 security monitoring, protecting against vandalism and theft, and real-time remote golf-course observation during playing hours
LED display for all kinds of communication needs, such as course info, advertising, food and beverage messaging, tournament leaderboards, weather warnings and more
Environmental sensors
Wi-fi hotspot capability
Emergency intercom and full-facility broadcasting
Electric vehicle charging
Through the affordable leasing options available, PGA of BC facilities can bring a Smart Pole to their grounds for as little as a few dollars per day. Click here to learn more about Smart Pole technology and the amenities it can make possible at your facility. 
"CPL's Smart Pole technology is already helping British Columbia golf facilities attain peace of mind when it comes to security, on-course activity and much more," said Grant Gray, PGA of BC Business Development Manager. "I encourage all Association members to learn more about how our new partner's innovative solutions can make a difference at their establishments."
CPL also produces an array of standard, specialty and decorative poles for lighting and utilities. For more information, please visit www.continentalpole.com.
---
About Continental Pole & Lighting
One of North America's leading street-light pole providers, Continental Pole & Lighting (CPL) designs, manufactures, fabricates and distributes a broad range of poles made of steel, fiberglass, aluminum, cast iron and ductile iron. CPL's poles have applications in outdoor decorative lighting, roadway lighting, and area street lighting. Flexible to accommodate standard and specialized requests, CPL can also provide Smart Pole technology, plus solar poles, camera poles, telecommunication poles, transmission and distribution structures. Headquartered in Portland, Ore., the company's Canadian office is located in Vancouver.
About PGA of BC
The Professional Golfers' Association of British Columbia is an association comprised of nearly 700 golf professionals who work at and operate golf courses, driving ranges and other facilities across the province. Its mandate is to promote and advance the game of golf, serving the needs of both its membership and the golf public through professional and junior golf development programs and high-calibre competitive events. The Zone Office is located in Richmond, BC.