Unique 9-Hole Courses, And A 12-Hole Number, In Alberta
Details

Category: Inside Golf
Published: 2018-04-16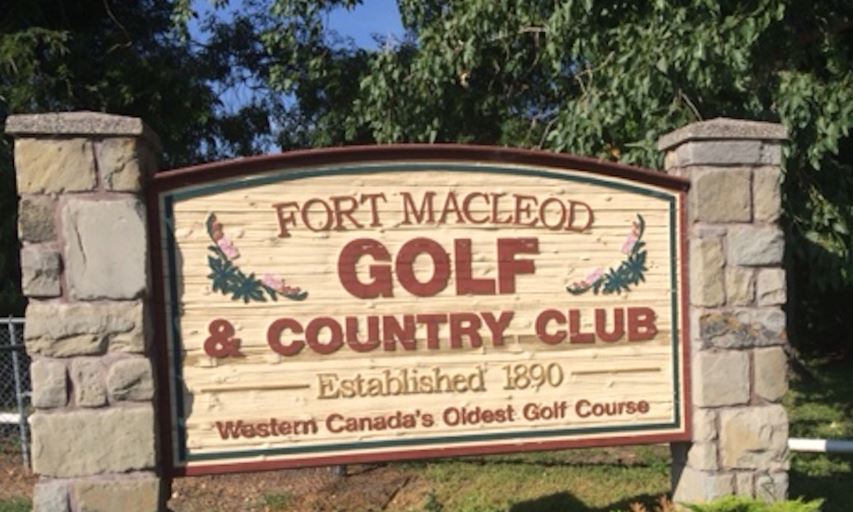 The Sign At The Entrance To The Fort McLeod Golf Course, Located In Southern Alberta, Says All You Need To Know To Understand The Historic Significance Of This Course. (Photo/Gord Montgomery)
ALBERTA, Canada (Gord Montgomery/iG) — As hard as some people find it to admit, a round of golf isn't  always 18 holes. That said, there's nothing wrong with a four-plus hour loop of a golf course but at the same time, with spare time so short for so many these days, may we offer a few appealing alternatives?
Nine holes are becoming a staple for many weekend warriors who find their time demands greater given family and work commitments. And not surprisingly, across Alberta from top to bottom and side to side, there are lots of fun and intriguing layouts that let you get on, and off, within a couple of hours.
In 2017 I had the pleasure of hitting the links on several great short courses across the province and found fun and challenges within their confines ranging from huge par 5's to short par 3's, from an island green to sand greens as well as the first course constructed west of Winnipeg.
And that's where we'll start, with the oldest golf course in Western Canada between Winnipeg and the West Coast. Set in Fort MacLeod, the original home of the NorthWest Mounted Police, this little playpen still has some of the original design elements left and yes, there are opportunities to discover relics that still may come to light — dependent on the size of your divot!
You see, part of the Fort MacLeod Golf Course, when it was first built in 1890 by the police force was used as their shooting range. So, on what is Hole No. 1 there are apparently still some shell casings unearthed every once in a while. As well, there's a buffalo wallow on the second hole and the trail used by wagon trains headed up north to Calgary back in the day can still be seen on Hole No. 9.
Besides all that though, what you have here is a fun little challenge where if the wind is blowing — and really, when isn't the wind blowing in Southern Alberta? — can cause all kinds of havoc with your shots. That's particularly noticeable on the fourth hole, a 182-yard downhill par-3, with OB to the left. Needless to say, this can be a huge par-3 if the breeze is stiff. This is definitely a course where anyone of any skill level can tee it up and have some fun, and perhaps get a bit of a history lesson at the same time.
Further north a couple of hours lays another great 9-holer, the LivingStone Golf Course, where the Rocky Mountains are on full display from this foothills track. Established not all that long ago, LivingStone offers golfers a break they normally don't see … there are no bunkers to be found anywhere out here.
What you do find though is a well thought out, and laid out, golf course that makes you use every club in your bag. If you want to back all the way up on the tee deck, the course stretches out to 3,170 yards and drops down from the front box to 2,414 yards, again making this a place where anyone can tee it up and enjoy.
The really nice thing about this place is that each hole feels like its on its own and you're on your own private course. Yeah, you do see other people occasionally out here, but hey, it's not like you're stacked up one on top of another so it is a nice change from the usual muni traffic jam.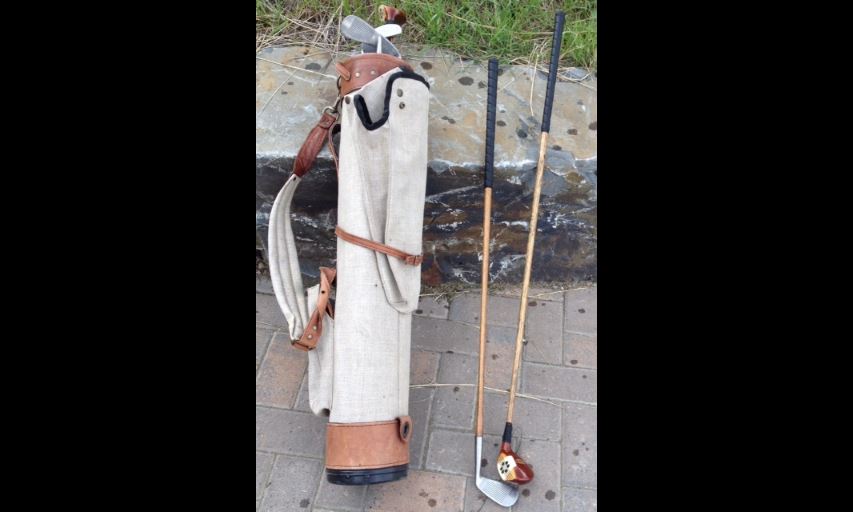 If You Decided To Play A Round At Banff's Tunnel Nine Course, Make Sure You Grab A Set Of Replica Hickory Sticks To Play The Scenic Track. (Photo/Gord Montgomery)
Also just off that major route through Alberta is another 9-hole gem, with a real twist that takes you back to the golden days of golf. At the Fairmont Banff Springs you can tee it up on the Tunnel Nine using hickory sticks. While these aren't actual back-in-the-day sticks, they are fun to try and if you haven't used them before, somewhat tricky to hit. Add to that a replicated gutta-percha ball and you're set for a couple of hours of fun on this beautiful track.
This loop doesn't offer anything too demanding of its players. There is only one dogleg on the course and it plays the longest, at 469-yards from the back deck, which if you're using those hickory shafted beauties (they're for rent at the pro shop), can be more than enough distance.
The big thing about this track is of course the scenery. Set right in the Rocky Mountains, the vistas are incredible and wildlife sightings aren't unusual. So whether you go at these nine with your regular set or a rented set of hickory shafts, you'll delight in its challenges and the vistas.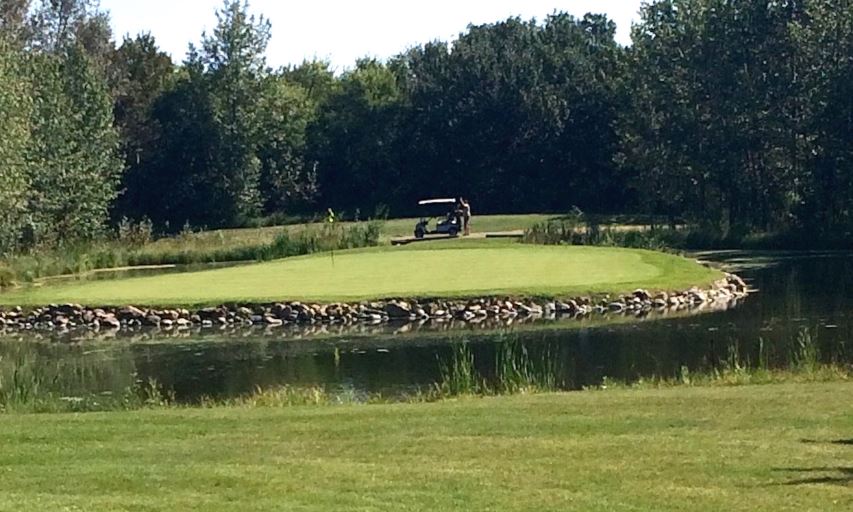 While It May Seem A Little Out Of Place In The Middle Of The Prairie The Island Green At The Daysland Golf Course Is A Fun Test Of One's Skills. (Photo/Gord Montgomery)
Moving further north there are a couple of real surprises awaiting golfers in small town Alberta. The first of those comes at the Daysland Golf & Country Club, where of all things, there is an island green in the middle of the prairie.
This great little 120-yard nerve-jangler comes at you out of nowhere as you turn the corner from the par 5 second hole and drive through some trees. Then, there it is, a piece of land surrounded on three sides by water. Built by the club members for a mere $25,000 in 2013, this hole alone is worth the drive out here.
The full course isn't overwhelming in length but that doesn't mean it isn't a challenge and that little par-3 … well, it's a sight to behold, sort of like the beautiful sunsets one sees on the prairies.
A trip back in time is what you get when you head to the tiny town of Kitscoty to whack away on their 9-hole loop. While a tad noisy because of the busy Yellowhead Highway that borders it to the north, this is a unique experience for anyone that's never played on sand greens. And by the way, the high score on the hole gets to 'drag' the putting surface once you're finished putting!
This isn't the type of course you rave about … after all, it's a rural track in a small community that simply harkens back to the past. Why, there's even an 'Honour Box' here, a place to leave your green fees if the clubhouse is unattended.
Heading northwestward from that locale, you'll find yourself in another world altogether when you tee it up at the Hidden Valley Golf Course & RV Park near Fawcett. Even though I'd been told how great this little place was, it absolutely floored me with its conditioning and its presence, especially since it was built by one man — Tony Dirks.
He came up with this idea in the middle of the night after walking the land for about a year. He drew up the plans himself and then carved the land into a picture-perfect test of nine holes. Stretching over hill and dale there are all kinds of shots in front of you here, including uphill second shots to par-4s and a great downhill par 3. In other words, there's something to test every club in your bag.
So while Hidden Valley Golf Course is indeed somewhat hidden given its locale, seeing is believing and this is one of those courses where the term "hidden gem," isn't out of bounds.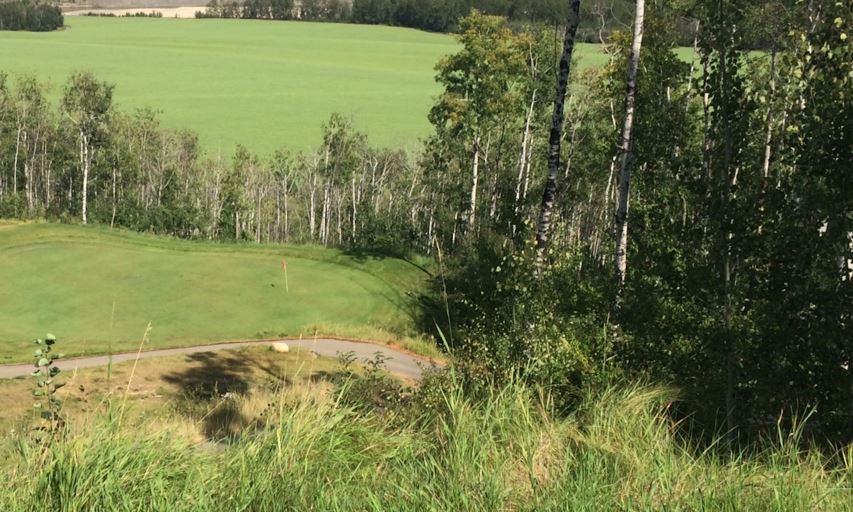 The Downhill Par 3 Sixth Hole At The River Stone Golf Course Is A Short One, But A Tough One If Your Tee Shot Finds Anything But The Green. (Photo/Gord Montgomery)
Another northerly course, Riverstone GC, sits just east of Grande Prairie, near Teepee Creek, and is also well worth the play if you're in the area. And you don't even need a car to get here — as long as you have a riverboat.
This course is accessible in two ways, by land or water, and when you get here you'll be delighted with the uniqueness of the layout plus the trials it will put you through. What's featured here, besides that cool way to arrive by water, are the elevation changes throughout. Those are most noticeable when you head into the home stretch of holes starting on No. 6.
While it's only a par 3, what a par 3 it is! Sitting high above the green, the tee box overlooks a beautiful river valley scene in the distance. The green is large and only 120 yards or less away, but it's a daunting shot as it's surrounded by fescue rough and trees.
But this is definitely one of those holes where it doesn't matter if you make birdie, bogey or worse, it's one you remember. Team that assignment up with Holes 7 and 9, and you have a backstretch that will stick in your mind for a long time along with those 'would'a, should'a, could'a' thoughts.
The final short track in on this tour of Alberta is actually a bit longer than the others. You see, the Pineridge Golf Resort, located at Seba Beach which is west of Edmonton, is the first and only 12-hole course in the province.
Owners Jeff and Nicole Richardson actually turned their old 9-holer into a 10-hole loop a few years back and in 2017 added two more holes to make up this delicious dozen. The fact that old and new come together so well speaks to the enjoyment of getting your money's worth from a shorter course.
The routing of the two new holes flows nicely into what already existed, meaning there aren't huge treks from where the old holes stop and the new ones begin. The first of the newbies is a beautiful par-5, playing to around 550 yards. That's followed by a par-4 dogleg left, which for this course is a bit of a change as most of the holes are quite straight. The pair will add about 1,000 more yards of challenge to what is already a fun day at this rural golf course.
So if you're time constrained this golfing season, never fear for the great 9-hole course of this great province are always near!