Learn & Play Opportunities Abound In Alberta
Details

Category: Inside Golf
Published: 2018-04-18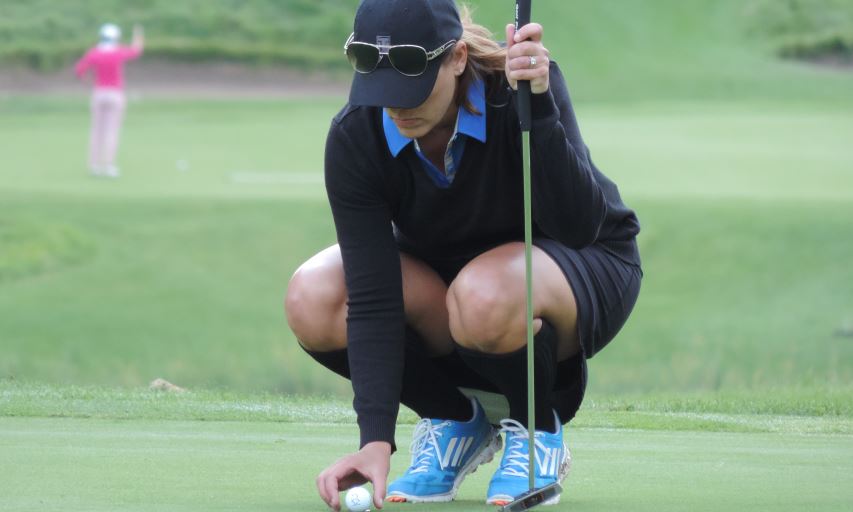 Make 2018 The Year To Get Involved In The Golf Industry's Numerous Grow-The-Game Programs. (Photo/Alberta Golf)
Golfers in Alberta have reason to be excited. After all, we're talking about a golfers' paradise. There's a real optimism around the game right now all across the country and globally. Alberta Golf is focused on bringing new enthusiasts to the game and efforts to address affordability, accessibility and inclusiveness are areas of focus for both Alberta Golf and Golf Canada.
"Connecting with more of Alberta's passionate golfer base isn't just an opportunity, it's a priority," emphasized Golf Canada CEO Laurence Applebaum. There are many industry initiatives that aim to grow participation and passion for the sport. Opportunities abound for golfers to learn and play the game.
Brent Hutcheon, Alberta's Regional Director of the National Golf Course Owner's Association (NGCOA) Canada says that "as Owners and Operators in the wonderful industry of golf, it is in our best interest to invest time, money, and effort into all possible programs to encourage more people to take up, or to reintroduce them to the game of a lifetime! The NGCOA Canada thanks Alberta Golf in taking the initiative to inform its membership on these wonderful programs listed below."
Alberta Golf's Coordinator of Recreational and Community Events, Anthony Stirling, says that "we are thrilled to announce the pilot of the Alberta Golf Rec Series. For the average golfer, playing in organized golf can feel intimidating. Providing the opportunity for individuals to experience the game alongside friends and family allows for a more inclusive, relaxed, and enjoyable golfing experience." The Rec Series features a line-up of single day events scheduled on weekends for $99, including a meal and a clinic.
Robert Rousselle, Executive Director of the PGA of Alberta adds that "the Alberta Golf Rec Series, along with other 'learn and play' initiatives, are a great way to advance your game. Go and enjoy the multitude of great golf courses and facilities in our Province. You will be welcomed by our Golf Professionals in each community. They are recognized as the "Most Trusted Resource in Golf". We encourage you to go out with friends, be passionate, play the game and have fun."
There is no shortage of opportunities and access for junior golfers in Alberta. Adam Hunter, Golf Canada's Manager of Grow the Game says that "the Future Links, Driven by Acura junior golf program is a turn-key initiative to assist facilities in growing the game at their facility and surrounding area. All programs under the Future Links umbrella are Long-Term Player Development compliant and are provided to all facilities across the country, free of charge."
Please browse through the following initiatives:
Get Golf Ready is designed to teach everything you'll need to play golf in just a few lessons. PGA of Canada Professionals will show you that there are lots of ways to play by combining fun, friends and fitness. Each session will focus on the various golf skills you will use while playing. In addition to learning the basics, you will be guided onto the golf course to put your skills into action in a casual, friendly setting.
PGA of Alberta Club & Teaching Professionals
The 500 plus men and women who belong to the PGA of Alberta, are located at over 160 facilities throughout the province, and have chosen the game of golf as a career, promoting the game each and every day to Alberta's golfers. These professionals are the number one resource in golf to help you get into the game at whatever level you wish.
Take A Kid To The Course is an initiative that was developed by the National Golf Course Owners Association Canada to encourage families and juniors to take up the game of golf. The program, supported by the PGA of Canada, is a cross-Canada campaign designed to illustrate how easy it is to improve both your score and your relationship with your children by bringing them out on the golf course. Every year, hundreds of courses offer free golf to children sixteen and under who are accompanied by a paying adult.
Golf Fore the Cure presented by Subaru boasts over 100,000 participants since 2003 raising over $5.9 million dollars for the Canadian Cancer Society in support of breast cancer research during that period. Golf Fore the Cure presented by Subaru offers a seamless addition to an existing event (such as ladies nights) with free prizing and event kits. Join the cause and sign up to run your own event.
Future Links, Driven by Acura gives children ages 6-18 the chance to enjoy and learn the game of golf via affordable and accessible programs that align and support the principles of golf's long-term player development guide, which has been endorsed by Sport Canada. More than one million junior golfers have successfully participated in Future Links, Driven by Acura programming since its inception in 1996.
The focus of the series is to break down potential barriers in order to introduce new and recreational golfers to playing in organized golf. The single day events are scheduled on weekends throughout the season and are open to individuals of all ages and genders. Each event is priced to provide affordability and great value. The format will be a net stableford system for simplicity and enjoyment. All events will be flighted by Handicap Factor so you can compare yourself against other golfers of similar ability. We highly encourage you to bring a friend, group of friends or your family and request to be paired together. For $99, you can play 18 holes of golf, have access to a mini Learn & Play clinic, meal and prizes.
There are a multitude of opportunities for juniors to learn and play as they are introduced to competition. The Canadian Junior Golf Association, Maple Leaf Junior Tour, McLennan Ross Junior Tour, as well as city and regional associations are a tremendous breeding ground for the next generation of golfers.
From the majestic mountains to its sparkling turquoise lakes, Alberta is a golfers' paradise. Alberta has the third largest golf supply amongst the Canadian provinces with 308 facilities, of which 92 percent are open to the public. Each of these facilities have club events and tournaments that are innovative and are breaking down barriers to the game.
---
About Alberta Golf
The Alberta Golf Association was incorporated as a society in 1912 and continues today as a not for profit Provincial Sport Organization (PSO) operating as Alberta Golf. As the PSO, we are committed to realizing the positive impacts of golf on individuals and communities across Alberta. Our vision is that through golf, Albertans will enjoy a high quality of life, improved health and wellness, a strong sense of community, economic benefits and personal fulfillment.