Shot Scope Updates V2 App With Functionalities
Details

Category: Inside Golf
Published: 2018-04-19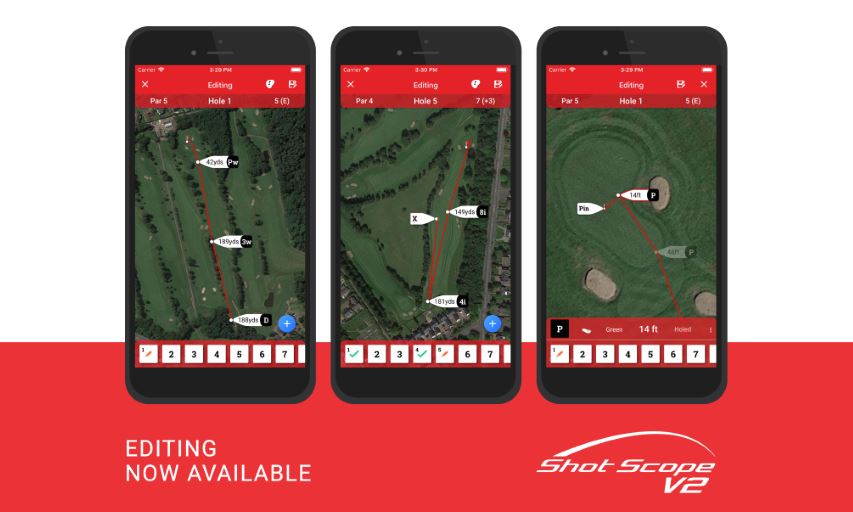 The Shot Scope app, available on iOS and Android, has been updated with new editing functionality. Previously editing was only available on the Performance Dashboard, but with the recent update golfers will be able to add penalties and alter any shot positions immediately after their round has finished.
Shot Scope V2 enhances the on-course experience for golfers. Dynamic distances, in either meters or yards, show F/M/B distances to both greens and hazards using the highest grade Smart GPS chip commercially available and satellite imagery. Distances are dynamic, changing with angle of approach and every adjustment so that they are optimized for each individual golfer.
Off-course, the Performance Dashboard which has recently been relaunched, houses over 100 Tour-level statistics, with interactive and immersive data viewing platforms. Unlimited club tracking and comparisons, fairway accuracy for every tee shot, break down the hits and misses of every approach shot, see which short game shots making it into the "red zone" and get your "Never up, Never in" percentage to get to know your putting performance. Hundreds of stats, hundreds of opportunities to improve.
As with all firmware updates, these features fall within the "forever free" promise to existing Shot Scope users of the no-subscription product who continually benefit from product enhancements.