Another Solid Tournament For Hadwin At Arnold Palmer Invitational
Details

Category: Inside Golf
Published: 2017-03-27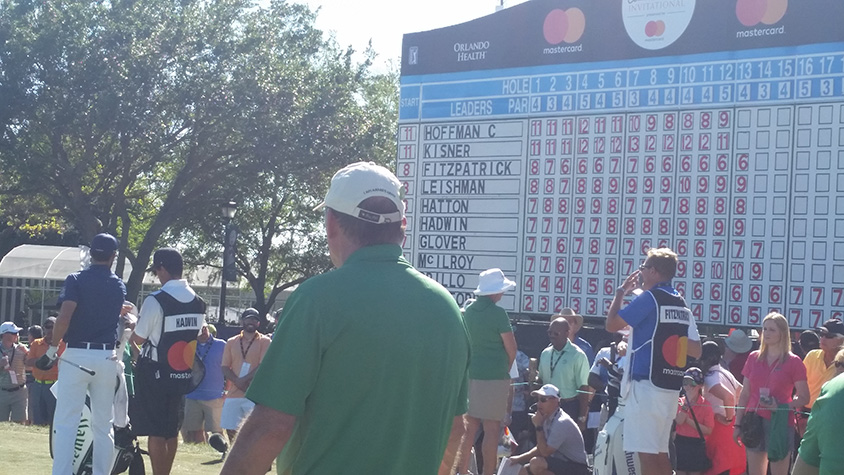 Adam Hadwin's Name Is Becoming A Regular Site On PGA TOUR Leaderboards These Days - Image Credit Kelly Murray
by Kelly Murray
The Arnold Palmer Invitational started early in the week with the unveiling of the memorial statue of Arnold.
Palmer definitely paved the way for young Canadians and golfers everywhere to earn a very tidy living here on the PGA TOUR. His presence was felt here as you went by his golf clubs set up on the range early the in week and when tournament play started his clubs were placed in his cart overlooking the 18th Fairway near the 16th Tee Box.
Two of 4 Canadians made the cut. Valspar Championship winner Abbostford, BC's Adam Hadwn was again in contention after two straight rounds of 70 which had him in a top five position going into the weekend where he would eventually finish 6th.
He was joined by Ontario's David Hearn who was T26 after the cut. Unfortunately fellow Canadians Graham DeLaet and Mackenzie Hughes did not make the 3-over cut line.
As for the play of Canada's members on the PGA TOUR, Jason Sobel, former senior writer for the Golf Channel and currently a senior writer with ESPN describes the foursome of Canadians in this event as "promising".
Rory McIlroy, currently the number 3 ranked golfer in the world, played with Hadwin two years ago at the Frys.com in California and was impressed with his game. He added as well that he feels Graham Delaet is also a good player.
McIlroy says what the Canadians need to get to the next level on tour is to, "Feel like you belong," he went on to say it didn't take him very long to feel like he belonged.
McIlroy said the reason he feels it didn't take him very long to fit in was because, "That was just my mindset." 
The 4-time Major Championship winner added that and risen to the top of this game was his parting thought in that, "It's a mental thing as well".