Impressive Field Of 112 Tee Off MJT's Alberta Season At Paradise Canyon
Details

Category: Inside Golf
Published: 2018-05-09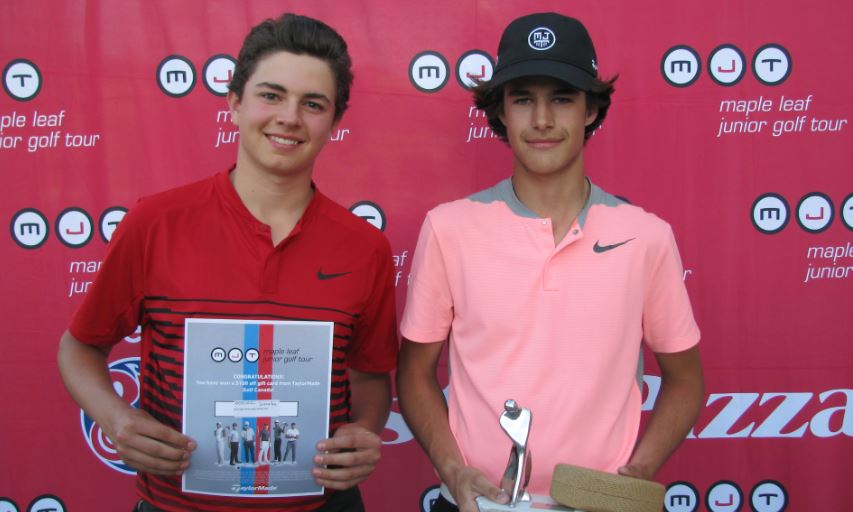 Ryan Hodgins (With Trophy), Low Overall Champion & Juvenile Division Winner, With Hunter Thomson (Left). (Photo/MJT)
LETHBRIDGE, Alberta (MJT) — Canada's number-one played Junior Golf Tour, the Boston Pizza-presented Maple Leaf Junior Golf Tour, had 112 youth out at Paradise Canyon Golf Resort in Lethbridge, on May 5 and 6, to open the long-awaited Alberta golf season. The MJT Alberta Spring Classic presented by PLYR Golf, also ranked by Golf Alberta, saw competitive young players competing for titles in seven divisions as well as age-specific qualifying spots into the International Players Championship (IPC) presented by Miura Golf in Jasper, AB, this August.
Paradise Canyon's greens were in fantastic spring condition despite the course only opening two weeks prior. Players handled a long delay of play on day one due to a lightning storm, but day two had very little wind, making scoring conditions ideal. Full results and a photo gallery of the tournament are online, and division winners are highlighted below.
MJT Junior Boys 17-18: 
Jace Ouellette, 18, of Red Deer County, AB, fired fantastic rounds of 69-71 (140) in ideal scoring conditions to take home the MJT Junior Boys Hoselton trophy with a five-stroke victory over Max Murchison, 18, of Calgary, AB. "I feel really good about my game right now," said Ouellette. "Hopefully I'll be able to continue this momentum into the Future Links Pacific Championship next week."
MJT Juvenile Boys 15-16: 
Low round of the tournament went to Ryan Hodgins, 15, of Medicine Hat, AB, who shot a sizzling 65 (-6) on Sunday to erase a three stroke deficit and win the MJT Juvenile Boys Hoselton trophy by 7 shots with scores of 74, 65 (139). Runner up honours went to Hunter Thomson, 14, of Calgary, with scores of 74, 72 (146). "With favourable scoring conditions, I just wanted to go as low as possible," said Hodgins. "I feel very fortunate to have won this event two years in a row."
MJT Bantam Boys 13-14: 
Logan Graf, 13, of Sylvan Lake, AB, played some remarkable golf in a tightly contested division shooting 73, 72 (145) to win the MJT Bantam Boys division by one stroke over Nicholas Sebjanic, 14, of Calgary. Graf, who recorded his first MJT win in the Bantam division, said, "we were tied going into 18 and I was really nervous". He continued, "I made par, which was good enough to win by one."
MJT Peewee Boys: 
Tate Bruggeman, 11, of Edmonton, AB, shot rounds of 80, 75 (155) and ended up running away with the MJT Peewee Boys Hoselton trophy. "I played really well on Sunday, and walking up 18, all I needed was par to shoot my best score, unfortunately I wasn't able to, but I'm still happy about the win," he said.
MJT Collegiate Men 19-23: 
Owen Murray, 19, of Calgary, shot 71-76 (147) to hold off Michael Harrison, 23, of Camrose, AB, by four strokes. When asked about his round, Murray said "I was just trying to keep it in play, no need for anything fancy." He continued, "nice to start the season with a win to build some confidence."
MJT Girls 15-18: 
Annabelle Ackroyd, 16, of Calgary, led wire-to-wire to defeat Sydney Scraba, 17, also of Calgary, for the MJT Junior Girls Hoselton trophy. Ackroyd fired 75 on day two to expand her winning margin to eight strokes. "I finished second in the last two years," Ackroyd said. "It feels great to come away with a win this year."
MJT Girls U15: 
In her first MJT Junior Tour event, Georgia Barr, 13, of Calgary, AB, said, "It feels good to win," after firing 84, 81 (165) to win the MJT Girls U15 title by three strokes over fellow Calgarian, Brooke Frerichs. Barr added, "I really like two day events and the Boston Pizza afterwards!"
The age-eligible players who won exemptions into the IPC were Ryan Hodgins, Jace Ouellette, Annabelle Ackroyd and Logan Graf. Also up for grabs this weekend were exemptions into the 2018 Alberta Junior and Juvenile Boys Championship. Earning these exemptions were Hodgins, for his Juvenile Division win and Max Murchison due to his runner-up finish in the Junior Division. Junior Division champion, Ouellette had already received an exemption into the event. The 2018 Alberta Junior and Juvenile Boys Championship is scheduled to be played at the Sundre Golf Club in Sundre, AB from July 3 to 6, 2018. 
The next Maple Leaf Junior Golf Tour stop in Alberta is the MJT Humber College PGM Classic / IMG Junior Worlds Qualifier presented by TaylorMade Golf at Fairmont Banff Springs Golf Club in Banff on May 20 and 21, 2018. For more information or to register, please visitwww.maplejt.com or call 1-877-859-4653.
---
About the MJT
The non-profit Maple Leaf Junior Golf Tour presented by Boston Pizza is Canada's number one-played Junior Golf Tour as well as the only national junior tour run exclusively by PGA of Canada Professionals and the 'Road to College Golf' in Canada. The organization is presented nationally by Boston Pizza and supported by valued Premier, Tournament and Product Partners. The MJT hosts more than 70 events across Canada, including free Ford Go Golf Junior Clinics, the MJT Mini Tour for 7-12 year olds, the Collegiate Tour for 19-23 year olds, and multi-day events for competitive players aged 11 to 18, which are also qualifiers for international competitions. The program offers annual awards, scholarships, and frequent player incentives to help reward player's performance and participation throughout each season. MJT alumni include many Professional Tour players and PGA of Canada Professionals, as well as Canadian Amateur, National and Provincial Junior Champions. The MJT aims to develop champions, in golf and in life, promoting the game from grassroots through to provincial, national, university and professional level. For more information on the Maple Leaf Junior Golf Tour, please visit www.maplejt.com
About PLYR
Launched in 2015, PLYR Golf is a new and fun apparel and accessories brand. While they tend to target the trends of the younger demographic, PLYR is a lifestyle golf brand made for everyone. To keep up with the new products PLYR offers, please visit www.PLYRgolf.com