Public Flocks to Kananaskis Golf Course As Its Doors Reopen
Details

Category: Inside Golf
Published: 2018-05-21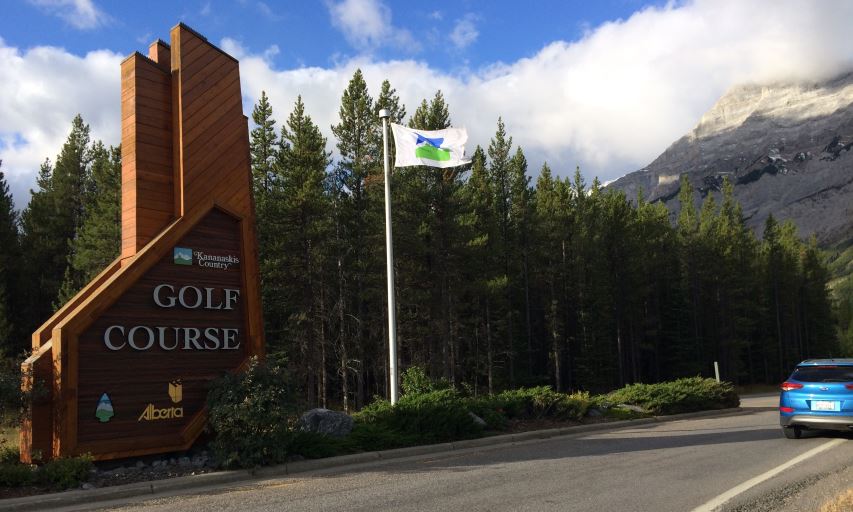 Thousands Of Golfers Will Once Again Be Passing By The Entry Sign To Mt. Lorette And Soon, Mt. Kidd courses In Kananaskis Country. (Photo/Gord Montgomery)
KANANASKIS COUNTRY, Alberta (Gord Montgomery/iG) — Other than that place down south where a big mouse with huge round ears runs around, the happiest place on Earth, or at least in Canadian golf circles, in the recent past has to be in the Rocky Mountains just west of Calgary as a long-revered golf course reopened to the public for the first time in five years.'
And the happiest man on Earth, or at least one of them, has to be the general manager of the Kananskis Country Golf Course, Darren Robinson, as the beautiful Mt. Lorette course welcomed the pubic back for the first time since a devastating flood in 2013.
"Absolutely. Absolutely!" Robinson exclaimed when asked if indeed he was the happiest guy in the world a week after the course swung back into action after part of a massive rebuilding project, headed by Calgary architect Gary Browning, had been completed.
"This week has been as close to perfect as we could have asked for. Opening day we had a beautiful morning," where Browning hit the ceremonial first tee shot to get things rolling again, playing-wise. "The afternoon was a bit overcast, as was Friday, but the next four days after that were perfect. Literally perfect."
And with the perfect weather came the hordes of players returning to a spot on the golf map that has long held a special place in so many hearts. While only Mt. Lorette is open at this time, and the demand for tee times has been strong, not all have been taken as of yet.
"On the books it was pretty full. For opening day, a week out, the forecast was for a high of six degrees and a lot of rain so we lost a lot of people based off that forecast. It wasn't the weather we got but it was the forecast," and some folks backed out of their allotted slots.
Even so, the reviews by those who ignored the weatherman's predictions in anticipation of playing the stunning Alberta-owned golf course after a long hiatus have been nothing but great, Robinson pointed out.
"Really, really good. Most people can't believe how good the conditions are this early on," considering less than three weeks prior to the opening the ground was still blanketed by snow. "The greens are essentially perfect. As close to perfect as we'd ever see in the Spring. The course is exceptional and people are raving about how they're playing."
While there are only 18 holes of the 36-hole facility open at present, Mt. Kidd is coming along as expected and is right on time with its rebuild, said the GM.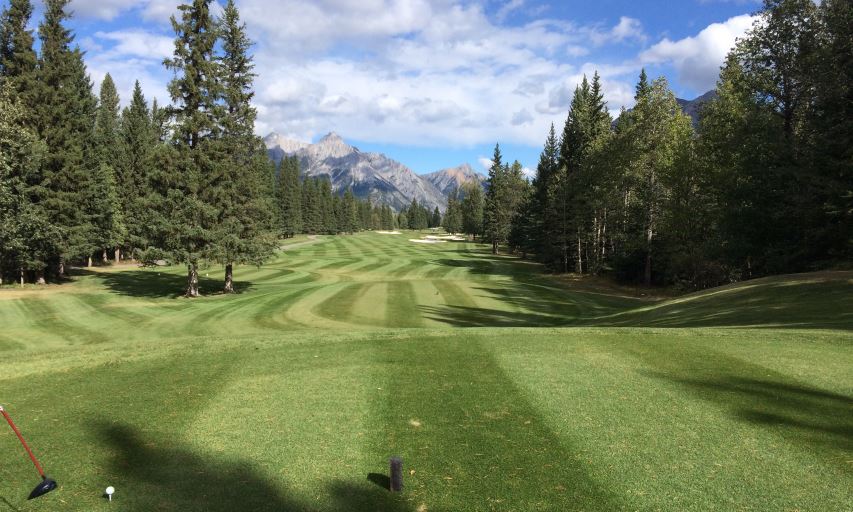 There Are Few Sights More Beautiful In Alberta Golf Than From One Of The Tee Boxes On The Restored Mt. Lorette course At Kananaskis. (Photo/Gord Montgomery)
"We're just doing the final prep work on the front nine to get it ready for the opening on June 1st. The truth is, we've taken more time to prep the front nine on Kidd than we did on all of Lorette. We're just working on that now, all our clean-up, that sort of thing. We're on track for June 1st.
"Construction's coming along pretty well (on the other nine) considering it was a late start with the late Spring, but we're still on track to get all the grass down on the ground by the middle of June. That'll give us six weeks of our prime growing season to get it ready for our (projected) opening on August 1st."
When the front loop opens on Kidd, routing will be done to tie it in with Lorette, giving people a unique opportunity to play Kananaskis in a way that's never been done before. Robinson and head pro Bob Paley leaned heavily on the staff at Calgary's Heritage Pointe GC to set things up to run a 27-hole facility, for a while.
"The back nine of Lorette will always be the second nine of either of the courses," Robinson explained. "That's similar to what Heritage Pointe would do on a day-to-day basis. In fact, we picked their brain as to how they operated a 27-hole operation to help us get our heads around that.
"The cool thing is, people get to play a combination they'd never otherwise get to play. Those (Lorette/Kidd) combinations will exist for, call it a two-month period, that people would never get to play on any other occasion."
While many people are taking advantage of having half of the world-famous track open again, there are still tee times available. The caveat to that is those aren't always the times people choose first, but if you're willing to relinquish that opportunity, you should still be able to grab a spot in golfing paradise.
"There are still lots of great times to be had, throughout the season. I don't want people thinking we're sold out. Most of the days, people just have to be a bit more flexible with the time that they play," Robinson pointed out. "The first tee times to go are those 9 a.m. to 1 p.m. times, but if you're flexible there are still great early morning times to be had and some great afternoon times," which means that you too, can join in the celebrations at what has to be the happiest place in Canadian golf at the present time.
Chowing Down
An interesting note is that many people are simply driving out to the mountains, and the golf course, to have a look at what's been done and to have a meal, the GM continued.
"Even if you're not out here to play a round of golf, for people looking to go for a great drive and have a bite to eat, in a fantastic setting and great food, our clubhouse is open. Our brand new double-the-size patio was packed this past weekend. About half the time it was rubber tire traffic. That's the message I want to get out there, encouraging people to come out for a bite to eat," and have a look at the magnificent job done by everyone on restoring one of Alberta's most prized possessions.
For tee times at Mt. Loretta, go to www.kananaskisgolf.com or call 1-877-591-2525. At present, special tee time rates apply for Alberta residents.
---
About the Writer
Gord Montgomery is a retired sports editor of two weekly newspapers in the Edmonton area and is a member of the Golf Journalists Association of Canada. He is now in his 10th year of writing for Inside Golf.
He can be reached at This email address is being protected from spambots. You need JavaScript enabled to view it.. He's also on Twitter at @gordinsidegolf and on Instagram at gordinsidegolf2.