Gord's Alberta Golf Notes; Lee Leads Buckeyes; Hogan Gains Tour Status; Cammidge Keeps Busy; The South Rises
Details

Category: Inside Golf
Published: 2018-05-24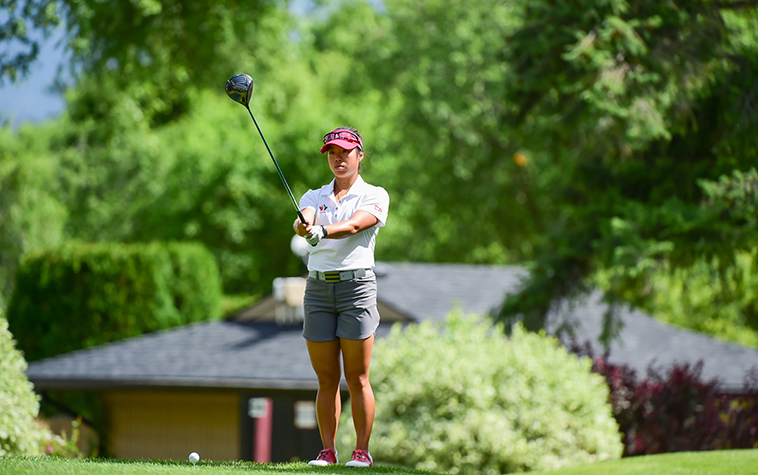 Calgary's Jaclyn Lee From The Glencoe Golf & Country Club Has Been Proving Her Place On The Canadian National Amateur Team Is No Fluke - Image Credit Jurgen Kaminski (JKam Photos)
By Gord Montgomery/iG
While she's yet to crack the professional circuit, still playing in the college ranks, Calgary's Jaclyn Lee is showing she's more than ready to the next level of competition.
Lee, a junior on the Ohio State women's golf team, was recently named to the First Team All-Big Ten. After being a Second Team All-Big Ten pick a year ago, Lee became the 14th Ohio State Buckeye to earn Big Ten individual medalist honours.
Through her strong play this past season, Lee, who was a three-time winner in 2017-18, ranks among the best nationally in multiple categories. She has posted the 16th-best average score at 71.36; is tied for the fourth-lowest round nationally, doing so twice when she shot first- and final-round 64s at the Westbrook Spring Invitational; she sits tied for fourth nationally with six eagles; fifth nationally in par-3 scoring with a 2.98 stroke average; 15th in scoring versus par and is tied for 18th in par-5 scoring at 4.73.
Included in her strong play this year were back-to-back 64s in an event in Peoria, Arizona, where her individual medallist honours helped the Buckeyes finish the tournament in second place. During her bogey-free second round she posted eight birdies. Lee posted a winning score of 19-under par to capture the title by two strokes.
Lee, also received an exemption into the Symetra Tour's inaugural Prasco Charity Championship to be held at TPC River's Bend June 29 through July 1, and once again will get a taste of what lies ahead of her in the golfing world.
But first, she and her teammates had the NCAA Championship, played at the Karsten Creek Golf Club in Stillwater, Oklahoma from May 18-23rd (See story below). Lee is a member of Calgary's famed Glencoe Golf & CC and has been a member of Canada's National Amateur Team for three years and the two years previous to that on the Development Team.
Lee A Solid Fifth At NCAA Women's Championship
It wasn't to be for Calgary's Jaclyn Lee at this year's NCAA Div 1 Women's Golf Championship, but the sweet-swinger from the Glencoe Club wasn't far off the mark.
The Ohio State junior carded rounds of 72-72-66-74 to finish in a tie for fifth place at the year end event, which saw a total of 83 players make it to the final rounds. At one time, late in the final round, Lee was in first place or held a share of the lead but she couldn't hang on for the win.
Overall in the tournament, Lee, who is a member of the Canadian National Team, was third-best with 18 birdies in her four rounds. On par 3 holes she averaged 3.13 strokes; on par 4 holes she was second best averaging 3.95 strokes per hole and she was a solid 4.75 strokes per hole on the par 5 tests at Karsten Creek in Stillwater, Oklahoma.
Lee's Ohio State team didn't make it to the final round of competition but she, and her teammates, will have another shot at it in 2019 as she returns to the college ranks for her senior year.
Hogan Earns Mackenzie Tour Conditional Status
COURTNEY, B.C. — It's a huge step from playing golf as an amateur to becoming a professional, but Calgary's Brett Hogan has made the first tentative steps in that direction.
Hogan, a member of the Glencoe Golf & Country Club, and the two-time winner of the Sun Life Financial Alberta Men's Amateur Championship, was one of five Canadians, and the only Albertan to snare a spot on the Mackenzie Tour - PGA TOUR Canada for the 2018 season at the final Q-School stop. He carded a four-day total of six-under par 282 at Crown Isle Golf Resort, to finish in a T-24 and earn Conditional Status for this season.
Hogan, a graduate of the University of Texas at San Antonio, went into the qualifier as an amateur and was expected to forego that status if he was able to secure tour status. His ability to play in events will be limited this year given his present conditional status, but it is expected he'll try to play in as many events as possible, including the three stops in Alberta this summer in Lethbridge, Calgary and Edmonton.
While it may seem like a long way from the Mackenzie Tour, which jumps about the Canadian golf landscape during the summer months, to the PGA TOUR, where the big money and big names play, it can and has been done …. several times by Canadians.
Included in the group of graduates from the low minor leagues of golf that have made it to The Show, are Adam Hadwin, Mackenzie Hughes and Nick Taylor. And the more interesting thing about that is that all three of them have won on the PGA TOUR, showing that if you can make it on the Mackenzie Tour, perhaps you can make it on the big stage.
The other Canadians earning conditional status for this season at the B.C. stop included Jake Duvall (a) Victoria, B.C.; Bret Thompson, Winnipeg, Man.; and Devin Carrey from Burnaby, B.C. The event was captured by American Jake Shuman who posted a four-day score of minus-18.
Cammidge Busy With "Retirement" Duties
If anyone thought Grant Cammidge was going to have a tough time filling his day after he stepped away from his role as the CPGA General Manager of the Edmonton Petroleum Golf & Country Club, here's an update: He's likely busier than ever.
The 30 year CPGA pro, who was at the Pete Club as it's known in Edmonton, for 13 years after moving into that position following a lengthy tenure as the head professional at the Stony Plain Golf Course, decided it was time for a career change. So, he stepped away amid much speculation as to what he was going to do. As it turns out, he had lots of opportunities to engage in and now has more than a full plate as he embarks on a couple of other golf-related work adventures..
Cammidge began his own consulting firm, Cammidge Consulting Ltd. shortly after leaving the Petroleum Club. He then added in the responsibility of becoming an advisor for Edmonton's Red Tail Landing GC. Now, he's added even more to his "retirement" portfolio by taking on a role with Alberta Golf.
Now referred to as Alberta Golf's Field Manager, Membership & Competitions, Cammidge will be responsible for those elements in the Edmonton area. He'll be involved in an array of activities including events, course ratings, member education and coaching with a focus on servicing the northern zone of the province.
Cammidge can be contacted by email at This email address is being protected from spambots. You need JavaScript enabled to view it..
Glencoe Invitational A Great Warm-up For Top Amateurs
Given their provincial championships begin only a few weeks after the completion of the annual Glencoe Invitational in Calgary, this tournament is a "must-play" for many of the top amateur golfers in Western Canada.
Limited to a field of 69, the 54-hole event which has run since 1992, draws a lot of interest but the competitors are chosen carefully from a long list of criteria. Getting into the event though is well worth the effort the players put forth as the payoff is great.
The winner of the tournament will receive not only a keeper trophy from Nova Scotia Crystal but three exemptions of note including into the final qualifying round for the 2018 RBC Canadian Open; as well as exemptions into the 2018 ATB Financial Classic and the 2018 Canadian Men's Amateur.
And in case you're wondering about the quality of the field for this event, try these winners on for size: Jared du Toit (2016); Mackenzie Hughes (2011) and Graham DeLaet (2005). And to further emphasize its importance The Glencoe Invitational is listed on the Golf Canada Order of Merit as well as the World Amateur Golf Order of Merit.
 
South Players Start Off Strongly In Golf Supply House Tournaments
So far it's been so, so good for pros from the southern end of the province as their competitive golf season began in early May. To date, of the two events completed, both winners have come from Calgary area courses/teaching centres.
The first winner of the season was Riley Fleming, who came out on top of the field in Vulcan, where he carded an impressive 65 to edge out a pair of players, Mark Corrigan and Kent Fukushima by one stroke. For his win, Fleming pocketed $870.
Fleming then added some more cash to his bank account the next time out, even though he ended up coming in second to Eric Locke of Priddis Greens G&CC at the Sirocco GC in Calgary. In the win, Locke posted an impressive 66 to edge out the runner-up by one stroke. For the victory, Locke took home $1,205.
The next event on the calendar for the pros is the 18-hole tournament at the Valley Ridge GC, to be played on Tuesday, May 29.