Freedom 55 Financial Open At Point Grey The Home Of Dreams
Details

Category: Inside Golf
Published: 2018-05-24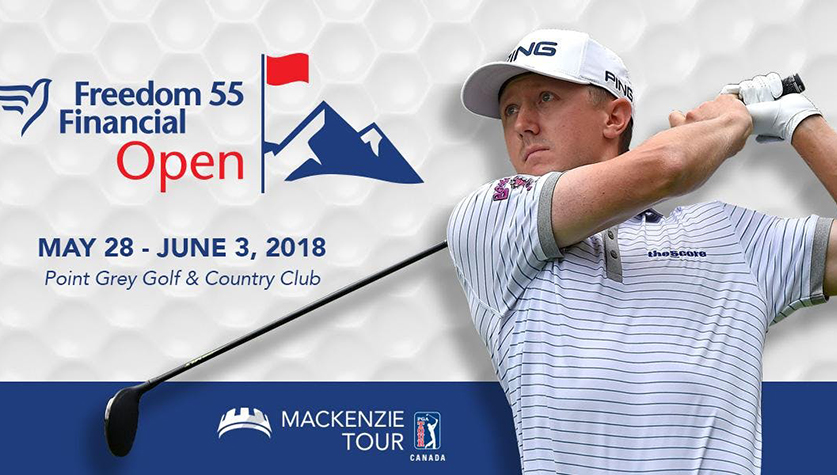 By Alfie Lau

Golf is hard. 
Anyone who's swung a club knows this, but try being a professional golfer and they know the difference between playing on the Mackenzie Tour, the Web.com Tour or the PGA TOUR is a stroke here or there.
How else to explain that in this, the fifth year of the Freedom 55 Financial Open at the Point Grey Golf & Country Club, the plight of many of the players who have used this venue either to advance all the way up to winning on the PGA TOUR or, in some cases, given up "the dream" in favour of a different dream, one anchored in reality.
Mackenzie Hughes and Corey Conners, old friends from Southern Ontario, played at Point Grey in 2015 and while they didn't win – Drew Weaver won a five-man playoff that year – both are now PGA TOUR regulars, with Hughes a winner in Georgia at the RSM Classic in November 2016, just 18 months after failing to win at Point Grey.
One of the five men in that playoff, Surrey's Adam Svensson, looks poised to make it to the PGA TOUR come October, as he won earlier this year on the Web.com Tour and has all but clinched one of the 25 cards which will give him starts on the biggest Tour in North America.
But look at the other end of the spectrum and it's a much different story. 2014 runner-up Brad Clapp, who finished just one stroke behind winner Joel Dahmen, is now teaching full-time in Chilliwack, where he is enjoying success at a different level. Let's not forget that Clapp won the 2015 Great Waterway Classic on the Mackenzie Tour.
Lefty Adam Cornelson has also given up the dream for now, forsaking a future on the PGA TOUR to work in the family business. And this is from a talented golfer who won the Victoria stop on the Mackenzie Tour in 2016, just two short years ago. So it's pretty easy to see how hard golf is when those who are succeeding at a level just two steps down from the PGA TOUR are finding it difficult to continue chasing the dream.
Which brings us to the six sponsor exemptions for this year's Freedom 55 Financial Open. Let's start with the two guys who don't worry about having a job to go to the Monday after the tournament ends. Point Grey Head Professional Dave Zibrik and Cheam Mountain Teaching Professional Kevin Stinson are established club professionals who are well regarded for their ability to teach and manage.
But they can both play, with Zibrik having won a PGA of BC title and Stinson winning on the Vancouver Golf Tour. Undoubtedly Zibrik and Stinson believe they can win at Point Grey, but they also know the more realistic dream is to continue making a difference at their respective facilities.
The next two golfers are accomplished professionals who just need to catch a good break. 30-year-old Devin Carrey has made 29 of 51 cuts on the Mackenzie Tour and also has tried his hand at the PGA Tour Latino America. Now living just outside of Houston, Carrey still believes he's just one good break, one good tournament away from taking that next step.
And as much as Carrey wants to win at Point Grey, he also has another big opportunity on June 4, the day after the final round of the Freedom 55 Financial Open: Carrey is in the final qualifying stage for the U.S. Open at Shinnecock Hills in June. Carrey will tee it up at Portland Golf Club, just 36 holes from playing in a Major.
Taylor Pendrith is a long-hitting Ontario native who was also part of that 5-man playoff in 2015 and while he didn't win, he showed he could overpower the course with his prodigious length and silky short game. Three years later, all he needs is a break at the right time.
The last two sponsor exemptions are true examples of talented young golfers who are chasing "The Dream." Evan Holmes, a recent graduate of the University of British Columbia, won the 2016 Alberta Amateur Championship and has also won the Canadian College and University Championship twice. The lanky lefty just turned professional and has cashed many cheques on the Vancouver Golf Tour as he tries to take a pathway to the PGA TOUR.
Jimmy Jones is a recent graduate of the University of South Florida and will be making his professional debut at Point Grey. Jones, the son of Canadian Golf Hall of Famer Dawn Coe-Jones, undoubtedly also has dreams of making his way to the PGA TOUR and while the journey seems long right now, some big steps can be taken with a good showing at Point Grey.
We won't know for several years whether Holmes and Jones will be following in the footsteps of Hughes and Conners, or Cornelson and Clapp, or Carrey and Pendrith, or Zibrik and Stinson, but one thing all of them know is golf is hard, and it's especially true if you want to succeed as a professional golfer.