Gord's Alberta Golf Notes; Heffernan One Step Closer To U.S. Open; McCarron Commits To Shaw Charity Classic; Big Savings In B.C. For Alberta Golfers
Details

Category: Inside Golf
Published: 2018-05-30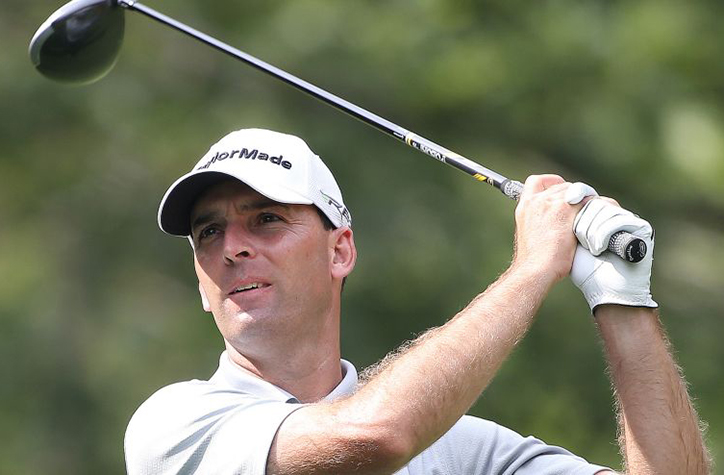 Calgary's Wes Heffernan Is One Step Closer To Qualifying For This Year's U.S. Open At Shinnecock Hills In New York - Image Courtesy Golf Canada
By Gord Montgomery/Inside Golf
Having been there and done that a couple of times, Calgary's Wes Heffernan, one of the nicest guys in the business, is back at it again. Yes, he's taking another shot at qualifying for the U.S. Open, and so far he's on the right track.
Heffernan took the first step in his quest to tee it up in the major U.S. championship by advancing out of local qualifying at a stop in Missoula, Montana, where he carded a solid 66 to top the field.
That now advances him onto the next stage of  his journey when he moves onto the Sectional Qualifying round on June 4. In his firsts two times at the big show, Heffernan made the cut once but missed it a second time.
The U.S. Open will be held this year from June 14 to 17 at the Shinnecock Hills Golf Club in Shinnecock Hills, New York. Heffernan showed he's rounding into form as he captured the most recent Golf Supply House 1-day event at Valley Ridge in Calgary, firing a superb 7-under 65 for the win.
McCarron First To Commit To Shaw Charity Classic
It didn't take long for Scott McCarron to toss his name into the ring for those attending this year's Shaw Charity Classic in Calgary. After all, why not? He is the defending champion.
The popular stop on the Champions Tour will once again run at the Canyon Meadows Golf & Country Club from August 28 to September 2 and feature some of the most popular golfers from around the world. Included in last year's field were former Calgary resident, and long time PGA pro Stephen Ames as well as Fred Couples, Nick Faldo, Corey Pavin and dozens of other top-end senior players, many of whom are expected to return for the 2018 event.
Besides the good golf, the tournament is also a great corporate citizen, with its charitable contributions. Since 2013, the Shaw Charity Classic has raised more than $22.1 million for over 159 children and youth charities in Alberta. That included a staggering $8.3 million at the 2018 tournament alone.
For more on the tournament, to volunteer, or to buy tickets, go to their website at shawcharityclassic.com.
Albertans Can Save Big Time In B.C.
This next item doesn't have anything to do with golf courses in Alberta but it does have something to do with golfers from Alberta.
Once again this year, the great people at the Golden (B.C.) Golf Course are offering those of us from Wild Rose Country a great rate for play each and every Monday, including holidays, during the season. For an unbelievably low price of $60 per person, you can tee it up for 18 holes, riding in luxury on a power cart, to play this scenic track set among the Rocky Mountains and the Purcell Mountains.
If you can't make a Monday tee time, don't worry. There are other specials at Golden including this great one — a green fee of $79.95 which includes your golf, a shared power cart and a dozen ProV1 golf balls, plus all the taxes. With green fees set for 2018 at $79.95 a round on one of Canada's great tracks, that means the Pro V1s are basically yours for free, just for showing up to play!
For more information on these deals, and others at the Golden Golf Course, go to golfgolden.com.
Kids Strut Stuff At PGA of Alberta Junior Masters
These kids can play. And they proved it at the annual Junior Masters Championship, held at the Wolf Creek Golf Resort earlier this month.
In the Girls' Division, Taylor Stone from the Pinebrook G&CC carded two solid rounds of 72-72 (144) to walk away with the overall championship. In the 14 & Under division, Tillie Claggett from the Glencoe in Calgary edged out club mate Grace Bell for the title. In the 16 & Under age group, Annabelle Ackroyd posted rounds of 74-73 (147) for that win finishing just ahead of Stephanie Chelak who had rounds of 82-74.
In the 18 & Under group, Jessica Marks, also from the Glencoe topped the field with rounds of 82-78, finishing just in front of Alyshia Suleman from the Royal Mayfair in Edmonton.
Ethan Choi from Pincher Creek topped th field on the Boys side, as he carded rounds of 69-69 to take top honours. In the 14 & Under group, Tommy Sluka from Canmore led the way followed by Cole Bergheim from the Red Deer G&CC. In the 16 & Under division, Marko Banic took top honours and in the 18 & Under, Jordan Bean from the Canmore GC was the flight winner.