PGA of BC Assistants' & Seniors' Championships Set For Bear Mountain
Details

Category: Inside Golf
Published: 2018-05-31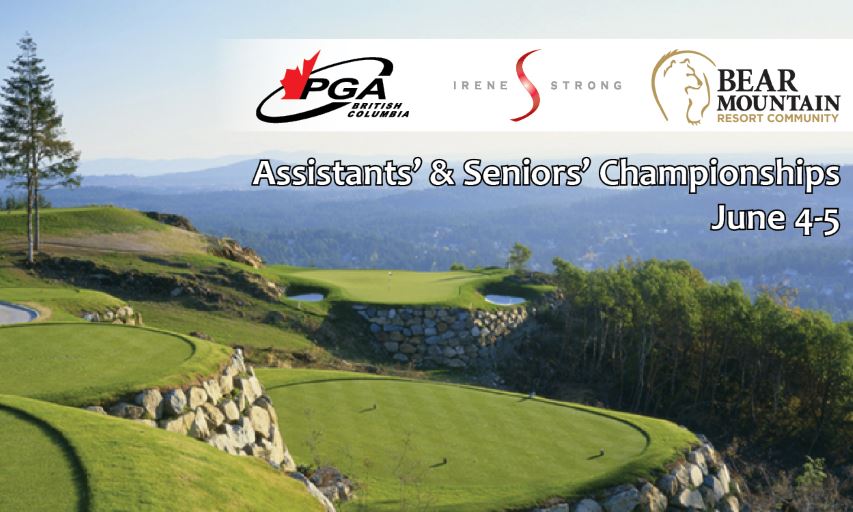 RICHMOND, British Columbia (PGA of BC) — Golf Professionals from across the province will descend upon Greater Victoria as the PGA of BC's Assistants' & Seniors Championships presented by Irene Strong, Mortgage Professional take over Bear Mountain Resort Community.
The concurrent 36-hole, stroke-play championships will be staged on the facility's acclaimed Mountain Course, the venue for a PGA Tour Champions event each of the past two years.
A sold-out event will feature 70 players – three women and 67 men – vying for the Assistants' Championship and 20 more competing for the Seniors' crown.
Bear Mountain has never before hosted either event, as this will mark the first time the PGA of BC has brought an individual stroke-play championship to the site.
"We're very excited to host all of the PGA of BC Professionals here to showcase the Mountain Course," said Bear Mountain Professional Justin Ford, who will be one of three players representing the host club in the Assistants' Championship field, the others being Cailean Hourigan and Dylan Cheyne. "We really appreciate the support of our ownership and membership in hosting these two great championships for our peers.
"The course is going to play tricky, I believe. There have been some changes and people are going to see a slightly different golf course than they may have in years past, and we're happy to have everyone out here."
Last year, Bryn Parry (Point Grey Golf & Country Club) added to his incredible track record in the Assistants' Championship by hoisting the event's trophy for a fifth time, giving him two more titles than any other player in the PGA of BC's modern era. In an exciting finish that came down to the final green at Salmon Arm Golf Club, Parry held off Oliver Tubb (University Golf Club) and Kevin Stinson (Cheam Mountain Golf Course) by a single stroke for the victory.
Parry will be trying to capture back-to-back victories for a first time in an event that has held special meaning for him going back to his early days as a Golf Professional.
"When I first turned pro in '94 … Scott Minni was golf God," said Parry, recalling the winner of the 1988 and 1997 Assistants' Championships and four PGA of BC Championships. "He'd won everything and was the guy to beat. Then, Phil Jonas was the guy to beat. It was a challenge to see if you could get your game ready at the right time and go and play all these wonderful courses and try to be competitive with the best players and guys that had these amazing records that I'd watched play over the years."
A winner of 10 PGA of BC championship titles overall, Parry is surely viewed by many as the one to beat these days, even if he doesn't consider himself in that way.
"I think I'm always looking at who the guys are that I have to try to beat," he said. "The golf in BC right now is probably as strong and high-quality as it's ever been."
The 46-year-old recently returned from a nine-day golf trip to Ireland and said his game across the Atlantic was solid from tee to green. He also played the qualifier at Swan-E-Set Bay Country Club for the Freedom 55 Financial Open happening at Point Grey, followed by a top-five finish in the Vancouver Golf Tour's Whistler Open at Nicklaus North Golf Course. Those rounds should act as a good tune-ups as he transitions back from links-style golf to prepare for the Assistants' Championship's mountain setting.
 "I'm looking forward to the challenge that Bear Mountain offers," said Parry, who squeezed in a practice round on the Mountain Course with his son earlier this year. "It'll be a new and exciting opportunity for us at this level to go and play a course we haven't played a tournament on before."
Meanwhile, the Seniors' Championship will crown a new champion this year, as 2017 winner Doug Morgan (Richmond Country Club) is unfortunately unable to compete due to injury. This year's field of Professionals aged 50 and older will still be a talented group, but it's hard not to think of the aforementioned Philip Jonas (Philip Jonas Golf Academy) as the favourite.
Jonas had a tremendous 2017 that included a start in the U.S. Senior Open and a win in the PGA of BC Club Professional Championship, helping him earn the PGA of BC Stan Leonard Player of the Year Award for the first time in a decade. But if there was one tournament that just didn't go his way, it was the Seniors' Championship, where his bid for a third consecutive title never really got off the ground.
"It wasn't a good week for me," said Jonas, who was six strokes back in a tie for sixth last year. "I've been around long enough to know that those things happen. It was still a good tournament and it was exciting. I don't look back on last year thinking, 'Whoa, that was terrible.' I still had a good time."
The 56-year-old said redemption in the event isn't a major motivation for him. Rather, it's more about putting together the best performance he can than reclaiming the Ben Colk Trophy.
"All you can do is the best you can," he said. "If I play my best and don't win, I'll still feel good about it; if I don't play my best and still win, I won't feel as good about it. So that's my goal heading into Bear Mountain."
A busy teaching schedule has limited his opportunities for tournament play this year, though Jonas did win the Rotary Pro-Am at The Harvest Golf Club earlier this month in a playoff over Ethan Danish (Two Eagles Golf Course & Academy) following a 7-under 65.
"I'm not sure how that happened, really," he quipped. "One thing I've learned over the years is that sometimes if you have a good year, the next year you have high expectations because of the previous year, and that's not always a good thing. I understand that I'm 56 now – to have a year like I did at 55 was pretty good and we'll see what happens this year. I'm trying not to have any great expectations."
Click here to view the tournament page and field for the Assistants' Championship, click here for the event page and player list for the Seniors' Championship.
ASSISTANTS' CHAMPIONSHIP FAST FACTS
This year marks the first time the Assistants' Championship has been contested on Vancouver Island since 2001, when Cowichan Golf & Country Club acted as host.
If Parry does repeat as champion, he will be the first player to win in consecutive years since Jonas doubled up in 2004 and 2005.
In addition to Parry (winner in 2000, 2006, 2008, 2011 and 2017), past champions in the field will include Tubb (2014 and 2016), Brad Clapp (Chilliwack Golf Club, 2012) and Jeff Buder (McCleery Golf Course, 2002).
Clapp will be making his first appearance in the event since 2013. He continues to hold the modern scoring record in the Assistants' Championship thanks to his 17-under-par total of 127 at Vernon Golf & Country Club in 2012, which left him nine strokes clear of the field.  
Stinson's runner-up result last year came on the heels of a made cut and T39 finish at the Freedom 55 Financial Open. He'll be playing the events back-to-back again this year looking for even stronger results.   
SENIORS' CHAMPIONSHIP FAST FACTS
The Seniors' Championship returns to Vancouver Island for the first time since 2009, when Greg Pidlaski won a record fourth title at Crown Isle Resort & Golf Community.
Jonas is one of four players tied for second-most Seniors' Championship titles in the modern era, as his two victories equals Murray Poje (2011 and 2011), Neil Green (2000 and 2002) and Richard Leisen (1995 and 1998).
The two past champions in the field at Bear Mountain aside from Jonas will be Roy Abbenbroek (Seymour Golf & Country Club, 2013) and Norm Jarvis, (Nico Wynd Golf Course, 2010). Coincidentally, both Professionals won their titles at Chilliwack Golf & Country Club, and both shared runner-up honours last year at Salmon Arm.
Based on the scores that are available for past Seniors' Championships, Jonas shares the event's scoring record at 8-under, a mark he set in 2016 to equal the 8-under finish from Chuck Milne at Kelowna Golf & Country Club in 2003.